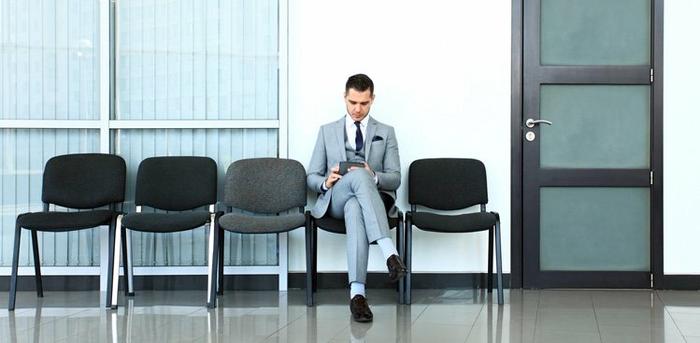 Your intentions are so good.
You take the whole morning off work to prepare for your interview. You leave yourself an hour to get ready and an hour to commute, just in case anything crazy happens. And you arrive to the office with plenty of time to spare, to show you're punctual and prepared.
But eager as you may be to show the hiring manager what you've got, your "timely" arrival could be doing you more harm than good.
For one, showing up early (20, 30—I've even seen 40—minutes in advance) is bound to throw the hiring manager off. Think about the last time you threw a party and someone showed up early. You had to stop what you were doing to greet the person, and you spent the next half hour feeling like you had to entertain him instead of setting the table, putting out drinks, and preparing for the party.
That's exactly how the interviewer feels.
Unless you're interviewing with a massive company that has no problem letting you wait in the lobby with the receptionist until the clock strikes interview, you're probably walking right into the space where the hiring manager and your potential future colleagues are working. Which means, someone will likely feel like he or she has to entertain you instead of working. Or, everyone will say hello and then proceed to ignore you, leaving you sitting there uncomfortably, watching the clock, and waiting for the meeting to start. Either way, not exactly the first impression you want to make on your future colleagues.
But here's the other issue: If you arrive too early, you very well may run into the guy who interviewed right before you in the lobby. I schedule interviews with about 30 minutes in between each, but I know people who do them with only 15 minutes or so to spare. And frankly, nothing throws you off your game like seeing a well-suited, smiling professional who clearly thinks he just nailed it moments before meeting with the hiring manager.
Our advice for being pleasantly punctual? Plan to get to the interview site (or near it) 20-30 minutes early, so you'll still have a buffer of time in case anything happens or some time to collect your thoughts and mentally prepare. But don't go inside the office. Instead, sit in your car or in a Starbucks across the street until 5-10 minutes before game time, when you can walk into the lobby calmly and collectedly.
You'll still be on-time and look responsible—but without anyone sitting awkwardly for 20 minutes thinking, "Geez, why's she here so early?"