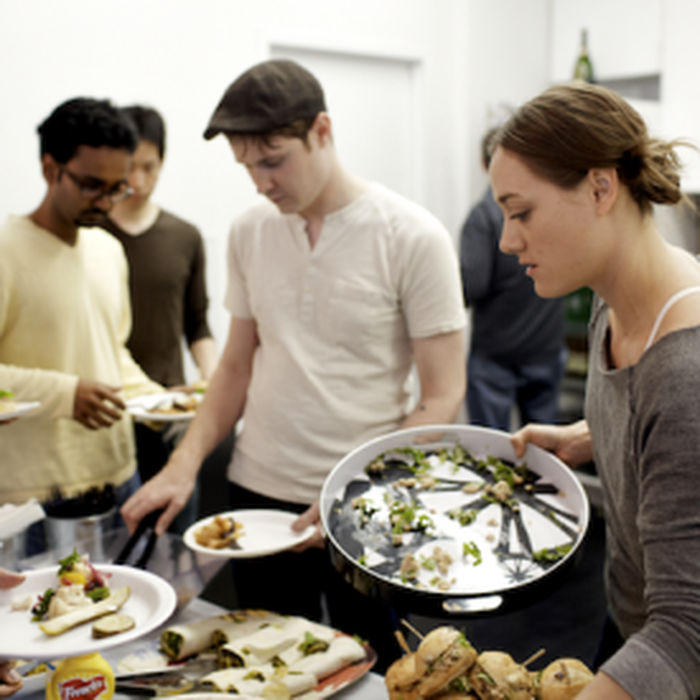 If you lead a team or run a business, you probably already know the value in building company culture and boosting morale. And—let's be honest—you've probably found that these activities usually involve serving food to your team.
That's because feeding your employees isn't just a way to make sure they have enough energy to finish their work—it's an opportunity for collaboration and bonding. Plus, some of the best ideas happen over food. You'd be surprised at the priceless knowledge you encounter while casually devouring a cupcake!
But, who wants the same pizza party or deli sandwich platter over and over? (Not us.) There are plenty more options for catering for your office, and at CaterCow, we make it our mission to make sure you have endless and delicious possibilities.
The next time you're footing the bill for some food, try one of these catering companies that'll guarantee a good time and great food for your team. (These vendors are all from NYC vendors, but don't worry—there are similar options in eight other cities.)
Happy Hours
There are plenty of reasons to throw an office happy hour: to celebrate the wrap of a project, to welcome a new team member, or just to thank your employees for being awesome. Kick your event up a notch by ordering snacks from one of the unique caterers below. (Oh, and don't forget the alcohol. We recommend ordering from Fresh Direct—it's cheap and convenient.)
Fresh, delicious guacamole will be made right in front of your team by a fun and professionally trained guacamole artist. It's perfect for pairing with tequila or margaritas.
Pretzels are a great snack for soaking up beers, and they're easy for your employees to grab as they're mingling with co-workers. These delicious handmade pretzels come in six different flavors—including cinnamon-raisin and truffle-cheddar—and come with delicious condiments for dipping.
For something on the classier side, these caterers will bring five different appetizers to your office—think rose-skewered shrimp and chicken and waffle sliders.
Need a non-alcoholic option? Order a keg of seasonal carbonated juice, which will be a fun treat for the folks who aren't drinking (and a great mixer for those who are).
Summer Fridays
What better way to let your team relax a little during the spring and summer than to host outdoor employee get-togethers? They deserve some fresh air—and some perfect picnic treats from one of these great caterers.
This company will provide individual tote bags for each employee filled with delicious baguettinis, like smoked duck with sour cherry spread. (Need more convincing? Both LinkedIn and the Ritz Carlton gave this package five stars.)
Order this party for those days when everyone wants to be relaxing at the coast, but has to work instead. You'll enjoy award-winning lobster rolls, created right in front of you.
Neatly packaged Korean rice bowls are prepared fresh for each order, with great options for vegetarians, vegans, and carnivores alike. They're easy to grab and go, so you can sit on the roof or at a nearby park.
With this package, famous food truck Snap will bring a charcoal grill and four staff to cook up gourmet hot dogs right on the spot. Ask about the delicious sides—like avocado fries—and the great vegetarian options.
Office Birthdays
No employee should be forgotten on his or her birthday! (Though, once your company has over 20 team members, I recommend throwing one monthly event celebrating everyone who has a birthday that month.) Here are some great sweet treats to help the whole office celebrate.
A CaterCow favorite, these delicious s'mores are assembled on site and then toasted right in front of you (with a blow torch!). This is definitely an entertaining option—in fact, Martha Stewart's office just ordered them for a 60-person birthday.
If you want a variety of options for your employees, this is the perfect package. You'll get an entire dessert bar with cake pops, pie pops, cupcakes, and pies. While the package includes multiple types of desserts, you can request a custom order of just one or two options by messaging the caterer, Laura Chung (a.k.a., Miss Buttercup).
These aren't your average cupcakes! Made by a local Brooklyn cupcake shop, these treats come in fun flavors like blueberry lavender and chocolate salted caramel. And because they're so tiny, your employees will get to try one of each.
If you really love your employees, hire COOLHAUS to come to your office and set up an entire ice cream sandwich bar. You choose your cookie and ice cream flavors, and the staff will put together delicious custom treats for each employee.
No matter which package you choose, have fun!
Photo of co-workers gathering over food cooked by The Hot Knife taken at Squarespace.