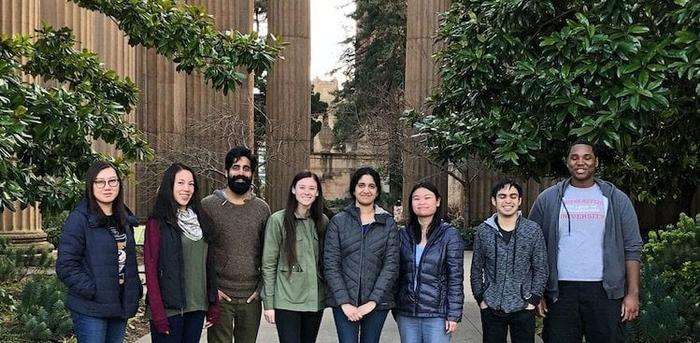 For folks looking to break into software engineering, there's long been a fear that recruiters won't give you a second look unless you have a computer science degree from a fancy school or a string of internships at big-name tech companies. But these days, employers are realizing that there's a huge pool of untapped talent outside of traditional tech degrees and pathways. That's exactly who Dropbox supports and celebrates with its IGNITE Apprenticeship program.
You studied chemistry but dabbled in Java? Pivoted from business school to a bootcamp? You might be a good fit for the program, which offers apprentices a six-month experience at Dropbox's San Francisco headquarters as a member of one of their Software Engineering or Software Reliability Engineering teams. We talked to three Dropbox engineers who got their start in the IGNITE Apprenticeship.
Meet the Apprentices
Giri Kalra (third from left in photo above) had been planning to go to med school but was dragging his feet: "I don't think I really wanted to go," he says. "Then someone mentioned coding bootcamps. I looked into it, and I said, 'This seems interesting.' I'd never done coding before, but I've always been kind of good with computers. I took some free online classes, then I did a bootcamp in San Francisco."
For Josh Alamillo (second from right), who was doing an internship in analytical chemistry, the coding classes he was taking on the side quickly eclipsed his interest in science. He started with basic Python classes and as he progressed up the chain, decided he liked coding enough to do it full-time.
Jessie Engstrom (fourth from left) was working in a microbiology lab, but the work was so repetitive that she started learning to code on her lunch breaks. "I'd get on my computer and build little games or go through courses online," she says.
IGNITE in Action
Kalra, Alamillo, and Engstrom were part of Dropbox's first official IGNITE class, which accepted eight people and spanned the six months from October 2018 to April 2019. The first few weeks of the program get apprentices used to the office, the company's systems, and the tools they'll use to work on projects; then they start work on a series of tasks. They're also assigned mentors who are available to help them acclimate to the Dropbox culture and to offer help when needed.
"I was sitting right next to my mentor, so I would just bug him with questions all the time," says Kalra, whose first task was to create a front-end module on the Dropbox Paper landing page. The project involved adding functionality for A/B testing and making sure it worked well on mobile devices.
"You plug away at it and figure out different things and ask questions," Kalra says. "When it gets reviewed, you push it out, and that was a big moment for me, because I could show my parents and my friends something I actually did."
Kalra worked on several other tasks, including a small project with the desktop client and a larger one in which Dropbox changed their feature offerings for Dropbox Plus users. He wrote automated tests, updated web pages, and got a taste of "bug bashing," where the project team runs various scenarios on a component to make sure it works properly.
"The training gets you to the level where you can be a software engineer at Dropbox," Alamillo says. "You get projects that are designed to challenge you."
Dropbox calls the IGNITE program an immersive experience, and it is. Apprentices work shoulder-to-shoulder with their mentors and other employees. Regular feedback and check-ins with mentors keep everyone on the right track and catch issues early so apprentices don't go off the rails.
"A lot of times, I forgot I was an apprentice," Kalra says. "You kind of just fit in. When things got quiet, I'd remember, 'Oh, this is a six-month long interview,' but for the most part, it's like you're just like everyone else."
From Apprentice to Full-Time
Now a full-time Dropbox employee, Engstrom plans to keep growing her technical skills and use her position at Dropbox to pay it forward. "There were people who encouraged me, and I want to do that for someone else," she says. She loves her new job: "That sense of accomplishment I get when something actually works is my favorite part of my day."
Kalra is amazed to find himself working as a bona fide software engineer. "I really think that if I can do it, anyone can," he says. "I had an interest in technology before, but no computer science classes and no actual skill. You just have to have the drive or passion to do it, and then it's absolutely possible."


Dropbox is continuing to grow the IGNITE program: They will be offering a spring cohort starting in April 2020, with applications opening in early 2020. Keep an eye on jobs at Dropbox for the next chance to apply!