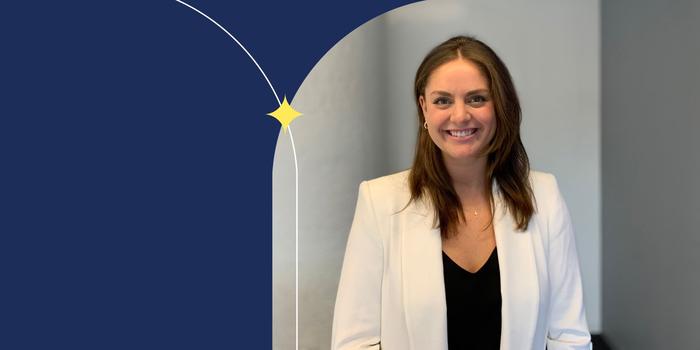 Allison Ruffing's "career" in sales started as it does for many kids: by running a lemonade stand and selling cookies as a member of Girl Scouts.
"I feel like I have been in sales my entire life," she says.
Thanks to her dad, Ruffing learned the value of thinking outside the box to make a sale. "Instead of selling cookies door to door, for example, he encouraged me to write a compelling argument for why I needed to be the top cookie sales girl and then send it to everyone in his office," she says. "It was a way to challenge them to see if they could make me the best."
Those early experiences helped Ruffing get to where she is today, working at Echo Global Logistics—a technology-enabled transportation and supply chain management company—as a national sales representative.
Here, Ruffing shares how her psychology degree has helped her become a better salesperson, why Echo Global Logistics is a great place to grow in your career, and her go-to activity for "me" time after work.
What led to your job at Echo Global Logistics, and how did you know the company would be a good fit?
I got a cold call from an HR recruiter, which led me to Echo. I had never heard of Echo before and didn't know what supply chain meant, but as I started to learn more about the company, I became intrigued by the risk and reward profile of the opportunity. In the legendary words of ice hockey legend Wayne Gretsky, "You miss 100% of the shots you don't take."
What are you responsible for as a national sales representative, and what's the hardest part about your job?
I am responsible for generating leads, acquiring new clients, and managing current client relationships. That means I have three primary responsibilities every day: I research national sales opportunities; relentlessly cold-call, email, and text those opportunities, and reach out to existing clients and manage their relationship with our company. Landing new clients takes hard work and determination, but keeping those clients happy is where this job really tests you.
There are many challenges in direct sales. I have to push myself, every day. We certainly have goals and accountability measures, but at the end of the day, if I don't do well, I'm the only real loser.
How does Echo Global Logistics help nurture and develop sales talent? What has helped you succeed?
I believe that there are two components to the answer: What Echo does directly and intentionally, and what Echo facilitates as a catalyst. The first part is straightforward: Echo invests heavily in continuing education, technology, and training, as well as encouraging problem solving and out-of-the-box thinking. We are provided with resources and are encouraged to make use of them.
The second facet is more amorphous, but equally powerful. The environment that we are in, from the geographic location to the layout of our office, facilitates an environment of success. We are able to collaborate openly because we are only competing with ourselves. We are encouraged to lean over to the person next to us and whiteboard solutions to a problem. The team dynamic is structured in such a way that when one person wins, we all win. A good sales culture can be tough to cultivate and even more difficult to maintain, but Echo has figured it out.
How does your degree in psychology contribute to your success in sales? What lessons from your studies are you able to apply at work?
Sales and psychology are both about human systems and human engineering. I really believe that anyone who wants to be successful in managing relationships should have some training in how the brain processes information. It is so critical, especially in a career like sales, where your relationships involve guiding another person's decision making. We are all different people, of course, but there are elements of our brain and our behaviors that have been embedded in us since the dawn of humanity. If you can tap into those elements, you can be successful in having influence. And at the end of the day, your success in sales depends on how well you can influence others.
What type of sales candidate would love working at Echo Global Logistics?
If they want to be in control of their life, if they want to have unlimited potential, if they are comfortable with the risk of failure, and they want a great place to work with great people, this is the place for them. Echo teams work hard and play hard, and are accountable to each other.
As a recent college grad, what advice do you have for others looking to jumpstart a career in sales?
Don't be afraid to take risks. When you're graduating from college, you should have the highest risk tolerance you will ever have for your career. See what you're capable of.
What's your go-to activity to unwind after work these days?
Every day when I finish work, I head to a hot yoga class. I leave my phone in the locker room, break a sweat, and completely detach for a full hour. I don't have to make any decisions and I don't have to tell anyone what to do. It's total "me" time, and I love it.