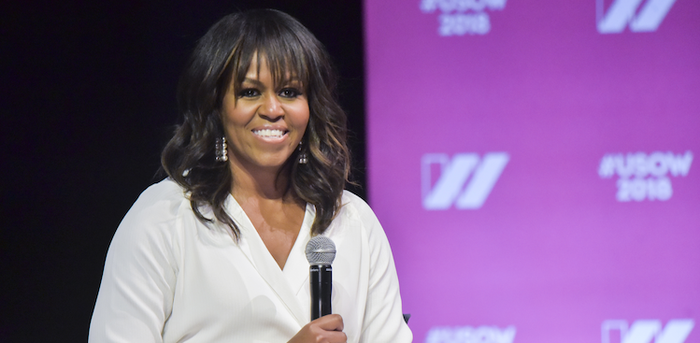 Former First Lady of the United States Michelle Obama knows we have a long way to go before racism, sexism, and other forms of discrimination disappear from American society—and from our offices. Obama recently shared some of her hopes—and some concrete advice—at The United State of Women Summit 2018 in Los Angeles.
During a roughly 40-minute interview on the stage with the actress Tracee Ellis Ross, she spoke about how much we still have to do to achieve real gender equality in life and at work, and how she imagines us getting there.
She wishes…
Women Would Explore How They Think About Themselves and Other Women
Though women didn't create the power structures and systems that disadvantage them, Obama emphasized that they do need to question themselves and each other.
"If we as women are still suspicious of one another, if we still have this crazy, crazy bar for each other that we don't have for men, if we're still doing that today, if we're not comfortable with the notion that a woman could be our president compared to what?" she said, posing the question without mentioning Donald Trump by name. "We have to have that conversation with ourselves as women."
And you don't have to be talking about a presidential election to take Obama's words to heart. Reflect for a moment on how you think about women and men in your office and industry. You might be a devoted feminist, but in practice, do you judge women and men differently even when they're in the same roles? Do you doubt women in leadership positions more than you do men? Recognizing such counterproductive thought patterns could help you disrupt them.
Women Would Shake the Table at Which They Finally Have a Seat
"I think if we want our daughters to dream bigger than we did, then we have more work to do," she said. "So many of us have gotten ourselves at the table, but we're still too grateful to be at the table to really shake it up. And that's not a criticism, because for so many just getting to the table was so hard, right? So you're just holding on!"
But to get from one phase of progress to the next, women have to speak up and take steps to question the status quo. In other words, if you've made it to the table, that's great. Take a deep breath and appreciate the hard work it took to arrive there. But then ask yourself if you're helping others join you, if you're advocating change to the behaviors and systems that tend to exclude women and people of color, and if you're helping transform the table into a better and fundamentally more inclusive place.
It won't necessarily be comfortable. But "now we have to take some risks for our girls. We have to be willing to lose a little bit of something," Obama said. "Just holding on to our seat at the table won't help our girls be all that they could be. I think it's going to be on us as women, but I think men have an important role in that as well."
Fathers (and Everyone) Would Match Their Words With Actions
Obama recalled the impact her father's love and parenting style had on her. "My dad taught me to box right along with my brother," she explained. "When he taught my brother how to throw, he taught me how to throw. It's little things like that."
To the men in the room she said: "You can't have it both ways. You can't whisper these magical thoughts in your daughter's ear about who she can be and what she can do, and then leave and go into a workplace that you either run or manage" and tolerate an environment that wouldn't allow such dreams to become reality.
"The times you turn your head, you look the other way, the times you're sitting at a table where there are no people of color, no women," she said. "If you're tolerating that, that is the workplace that is going to be waiting for your little girl," she added. "You told her she could be anything, but then you're not working to make sure that that can be actualized." And "things don't just work out for your precious pea if you're not making it work for all of us."
Everyone Would Have Hope, Start Small, and Make Change
"Thinking of changing your workplace, changing the way the world thinks, that's big and it gets daunting and then you shrink from that," Obama said. "So start with what you can control. And that's you first."
And then it's your immediate circle, including your family and friends. "If you practice that courage first, that's powerful as far as I'm concerned," she said. "That leads to bigger things. Change starts close to home."