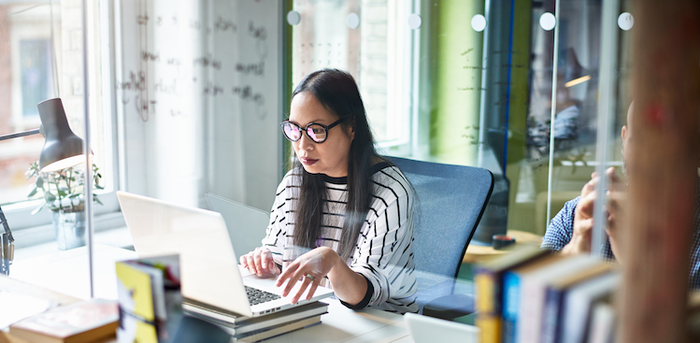 Between sifting through spam, crafting the right responses, and keeping tabs on the messages that require follow-up, staying on top of your inbox can feel like a job in itself. That's why we picked the brains of professionals who have figured out the secret to efficient, organized inboxes—despite getting hundreds of emails a day. Because having a system in place can help you conquer even the most unruly inbox.
1. Only Keep Emails Requiring Immediate Action in Your Inbox
Inbox zero might be too lofty an aim, but by being ruthless about which messages get to take up real estate in your inbox, you can get pretty darn close.
"Most days, my email inbox has fewer than 25 messages in it. This is intentional. I want to be able to open my inbox and immediately see what is most urgent and requiring a response," says Leigh Ann Newman, a senior program manager at an international government consulting firm. "This habit pushes me to take action on items in an extremely timely manner."
It's not uncommon for Newman to receive, in the span of a few hours, well over 100 emails, many of which are urgent and involve high-level managers. In 2008, she had the opportunity to start from scratch when her company changed to a new email system during an acquisition. "It was like spring cleaning for my inbox. And, since then, I simply cannot function with an inbox that is flooded with unanswered emails," she says.
2. Create a "Waiting Folder" for Action-Pending Emails
So where do emails go if not your inbox? Create a "waiting folder" for emails that require action from someone else before you can respond. "This is a huge time-saver," says Darcy Miller, a workplace expert and founder of Pin and Pivot, who for many years was barraged with more than 150 emails a day. "That way those emails aren't junking up your inbox, and it's a great place to look each day or week to remind you of what projects are still pending."
She learned this trick the hard way when, during the first year of her first job, she couldn't find an email attachment she needed. "I spent half of a day looking for that email, among the thousands of emails that were in my inbox at the time," she says. "I vowed from that moment on, I would take control of my inbox!"
3. Make Subfolders or Labels Your New BFF
Across the board, inbox mavens recommend creating an easy-to-decode subfolder or label system. Nate Masterson, CEO of Maple Holistics, estimates he gets upwards of 250 emails some days, so organization is paramount. "Email labels are your friend," he advises. "Use them to group together important email chains, so when you need to look at something for reference, you can do so easily."
Newman says her labels include topics that others may have questions on, support for decisions she's made, and reference materials for future business needs. "I have dozens of subfolders and hundreds of emails archived within them for reference," she says. "I am able to find what I need within seconds of a request because I know where it is stored and how to locate it quickly."
4. Set Inbox Rules or Filters
Many email providers allow you to set up inbox rules or filters that will take action for you and can help you quickly categorize emails without depleting any brainpower.
To stay on top of the torrent of 150 emails that find their way to her each day, Rachel Neill, CEO, Carex Consulting Group, takes advantage of Outlook's rules functions. "I have rules set up that put emails into different folders, color code, and prioritize based on sender," she says. Then, at the end of the day, she'll quickly scan for anything she may have missed. "The rules help make sure I'm following up consistently and blocking noise. This helps me keep the clutter to a minimum."
5. Use Your Calendar to Track Emails That Require Follow-up
Because some emails might require more than a simple reply, Newman recommends adding them to the calendar. "If I receive an email that requires not only an immediate response but also some sort of follow-up action, I move the email to a designated subfolder and put a reminder on my calendar that includes the folder location and the date when follow up is required," she says.
She uses Microsoft Outlook, which allows access to Outlook's Calendar, but you can also do this in Gmail. Just click on the "More" button in the toolbar and select "Create event."
6. Don't Let Junk Mail Languish in Your Inbox
Feel like you're playing whack-a-mole with promotional emails? Be swift with the unsubscribe button. Davis Siksnans, CEO and Founder of Printful, uses a three-strike rule for promotional emails and newsletters. The third time he deletes a newsletter or promo email from a specific sender, he unsubscribes from the list.
7. Create Templates for Your Go-To Responses
Tailoring a different reply for every email can be a huge time-suck. If you find yourself sending the same type of email over and over again, you may benefit from keeping some stock responses in your drafts that you can easily reuse.
Betsy Fein, president of professional organizing company Clutterbusters, has frequently asked questions that can be addressed with locked-and-loaded responses. "I have pre-written emails that I can tweak that I send out to emails that ask the same thing, like 'tell me about your services,' or 'how do I set up an appointment?'"
If you don't want to do this by hand, try the MixMax Gmail plugin, or go into your settings and enable canned responses. (Click on the gear on the top right-hand side of your inbox, pick "Settings" from the dropdown, choose the "Advanced" tab, and hit "Enable" next to "Canned Responses.") This will allow you to save templated replies.
8. Set Aside Time Blocks for Checking Email—and Stick to Them
You probably wouldn't leave your schedule open for meetings of unspecified times and lengths around the clock, so why give email free rein to intrude on your day?
"I don't leave my email open all day long; I set specific times during the day to go through each email and thoughtfully respond, archive, or save for later. This way I don't multitask and I can get through all my emails more quickly because I am actually focused on the task at hand," says David Mitroff, a business consultant. "I recommend that people start out with three different half-hour blocks a day to read through and respond to their emails and keep their inbox closed the rest of the day and adjust as necessary from there."
In addition to using time-blocking to stay on top of daily emails, Justin Lavelle, Chief Communications Officer of BeenVerified, recommends setting aside time once a week for inbox maintenance. "Choose a time each week to maintain your inbox. Protect the time as you would any other important meeting and get organized," he suggests. "Sweep away the irrelevant, archive the complete, and prioritize the to-do list."
9. Turn Off Email Notifications
Even if you've resigned yourself to only checking emails in pre-designated blocks, the siren song of your inbox notification might be too great a temptation to resist. If that's the case, the solution is simple: Turn off your notifications. "If you work in time blocks, you will never go more than a couple of hours without seeing your emails," Miller says. "Turn off the notifications, as they will distract you from doing what you are currently working on at your desk."
You can hold yourself accountable by using Boomerang's Inbox Pause function. Siksnans only permits email to come in twice a day at specific times when he's able to devote his attention to them.
10. Squeeze in Mindless Email Tasks During Downtime
Ensure email accounts are effectively synced to your phone, and use idle moments to do quick inbox clean-up. "Lots of the messages I receive don't require direct action," says Ben Taylor, founder of HomeworkingClub.com. "Spam can be deleted, other things can be filed, and you can deal with plenty of these just while you're in a two-minute supermarket queue."