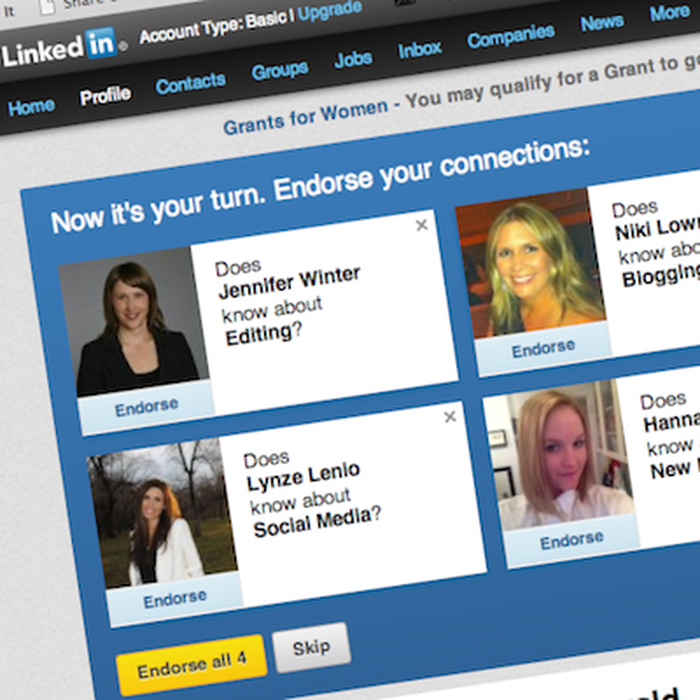 When you're trying to land a job, you're likely filling your resume and LinkedIn profile with a list of your various professional skills—everything from public speaking to writing press releases to communications and management.
But if you think about it, how does a potential employer know if you really have those abilities?
Enter: LinkedIn endorsements. This relatively new tool makes it easy for your connections to quickly affirm your skills and expertise—and for recruiters and hiring managers to quickly see what you have to offer. It's a great feature: While most of your LinkedIn connections may never take the time to write a full recommendation, they can use this tool to effectively say, "I know this person, and he or she is great at this skill," in a couple of seconds.
But while an endorsement only takes a quick click, there's a little more to consider before you start packing your profile with these quick recommendations: How do you get them? Who you should get them from? How many you should have? To help you get started, here's what you need to know.
Be Selective: Think Quality, Not Quantity
Were you that Girl or Boy Scout who was determined to earn every single badge? If so, it's easy to become compulsive about soliciting as many endorsements as possible. Well, sorry to burst your bubble—but when it comes to endorsements, quality trumps quantity.
Basically, endorsements from people you've never really worked with are weak. For example, when a potential employer reviews your LinkedIn profile and sees that your accountant endorsed your graphic design skills, he or she is going to wonder how genuine it is. In other words, that endorsement may end up doing more harm than good. On the other hand, if the same endorsement comes from one of your graphic design clients, it's a keeper.
So, instead of worrying about how many endorsements you have, concentrate on who they're coming from. To start, try to get endorsed by at least five people who will add credibility to your profile. (And, if you see that you have an endorsement of low value, remove it: Edit your "Skills & Expertise" section, click "Manage Endorsements," and use the "hide" feature.)
Be Smart: Get the Right Endorsements
So how do you get those golden endorsements? It's easier than you think. First, identify the people on your list of connections who work with you closely (or have done so in the past)—your current and former managers, clients, and co-workers. These people, who are likely familiar with you and your work firsthand, are in the perfect position to honestly endorse skills that truly embody your experience and knowledge.
Then, to actually get the endorsement, try extending your recommendation first. If you endorse skills on your connections' pages, they will most likely take a moment to return the favor. Of course, you don't only have to endorse others for the purpose of gaining endorsements in return; it's simply good business practice to recognize the excellence of the people you work with.
Be Savvy: Keep Your Skills Relevant
Finally, you need to make it easier for your connections to recognize you for the right skills. (You don't necessarily want to be endorsed for event planning if you haven't coordinated a function in 10 years—or only recognized for your finance skills if you're trying to break into marketing.)
The secret to this is keeping your skills updated: As you transition between careers, develop new skills, or take on new responsibilities, drop outdated skills from your profile and add new ones by editing them in your "Skills and Expertise" section. Now, when a connection lands on your page, they'll only see the most relevant skills. They can simply pick one or two and—voilà!—they've endorsed you for the expertise that really matters.
If you've stayed on the sideline when it comes to LinkedIn endorsements, why not step into the game? When your endorsements are selective, smart, and savvy, they can add incredible value to your current career or job hunt.