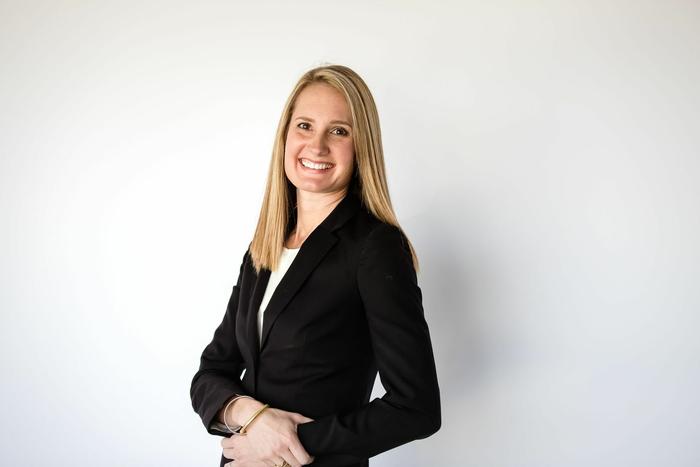 When Marcy Bardenwerper graduated from college, she didn't know what she wanted to do for work. So when her friend reached out about a leasing consultant position at the luxury real estate brand Windsor Communities, she jumped at the opportunity.
"While I had some hesitations about relocating to D.C., she sold it like a dream job and highlighted how satisfying it was to meet different types of people and provide them with exceptional homes," Bardenwerper recalls. "I agreed to interview, figuring if nothing else the process would be a valuable experience. By the end, I was thrilled at the potential of joining the team and company. Seven days later, my car was packed for D.C."
Flash forward 13 years and seven promotions, and Bardenwerper has flourished at Windsor, climbing the ranks at parent company GID, where she's currently an IT project manager.
Here, she shares why looking for an employer with high retention rates is important and how to advance your career quickly within a company.
How did your previous positions prepare you for your current role?
By consistently asking for more challenges, I have always been assigned more responsibilities. The transition from area manager with Windsor's operations to the IT team with GID was probably the most significant professional leap I have made. I was well-positioned for it, though. That's because while I was in operations, I always helped with new system pilots. When a rare opening presented itself on the IT team, I was lucky to have members and leaders of the team who believed in me and took a leap of faith by hiring me as a business systems analyst. I was allowed to work on high-profile projects such as self-guided touring and implementing SMS to establish more efficient communications between staff, residents, and prospects. After two short years, I earned a promotion to IT project manager where I'm still learning today.
What are you responsible for in your current role?
I focus on the prospect journey to improve business practices in line with our company goals. I act as a liaison between Windsor, our property management systems, and vendors. I test systems before monthly and quarterly upgrades. In the event they do not work, I research, report, and correct any systems quality issues. I communicate these changes and enhancements to our teams and end-users. I assist with escalated support tickets and help the training department to prevent such tickets.
As our company continues to grow, I help set up new acquisitions and prepare the new teams. One of the most rewarding and challenging opportunities I have been entrusted with is to help as a systems project lead for piloting and implementing new initiatives, where I need to rely on my experience and judgment to accomplish them on time and within budget.
What are you working on right now that excites or inspires you?
As part of the IT department, I am fortunate to see so many significant initiatives and ideas coming through our team. I have a front-row seat as cutting-edge technological innovations we could never have imagined just a few years ago are created. I am now focused on our marketing technology initiatives, which include a chatbot, an automated lead nurturer, and a product to give prospects direct access to communicate with residents. We can customize the prospect journey; there's no longer a one-size-fits-all approach.
This is where my on-site experience comes in handy. I have a good sense as to how many activities our teams are juggling at once. This has helped inform one of our primary goals for developing and testing this technology: to provide our on-site teams what they have always needed, which is more time. We work to provide them more time to build relationships and care for our customers. After all, our industry all boils down to people caring for people at the end of the day.
How has the company's leadership style helped you succeed?
I have been extremely fortunate to be surrounded by great people—especially the leaders I have reported to—throughout my time with Windsor and GID. I still remember learning how to make a sales call during my first week with the company. I was a little nervous and so grateful that our skilled director of training took the time to answer my questions patiently and feel more comfortable. Over the ensuing years, I have had multiple experiences like this, where people went out of their way to teach and mentor me. I try to do my best to do the same with younger employees I have hired.
Is it common for people at Windsor and GID to remain at the company for years? What's the secret to retaining employees?
Absolutely! This may be the thing that has impressed me the most about the company. I can think of five people I met during my first week as a leasing consultant who remain with the company 13 years later! In our day and age, where people jump from job to job so frequently, this is almost unheard of and speaks volumes about how well Windsor and GID take care of their employees and invest in their professional development. If this much attention is placed on our employees, imagine the care focused on providing good homes to our residents.
Another great example is my supervisor, who has more than 25 years with GID and has a vast wealth of experience. She has seen our company grow and morph. She has implemented groundbreaking initiatives, watched them run their course, and then launched new projects designed to make things even better. You cannot put a value on that type of knowledge and experience.
Windsor and GID also do a great job of promoting from within. Looking back over my time here, I am most proud of the successes achieved by the people I hired and helped train. I love seeing someone I hired as a leasing consultant continue to grow with the company, rewarded with promotion after promotion.
What do you like best about the company culture?
It sounds like a cliché, but working for Windsor is like being a part of an extended family. I have made so many genuine friendships through work. In addition to celebrating professional achievements, we have come together for things like weddings or new babies over the years. I think this helps explain why so many of us have chosen to remain with the company for over a decade. Pre-COVID (and hopefully again sometime soon), we had an annual operations conference— three days where we work hard and learn a lot, but most importantly, have fun seeing our friends from across the country.
What's the best career advice you've ever received?
There have been so many great nuggets. I'll narrow it down to two pieces that have always helped me. The first is to always speak up and ask for more. Rather than become complacent in a role, I always sought to push into unchartered territory that would benefit not only the residents, but also myself on my journey of professional development. This led to plenty of challenges over the years—and some long hours at times—but without this kind of a mindset I probably wouldn't be where I am today.
Also, and even more importantly, to have empathy, and remind yourself that at the end of the day, our job is all about providing people one of the most important elements of their lives—a home. That's meaningful work, and worth always keeping in mind.