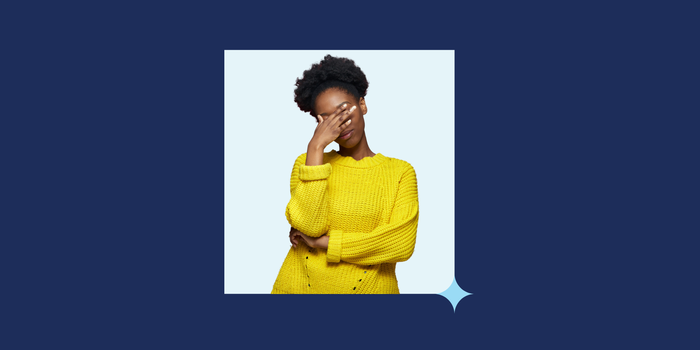 Welcome to "Is It Toxic?" our advice column for the most pressing questions you have about toxic work situations but didn't know who to ask—until now. Here to help is Benish Shah, a startup operator who's coached executives and managers on navigating toxic workplaces, negotiating exits, and architecting workplace policies to combat toxic cultures. She's currently working on a book about creating anti-toxic workplaces. Have a question to submit? You can reach her at benishshah.com or @benishshah. And for more advice, visit our Toxic Aware hub.

Dear Benish,
I work on a team with many scientists and engineers, but I'm not a STEM hire. I'm in the front office dealing with predominantly external parties. Most of my male colleagues on the engineering side are relatively respectful of my work, but I find that I get a lot of pushback from the women in the hard sciences. Since I'm in the front office, I'm not new to difficult personalities or pushback, but lately it's getting intolerable. One of the women has taken it upon herself to tell me I'm wrong every time I speak. She tells me that I don't understand her role and the work that the company does, despite me being part of the external face of the company. She's so focused on minutiae that it creates problems when we're trying to close a deal. She's made it such a problem that she's wiggled her way into my external meetings.
Normally I welcome the help and involvement of my colleagues in business development meetings, but she's both not good at it and believes she excels at it. In one meeting, she interrupted me multiple times and directly contradicted me in front of a client. I'm more senior, by a lot, but because she's got a hard science background she thinks it's fine to ignore me. She says she single-handedly closed some of our biggest deals, but only those of us who were in the room know that isn't true—and not only that, but she almost cost us those deals. She has the ear of her boss, however, and she's constantly bad-mouthing me and my ability to do my job. I'm ready to leave. Please help.
—Not a Scientist But I Excel at My Job

Dear Not a Scientist But I Excel at My Job,
There's nothing quite like a colleague with no experience in your role thinking they can do your job, is there? I find that it's a common experience for those of us in front office roles—marketing, business development, sales, PR. Everyone thinks they can do these jobs (and sometimes I think that with the invention of Google and ChatGPT, everyone thinks they can do any job).
It takes a deep sense of confidence in your own skill set and specialization to step back and consciously choose to trust and respect another's skills and expertise. It comes with experience and maturity—but until then, frustrations abound.
When someone's lack of respect for your job and expertise moves from being annoying to directly affecting your job, it's no longer a frustration. It's toxic behavior that is harmful.
There are a few reasons colleagues attack another's competency. When it's colleagues on different teams, it's one of two reasons:
Your coworker is insecure.
The first reason is similar to when someone was mean to you in high school and you couldn't figure out why: They feel threatened. Colleagues can feel threatened by your competency, fearing their own skills and abilities are overshadowed by yours. They resort to attacking your competency as a way to elevate themselves. In other words: They bully you because they are insecure. It may be subconscious, but that does not mean it's not problematic.

In this case, ask yourself what could be motivating your colleague's behavior. Does she really believe that you are bad at your job, or does she think that she's being overlooked for not having external-facing capabilities? If it's the former, you need to make sure she's not right. If it's the latter, then your best approach is helping her understand that you can be an ally in getting her into more external-facing meetings—but that you can't do that if she's creating unnecessary friction.
Talk to her about 1) the need to respect each other's expertise as colleagues; 2) that even though it seems easy to do a non-technical job, companies wouldn't need full front-office teams if everyone could do that job well; and 3) trusting colleagues allows everyone to work well together, and that's what you want to be able to do with her.
Your coworker lacks accountability.
The second reason is deflection. Colleagues who aren't delivering on their goals often deflect blame onto other colleagues or teams to keep the attention off of them. This behavior is much more intentional than one borne from insecurity; it's dangerous depending on how skilled the person is in workplace politics.
Ask yourself whether this colleague and her team have excelled in their jobs, or at minimum reached their goals. If they haven't, you're likely looking at a situation where attacking your competency is a way to keep the attention off of why she's not meeting her goals. If her boss is backing her up, then it's next-level politicking on both their parts.
In these cases, no amount of olive branch-ing or empath building will help you. You're dealing with toxic workplace politics and you have to make a decision: Do you want to be involved in it or not?
In my career, I've done both. I've engaged, full-on, in workplace politics (won some, lost others, realized I hated workplace politics) and I've also simply walked away and found a new job. What I'll say is: No matter where I've gone, workplace politics rears its head in a vicious way as soon as things start to get hard for a person, team, or company. I've worked in multiple industries, different stages of growth and maturity, and on different teams. I have yet to find a place where I can escape workplace politics entirely, even though I deeply dislike it.
If you decide to engage, step one is to determine what your ideal end state is. Do you want her out of the company, or just out of your work? Step two will be to understand the players and their motivators. Understanding who is involved—both as an ally to her and as an ally to you—and identifying the players and their motivations will help you understand how to turn the tide. Step three is tapping a friend outside of work to keep your ego and behavior in check. The last thing you want is work politics turning you into a toxic person, and external checks from friends are a good way to prevent that from happening.
As with any business deal that you do, step back and look at everything with fresh eyes. Decide whether this is insecurity or lack of accountability, then determine your path forward. But in all of it, do your best not to become a version of yourself that is toxic at work.
Read more of Is It Toxic?