In 2017, Abigail Smith—a global marketing vice president on BlackRock's social media team—was a college graduate eager to put her new economics and data analysis degree to good use. The only problem? She wasn't 100% sure how she wanted to do that.
"This expectation to find your dream job at 22 can make the workforce seem intimidating and limiting to your overall growth," says Smith. In the end, she earned a spot in BlackRock's Full-Time Analyst Program before joining the company's U.S. Wealth Advisory business full time. After two years, she decided she wanted to pursue something else—and, as it turned out, BlackRock was the perfect place to do just that.
When her coworkers encouraged her to network and participate in new projects to learn about other roles, Smith quickly realized BlackRock supports employees who want to explore different career paths at the firm. And "it's the people there who can help you find roles to match your interests," she says.
In fact, allowing employees to take ownership of their careers is one of BlackRock's deeply held company values. Leadership does this by supporting internal mobility and encouraging everyone to pursue their personal interests. There are even internal programs dedicated to helping with career transitions.
Here, three BlackRock employees share how this culture of mobility has set them up to have successful—and fulfilling—careers at the company.
Employees Can Develop Transferable Skills
As an analyst, Smith developed a foundational understanding of BlackRock's business and history. On the U.S. Wealth Advisory (USWA) team, she put that knowledge to use by working with financial advisors—a skill that eventually helped her land her current role in marketing.
Now, instead of selling BlackRock to financial advisors, she collaborates with teams across the company to tell the "Why BlackRock" story via more than 40 social media accounts, which reach nearly 2 million followers.
"While I was less experienced in social media, I was drawn to the opportunity of reaching more people by spreading BlackRock's narrative, and my experience in USWA made me an asset to the team," Smith says.
And the longer employees are with the company, the more transferable skills they pick up. Take Antonio Buddington, a director in the Data and AI function. His first role in the Portfolio Analytics Group focused on providing portfolio risk insights to clients through Aladdin—the firm's proprietary investment risk management system. "While I gained invaluable experience managing client inquiries across their investment strategies," he says, "I preferred solving problems associated with the risk analytics product, and wanted to get more exposure to our internal BlackRock business."

This led to an internal move to the Data and AI function, where he learned about the firm's asset management and technology services business units. He parlayed that into a role within the Green Package Analytics and Support team, honing his problem-solving and leadership skills, which prepared him for his current director position on the Data Governance team.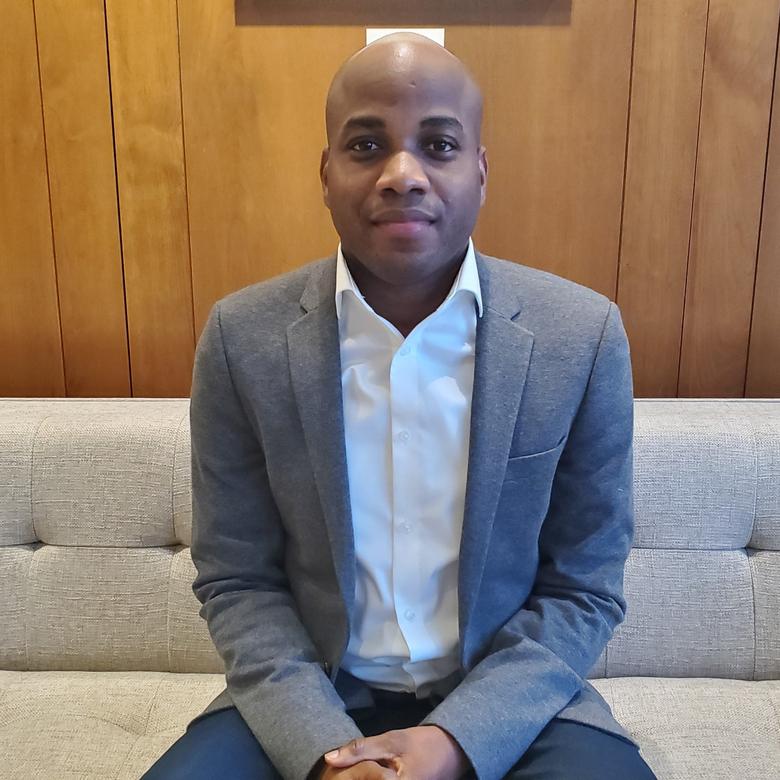 Internal Networking Opportunities Are Endless
"While networking can often feel intimidating, that hasn't been my experience at BlackRock," Smith says. "I quickly noticed the value of being surrounded by people who network themselves—one coffee chat quickly turns into five."
Rebecca Lewinson—a vice president in the Real Assets group within BlackRock Alternative Investors—also reached out to her peers when she was ready to take her next career step. She previously served as chief of staff to Vice Chairman Sir Robert Fairbairn and the global head of human resources. Since her goal was to transition from a corporate function to a role within an alternative investment team, she got in touch with investors across the firm to pick their brains.
"I set up meetings with colleagues to learn about the skills or resources that made them most successful in their roles," she says. "I was motivated and inspired by others across the firm who had interesting mobility stories."
Personal Interests Can Become a New Career Path
After discovering her passion for sharing the "Why BlackRock" story with potential clients, Smith decided to center her search around storytelling roles. And she made sure to express that interest while networking so her colleagues could think of opportunities that might be a fit for her. When she was introduced to her current manager on the social media team, Smith immediately knew marketing was the place for her.
For Lewinson, having the flexibility and freedom to explore opportunities she found interesting has not only increased her professional happiness, but also makes her feel more invested in the company's success. "Knowing that mobility exists at every level, from our analysts to our executive leadership, keeps me motivated and excited about having a fulfilling long-term career at BlackRock," says Lewinson.
Development Programs Put a Focus on Learning
To help Lewinson with her transition to a product strategist role, she took advantage of BlackRock Academies, a learning platform that offers programs in various topics such as client relationships, compliance, and tech. At the time, BlackRock Academies didn't include a program on investment (it has since been added), so Lewinson was able to create her own curriculum, studying private markets, assets, valuations, excel proficiency, and accounting.
"Having access to so much content in one place made my career pivot so much easier," she says. "I essentially designed my own MBA without having to enroll in a formal program outside of work."
Buddington, meanwhile, participated in the Connections Initiative Agenda—a talent development program that helps participants create and sustain professional relationships that support career growth—as well as the Black Leadership Forum, which addresses systematic barriers to career advancement for Black senior leaders. The latter also connected him with four senior-level sponsors who gave him advice and helped expand his network.
"I've been able to perform a lot of introspection with 360 assessments and executive coaching, and have more clarity on areas of focus pertaining to communicating with senior leaders, strategically managing a global team, and influencing change across the organization," Buddington says of the experience.
Managers Actively Help With Career Transitions
While it may seem counterintuitive to tell your boss you're looking for a new job, Buddington says that BlackRock's leadership takes supporting internal mobility very seriously. In fact, it's a policy for direct reports to notify their managers when they're interested in exploring new opportunities within the company and for their managers to support their teams' ambitions. He credits that process—and the transparency it allows—for his own rewarding experience.
"I've had supportive managers who have even made explicit recommendations of roles to explore," he says.
Lewinson says her manager also helped her evaluate opportunities that aligned with her interests, strengths, and goals, and introduced her to people who were looking to hire. "BlackRock expects managers to support internal mobility, which created the space for me to have open conversations about my long-term career interests," she says.
Overall, she says, "BlackRock is a stronger firm, and our clients are better served, if we have robust teams with different strengths, backgrounds, educations, and experiences. This encourages innovation, discourages groupthink, and keeps employees engaged and energized. And when they feel they're ready to pursue new opportunities, they don't have to leave the firm to do so."