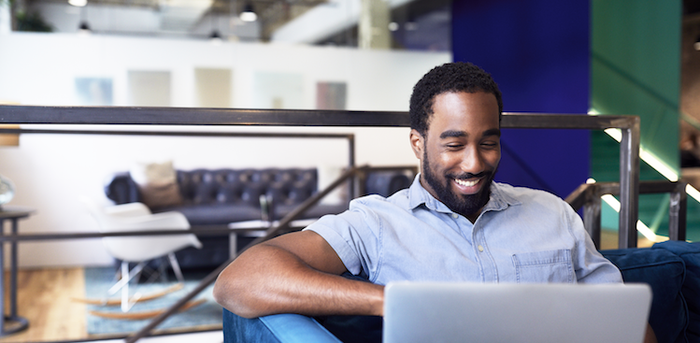 You've been working that sales hustle for a few years now—cold calling, pitching, and cultivating relationships with customers. But over the last few months, you've noticed something shifting in your day-to-day interests. You may find yourself wondering why your customers are choosing your product or service over others. Perhaps you've been imagining how your company's website could be more accessible and engaging. Or maybe you're thinking a lot about how the brand's presence on social media could be more robust. If this is you, you might be ready to make the move from sales to marketing. But how?
For starters, make sure you understand the differences between the two. Nell Lanman, head of marketing for the commercial real estate company SquareFoot, helps define how these roles, which ultimately have similar goals, overlap and diverge.
"Although both work to demonstrate the value of a product with the goal of converting customers and generating revenue, the two fields have many salient differences," Lanman says. "Marketing works to drive public awareness of your brand and product and to generate interest, while salespeople are focused on then working to convert prospects that have expressed interest." In other words, as a marketer, you're planting seeds for future business; as a salesperson, you're turning opportunities into concrete deals and revenue.
Making the move from sales to marketing isn't unheard of, but it can be stressful if you're not sure what steps to take. Below are some tips from marketing experts, some of whom have made the same jump in their own careers.
1. Find the Right Industry and Roles
The first step is to make sure you're looking for marketing roles in the industry that excites you most. Many sales professionals love the thrill of closing deals they've worked to cultivate and find that this element appeals to them more so than the product or service they represent. But because marketers play the long game—setting up campaigns that are designed to build brand awareness and customer loyalty over time—if you're not passionate about an industry, let alone the specific company, you might find it difficult to succeed.
So before you make the move from sales to marketing, you need to find an industry you're excited about. To help you figure it out, think about what your personal interests and inclinations are, in addition to your professional ones. For example, if you realize that your social feeds are mainly travel bloggers and influencers, perhaps the travel or tourism industries are right for your next move. Or if you've always loved trying new software and have often been an early adopter trying to convince your friends and colleagues to try great new tools you've discovered, you might turn toward tech marketing.
Another aspect to consider is what role within marketing would best fit with your skill set. For example, if you've always particularly enjoyed working on creating content (one-sheeters, guest blogs for your company's website, sales emails, and more), you might want to look into content marketing. If you are drawn to numbers and data, you might consider a role as a marketing analyst.
Take the time to reach out to folks who work in the types of industries and roles you think you might be interested in and ask them about how they got there and what it's like to do the work they do. Having some initial conversations will not only help you figure out if this is the right direction for you, but also ensure you start building out your marketing network.
2. Identify Your Existing Skills and Strengths
Whether the sales and marketing teams are paired together at your current organization or not, you might have been honing your marketing prowess for years without even realizing it. You can leverage your sales skills rather than abandon them, since certain aspects of sales could translate to a successful marketing career.
"Marketers are being held accountable for generating revenue now more than before and nobody understands how to hit a sales goal like a former salesperson," says Tyler Samani-Sprunk, the CMO of the marketing agency Simple Strat, who began his career selling print ads for a publishing company. You can "use your skills in qualifying prospects, understanding customer pain points, crafting your message, and overcoming objections to guide your marketing efforts and you'll likely already have a leg up on the rest of the marketers on your team once you make the transition."
Here are three signs you already have marketing strengths to bring to the table (and to talk about in your resume, cover letter, and interviews):
You're Driven by Data
"Sales professionals who enjoy the audience data and analysis...more than the actual sales process should look into marketing," says Emily Hughes, Marketing Lead at the volunteer recruitment platform MobilizeAmerica.
Many marketing careers involve collecting, analyzing, and presenting data from specific campaigns or programs. By interpreting data, a successful marketer will be able to make evidence-based suggestions for future products or services that will resonate with the client or end user.
If you've found yourself poring over your conversion rates, thinking long and hard about how you've segmented your customer base, or wondering if you should A/B test your sales message in order to refine your selling methods, you are already looking at data like a marketer.
You're a Great Communicator
Communication is key in sales and this mindset should carry over into a marketing career. So much of a day in the life of a marketing professional is centered on crafting messages to reach the desired customer. Whether that's helping with press communications or writing website content, you will be constantly working to push out your company's message in the right tone and voice.
You've got communication chops that will serve you well in marketing if:
You've always excelled at building relationships with your clients
You've taken the time to understand your clients' needs, tailor your pitches, perfect your scripts, answer questions, and update your contacts on any changes
You have a knack for creating slides and info sheets that resonate with clients
You're Customer Focused
Many sales people live the "Always Be Closing" life. That's great for hitting sales goals, but doesn't necessarily translate to marketing. If you find that your ABC mentality has been replaced by a focus on customer-centric strategies, that you're able to empathize with your end users' needs, and that you're adept at speaking the language of the customer when working to drive conversion, you'll be prepared to succeed in a marketing career.
3. Pinpoint the Skills You're Missing
Making a change in your career typically requires refining your skills. A move from sales to marketing is no different. Coming from a sales position makes the transition to marketing a little less daunting—after all, you've already spent time developing relationships with clients and understanding the needs of the end user of a product or service. However, whether you're planning on remaining in your current industry or making a move, there are certain skills you might need to build up further (and you can often get started with free or cheap online courses).
Renee Bigelow, VP of Marketing at growth management software company Align, outlines three things you can do to build on your sales expertise:
Ramp Up Your Analytics Knowledge
You might already have a passion for data, but any successful marketer understands the importance of sharpening how you track metrics and analyze results. Luckily, there are a number of classes that you can take to better understand how to interpret the data that you'll be given.
Understanding the return on investment for any organization is the basis of creating effective marketing campaigns so a class centered around ROI (like these or this) might be a good place to start.
In addition to ROI, understanding how to analyze marketing data will be an important part of your daily life. There are a number of both free and paid online classes that you can take to help you better understand the ins and outs of marketing analytics (you can start with the ones here and here).
Learn New Tools and Software
Marketing typically requires experience or familiarity with software and tools that are different than what you might've used in sales. Fill in gaps by taking advantage of some free marketing courses that focus on the tools you might be asked to use. Many of these courses offer certifications so that you can prove you're up to speed on Google Analytics, Facebook Blueprint, HubSpot Inbound Certifications, and more.
Write—a Lot
Take advantage of as many opportunities as you can to write in a professional context—whether it's volunteering to write a case study about one of your sales success stories or a blog post for your company's website. Every level of marketing requires good writing skills, and the more you practice, the better you'll be at matching the voice of the brand you're representing and engaging with the audience you're trying to reach.
4. Amend Your Resume
Now that you've found an industry that excites you and you've spent some time assessing and expanding your skill set, it's time to start applying. But how do you make your resume stand out as you transition from sales to marketing? Benish Shah, Chief Growth Officer at the gifting platform Loop & Tie, suggests highlighting these elements:
Numbers, numbers, numbers: When discussing your sales accomplishments, be sure to quantify them. Describe your success in terms of ROI, conversions, or any other benchmarking statistics you're able to calculate. It's important to show that you understand the importance of data collection and that you've achieved concrete results.
Sales acumen and strategy: Did you help implement a go-to-market sales strategy? Did you succeed in bringing a new strategy to your clients? Make sure to mention it and quantify the growth that you were responsible for.
Content creation: Highlight any input you might have had in the creation of content that went directly to your clients or potential clients, including any case studies, pitch decks, or informational one-sheeters. If you worked with your marketing department on specific messaging for the company website or for social media, make sure to include that, too.
Client communication: Outline your successes in client communication. This could range from the cultivation of a client who was previously working with a competitor to showing how your communication skills helped smooth out a situation with an upset customer. Communication is one of the key factors in client retention rates, which are highly valued and monitored in marketing.
If you can, share your resume with someone you trust who already works in marketing before you start sending it out. Have them look it over and see if you've included enough to show that you'd be an asset to a marketing department. The ultimate goal is to ensure your resume tells a compelling story about how you're ready to tackle a marketing role.
5. Prepare for Your Interview
How do you prepare to convince your potential employer that you'd be an asset on their marketing team?
One obvious question you should practice answering is, "Why do you want to make the switch from sales to marketing?" This is your opportunity to share the story behind your career change in a compelling and concise way (use these steps to put together your elevator pitch). You should also be prepared to discuss any instances during your time in sales when you were called upon to take on marketing tasks (such as putting together informational packets for clients) or when you otherwise demonstrated transferable skills.
Jeanee Hopkins, CMO of the travel management app Lola, says you should also be prepared to talk about how well you've worked with the marketing department during your time in sales. "Historically, when I ask a potential employee how well they've worked with their current marketing team, the response has leaned toward the negative," Hopkins says. Instead, try to focus on instances when you worked productively with the marketing team. For example, did you collaborate to create a funnel for leads? Did you help set up regular check-ins across teams to ensure that everyone was on the same page? Were you the go-to salesperson marketing folks turned to with questions?
From here, you can go deeper into how you were able to work with the marketing department and what you contributed; what you learned from that experience; and what work you've done in order to prepare yourself for the job ahead.
For many companies, the prospect of having someone who's well versed in sales contributing to their marketing efforts is a plus. Having worked extensively with customers, you bring a perspective to the position that not all marketers have. If you take the time to understand how your current skill set applies and what you need to learn more about, you'll be on the right path to make the jump from sales to marketing.