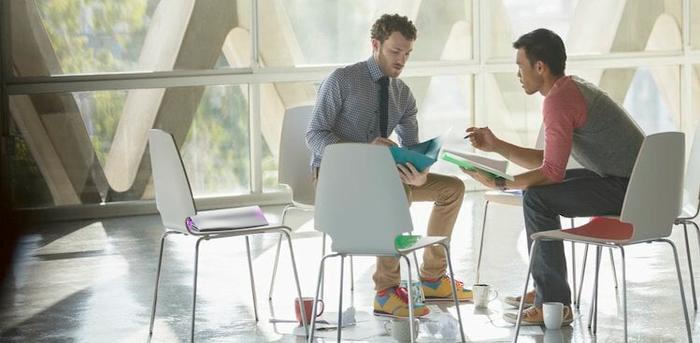 Even when it's phrased as delicately as possible, accepting constructive criticism can be brutal. We'd all much rather be told that our work is flawless, right?
However, feedback is inevitable—and taking it well is a crucial key to success in your professional life. Not only does it show that you're humble and willing to give serious consideration to other people's suggestions, but incorporating it into your work ultimately makes you that much better at your job.
Here are a few tips to not only absorb those suggestions gracefully, but also leverage them to your advantage.


1. Recognize Good Intentions
We tend to recoil at the inkling of something that doesn't resemble a glowing compliment. However, if you want to become better at accepting feedback, your first step is to recognize the goodwill in whoever is offering that suggestion.
Even if it stings to hear, that person likely isn't poking holes in your work just to hurt your feelings. Instead, they are hoping to point out something that will help to make you or your project that much stronger.
When you think about it, that's actually a pretty commendable thing to do. So, rather than fuming inside, take a deep breath and remind yourself that this person is only trying to help.


2. Actively Listen
"I think this is a really great start, but…"
You've heard that before, right? And if you're like most people, you listened to those first few words, and then immediately zoned out after that dreaded "but". You were too busy obsessing over the fact that your work wasn't perfect to actually hear anything that came next.
There's no way to effectively utilize criticism if you have no idea what it is. You need to stay engaged and listen to the points that other person is making, so that you can return to your work and make any necessary changes with as much clarity and direction as possible.


3. Ask Questions
When you think of taking feedback gracefully, it's easy to believe that means you need to sit there silently and accept everything that's pointed out at face value.
But that's not always the case. While other people's suggestions do deserve consideration, there's nothing wrong with asking some questions—in fact, you should have a healthy discussion to make sure everyone's on the same page.
For example, if your co-worker recommends that you change a portion of your presentation, don't hesitate to ask why they believe that would be an improvement. Or, if your boss tells you that he'd like to see you take more initiative on group projects, ask some clarifying questions about ways he thinks you could do that.
Asking questions after receiving criticism shows that you're taking those remarks to heart, and that you're serious about understanding them and using them to your advantage.


4. Summarize the Feedback
When you're on the receiving end of constructive criticism, it's easy for confusion to occur. So, to avoid any crossed wires or mixed messages, make sure you summarize the feedback that was offered.
This can look something like:
"To clarify, you believe that the presentation would be stronger if I created graphs to highlight the results, rather than just listing them in bullet points."
That way, you can ensure that you have the correct understanding of what you need to improve, before actually rolling up your sleeves and making the changes.


5. Be Gracious
It can seem counterintuitive to thank somebody for pointing out a shortcoming and, as a result, creating more work for you. But it's an important thing to do after you've been offered a helpful piece of feedback.
Remember, constructive criticism exists to help you . Could that person have let your presentation or project slide by in a state of mediocrity? Sure. However, she took time out of her day to offer some insight that would improve it—and that is deserving of a genuine, "Thank you!"


6. Follow Up
Feedback isn't always a "one and done" sort of thing. If you're truly aiming to use those suggestions, it's not a bad idea to touch base on your progress in the future.
If your supervisor recommended a change in your approach, for example, schedule a sit-down with her for a few weeks later when you can chat about the progress you've made. Or, if your colleague suggested a tweak to your report, stop by after you've completed that to see how they think it looks.
As the old cliché goes, actions speak louder than words. So, proving that you ran with that feedback and used it to inform your next steps will speak volumes about your attitude and your professionalism.


Constructive criticism is both inevitable and important. It exists to help you be better at your job—meaning it's crucial that you not only learn to accept it, but also implement it.
That might seem easier said than done, but it doesn't need to be that complicated. Use these six tips to start taking constructive criticism seriously, and you're bound to make improvements.