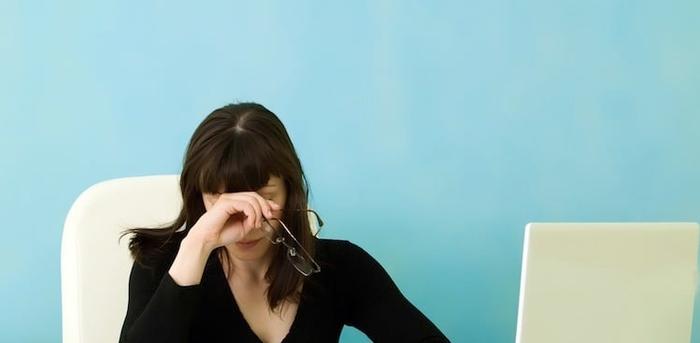 You pulled an all-nighter on your latest project. You just got over a stomach bug. You've got the post-holiday back-to-work blues. For whatever reason, you're not at your best, and of all places you could be, you're at the office.
But just because you're not feeling 110%, doesn't mean you have to show it. I used to have a colleague who would say, "You look tired," any day I didn't take the time to put on mascara, let alone when I was actually dragging. Take it from me: It's much more effective to put in the time and effort to be (literally) bright-eyed than to hope no one will notice.
Read on for three ways you can make a great impression, no matter how you're really feeling.
1. Look the Part
You're exhausted, so the smartest thing you can do is snooze and catch a few more minutes of shut-eye, right? Not exactly.
Not only is it true that, "when you look good, you feel good," but when you look exhausted, it's more obvious than you may think. So, taking the time to pull yourself together—picking an outfit that you know earns you compliments, swiping on a bright lipstick—won't just make you smile, it will distract from your lackluster energy and help you make a pulled-together impression.
Need another pick-me-up after a draining lunch meeting? Keep an emergency kit in your desk (Visine included!).
Related: How Not to Look Tired (When You're Really, Really Tired)
2. Organize Your Task List Accordingly
When you look at your to-do list for the week, odds are there are some tasks that are second-nature and others that require you to marshal your resources and think strategically. Cut yourself a break, and if they're not deadline-specific, save the toughest projects for another day.
Pushing off the demanding tasks not only increases the likelihood that you'll get something done for the day, but also ensures you won't miss something that you would otherwise notice (when you're not feeling short on energy or focus).
Just make sure you're not using this an excuse to give yourself a light day each week: Pushing off the hard stuff should be the exception, not the rule.
Related: In a Daze? How to Defeat Fuzzy Brain at Work
3. Go for Thoughtful
Some days, lightening your load is just not an option. You have a major meeting, call, or presentation, and you need to be at your best. Now what?
Remember that there is more than one way to make a "good" impression. Sure, your preference may be to exude high energy and razor-sharp focus, but that doesn't mean you have to let low energy manifest as slow or disconnected.
Instead, focus on looking (and being) thoughtful. Allow yourself an extra moment to think before you speak—which will not only look professional, it'll help you avoid a knee-jerk, overtired response. Done the right way, taking an extra moment to catch up will come across as you taking an extra moment to think carefully and process.
Related: What to Say Instead of "I Don't Know"
No, you won't be your best 100% of the time. But there's no need to get a reputation as the colleague who's not bringing your A-game. Use these tips to look like getting through a tough week is no sweat (and then, seriously, go get some sleep).