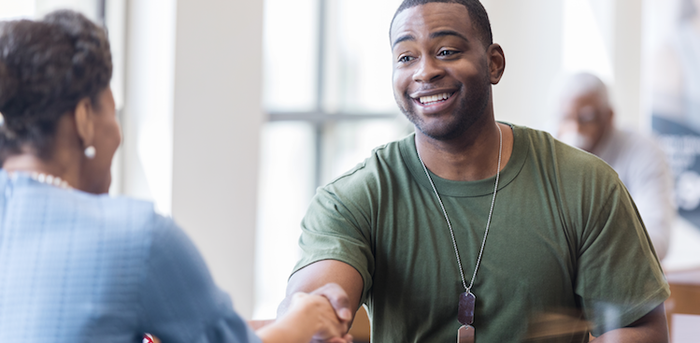 Every year about 200,000 U.S. military members transition back to the civilian world and workforce. Back in 2015, I was one of them. Like many of my peers, I wasn't sure what was in store for me when I left the Marine Corps and tried to find my way into corporate America.
I took the first job that came along via an IT recruiter I'd known since childhood. Soon afterward, however, a new opportunity presented itself. When I interviewed at this Fortune 500 company, I was asked openly about my military service, and we had a good discussion about leadership from both the military and civilian sides. It turned out they had a big veteran resource group and planned many activities to honor veterans while also supporting the community through United Way and Meals on Wheels.
I was lucky to land somewhere that was supportive of veterans. But looking back, I realize I could have been more proactive examining companies during my job search to understand what kind of work environment they create for their veteran population.
Today, I'm fortunate to work at ACP, a nonprofit that helps connect veterans to industry professionals in one-on-one, year-long mentorships. So I've seen and helped other veterans successfully transition from military to civilian careers. I spoke with some fellow veterans and other experts who've helped service members with the transition to get their advice on how to find companies that will help veterans thrive.
Speak with Other Veterans
One of your best sources as a veteran looking for a company that's truly supportive is other veterans. As you go about the job search, reach out to veterans you know and ask them about their experiences at their organizations—particularly if those companies are in your industry or on your target list. What has been most helpful to them as veterans in their new roles? Is there anything they wish they'd known or asked about before taking the job? Whether they're having positive or negative experiences, their answers can help shape what you look for in your own search.
Once you're targeting specific companies you're interested in working for, see if you can tap into your extended network and reach out to veterans who work there, even if you don't know them personally, to ask about what it's like. While one veteran's experience at a company won't necessarily be the same as another's, you might glean some useful insights and come away prepared with questions to ask in your interviews.
For example, you might want to ask about what training and onboarding for new hires looks like, both formal and informal. In the military, it's reassuring to know that you're not going to get fired if you mess something up. While veterans are used to learning on the fly, companies that actively give new employees the tools they'll need to succeed—and offer a little more leeway to start off—show that they're making a long-term investment in their veteran hires.
Reach Out to a Veteran Recruiter
Some bigger companies have a veteran recruiter—an employee, or even a small team, devoted to recruiting veterans to join the organization. It can be an initial sign that shows the company has given thought to how it brings in veteran candidates. If a company you're interested in has one, try to schedule a call.
"That veteran recruiter is going to understand better than anybody the values of his company," says Tim Cochrane, a Marine veteran and President of ACP. Cochrane, who works daily with veterans and more than 80 of ACP's partner companies, recommends speaking with the veteran recruiter to understand if the company will help with what he considers the hardest part of being a transitioning veteran: translating your skills. Does the veteran recruiter sound well-versed in how your previous duties might have prepared you for certain roles within the company? Can they give you examples of how other veterans have been able to flourish and grow there?
Jeff Miller, an Army veteran who now works as a talent acquisition manager for Sikorsky (a Lockheed Martin Company), says that before he got the job, he connected with one of the recruiters, a retired Marine Corps Colonel, which helped in his overall evaluation of the company. Now that Miller is on the other side, he wants his team to understand how to read a DD214—the document issued when service members leave active duty—to know what honorable service means, and to be able to decipher the military lingo. The goal is to do better when meeting veteran candidates at career fairs and beyond, reading and deciphering their applications, and generally helping them through the hiring process.
Connecting with a veteran recruiter or liaison can also help you find out about special programs a company might offer prospective candidates. For example, Missy Rinkenberger, Military Talent Liaison at Wells Fargo, says the company conducts a webinar called Operation Stagecoach, during which they review different parts of the business and roles within those departments. It's a great way to see what opportunities are available and how your military skills might align with some of those jobs. (Full disclosure: Wells Fargo is a current client of The Muse.)
One program that's highlighted is the Veteran Employment Transition (VET) Program and Hiring Forum. This internship program helps veterans transition by learning about corporate culture and gaining on-the-job training, support, networking, and leadership insights. The goal is to land a permanent position with Wells Fargo, but it can help you polish your skills and prepare you for a full-time job anywhere you go.
Remember You're Interviewing Them, Too
The interview process is a chance for the company to evaluate you, but you have a chance to evaluate the company as well, including to gauge if this is going to be a good place for veterans. Sure, there might be a veteran hiring initiative, but you need to dig deeper and try to assess whether the environment is truly supportive and understand how it will help you achieve your post-military career goals.
Rinkenberger emphasizes that you should come prepared to ask questions based on the particular concerns you might have related to your military transition. For example, if you're coming in to a new kind of role at a lower level—with a lot to learn about using your skills in the civilian workforce—you might want to ask the interviewer about opportunities for growth in the long term. Or if you used your GI Bill after your separation but are considering further education, like an MBA, ask about tuition assistance.
During his job search, Colin Bunn—a Marine Corps veteran who now works for Fortis Construction, a small employee-owned general contracting company—had some apprehensions about how his military experience would be viewed. When he interviewed with Fortis, he knew his technical skills weren't necessarily what they were looking for, but he was told that he was expected to "learn a lot, be humble, care a lot, and ask a lot of questions." This approach reminded him of his days as a young Second Lieutenant and made him more eager to join the company.
Melissa Baxendale, a Navy veteran, felt that some interviewers dismissed her military experience and had preconceived notions about her service. During one interview, Baxendale says, "I got the hint that he thought I had PTSD." She tried to dismiss the false assumption as it wasn't relevant to the job, but the experience dampened her enthusiasm for that particular company.
She ended up at Microsoft, where those in charge of the hiring process were willing to overlook some of the gaps in her experience. In fact, before she even interviewed for a job at the company, she'd trained at the Microsoft Software and Skills Academy based at Camp Pendleton in Southern California. Not only did it give her the sense that the company understood the benefit of her military service and valued the skills she brought to the table, but it also helped her gain new skills and make connections within the organization.
When Rinkenberger speaks with veterans after an interview at Wells Fargo, she says she asks, "are they less, more, or the same level of interest from when we started the process?" And you can ask yourself the same about wherever you're interviewing. There's no need to rush into a job if you don't feel the company will be supportive of you as a veteran. If you're asking questions and don't feel the answers are genuine or match what you're looking for, or if the interviewers make arbitrary judgments about your service, it's OK to walk away.
Evaluate Leadership and Stability
Strong leadership in the military makes for an effective unit and successful missions. So as a veteran, your assessment of a company should include a scan of the leadership. Do the top executives have a clear vision of what they want to do and how they can get there? Do they give opportunities to folks from all kinds of backgrounds? Do they jump in and roll their sleeves up?
Bunn made sure to ask about what to expect from leadership during his interview at Fortis. His interviewer gave him an example of the CEO just the day prior sweeping the floor and taking the trash out. It reminded Bunn of the "Marine mentality of leaders eat last, nobody is too big for tasks [like that]."
If mission accomplishment is the top objective in the military, then the second objective is troop welfare. My brother, Joshua Barrett, is a Marine veteran who now works for the Federal Reserve Bank. During his job search, he sometimes asked himself and employees he reached out to on LinkedIn, "Why does this company have a high turnover rate? Is it poor management? Does the workload burn people out? Maybe the benefits aren't that good. Maybe the work environment isn't that comfortable."
Structure and stability can be particularly important factors for folks who are used to these elements during their years on active duty. The military is a great way to learn things and hone your skills because you can be certain of your place, understand how the system works, and have a clear path to grow. Having a stable work environment can give you the security you need for a smooth transition as well as the opportunity to further your skills in a new setting.
Take Values Into Account
Looking at a company's code of conduct/ethics or the mission and values statement on its website is a good way to see what values the organization emphasizes and how those align with your values from the military, such as integrity, respect, and duty. You can also follow up with questions for your interviewers and any employees you speak with informally to try to understand how those values are actually demonstrated.
Service members are always willing to help one another and their community. So, as a veteran, you might be particularly interested to know whether a company offers and supports opportunities to volunteer and give back. Do some research on each company's website to find out what projects it does, what volunteer organizations they partner with, and what other programs they might offer (such as VTO, or volunteer time off).
For example, not only has Baxendale been able to work on Habitat for Humanity projects, but her company also gives $25 to the charity for each hour that she volunteers. For her, it's a sign that the company truly cares about this work and supports her doing it, which in turn gives her job greater meaning and allows her to go above and beyond outside of her role. "To me, that's a huge thing."
Seek Out Community and Diversity
No matter how welcoming and supportive management and other employees may be, sometimes what's most helpful is to have a community of other veterans. You might find this informally at a company that has several veterans among its ranks or in a formal employee resource group (ERG).
Barrett, for example, learned during the hiring process that his company has an employee resource network called First to Serve and it was an important signal that his employer would be supportive of his veteran status. This internal group has a budget from the company to put on events for holidays like Memorial Day, when they organized a walk to honor service members who gave the ultimate sacrifice. These kinds of groups can be a great way to keep your connection to the military through your company and offer helpful resources you can turn to for help and mentorship (more on that below).
In addition, as a veteran coming from a diverse space in the military, you may want to look for other kinds of diversity and inclusion and consider other ERGs that you might want to join or support—such as for women, people of color, people who are disabled, or LGBTQ folks.
Look for Mentorship
Mentorship is also a huge component of military values. So when you're searching for a civilian role, look for mentoring programs or a culture of mentorship. Barrett and Cochrane both point out that such programs go a long way in helping veterans adjust to a new company and the civilian workforce in general. And it can be an important signal that the company cares about helping veterans translate their skills, adjust to a new role and culture, and be successful in their post-military careers.
Sometimes these programs are even run through veteran ERGs. Cochrane says one of the best things he's seen companies do is "assign someone within the veteran ERG to new hires, just to get them acclimated, and be able to talk with them [and hear] from their perspective."
A mentor can help integrate you into the company, Barrett says. "We [military members] have a different language." Having a mentor can help you learn the corporate language and company culture and understand protocols and best practices. It's also an opportunity to network and learn about other roles and parts of the organization as the mentor you work with is likely to be tenured and possibly from a different department.
Think About Practical Assistance
One of Baxendale's job search priorities was to find a company that would help her relocate. She'd left the military and moved to El Paso, TX to go to school for computer science before heading to San Diego for the Microsoft Software and Skills Academy. But she was looking to settle on the East Coast, a big move that would've been difficult to take on alone. Microsoft paid for her to relocate from California to North Carolina, which helped her focus on starting her new job without worrying about the financial burden of moving.
Companies are not going to be perfect, but the little things they do to assist your transition to the corporate world go a long way in showing how great they can be for veterans in the long run.