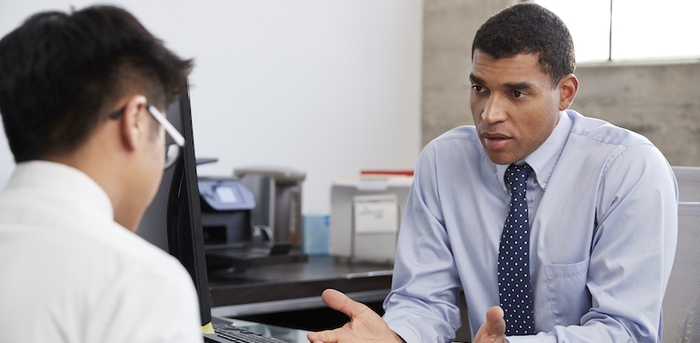 It's probably the most awkward, squirm-inducing question you can be asked on a job interview. "Explain your employment gaps to me. What were you doing that time?" the interviewer inquires. Your heart starts racing. You stammer. You stutter. Your palms get clammy. The question is the equivalent of a date asking you, "When was your last relationship?"—when you haven't had a boyfriend in three years.
Don't worry, though—it doesn't have to be a deal-breaker. You just have to be prepared. Here are a few tips for explaining bouts of unemployment, no matter how long, with aplomb.
Be Honest
Ryan Healy, co-founder of Brazen Careerist, says, "Anyone you are talking with will sniff out a phony excuse." So definitely don't exaggerate that your three-day-a-week unpaid internship was really a full-time job. Instead, be direct and to the point about what you've been up to (and hopefully, that's a litany of impressive volunteer and other mind-enriching activities—more on that later).
If you're worried about this, here's some good news: Healy says recruiters and hiring mangers are sympathetic. "[They] understand that finding employment in today's economy isn't easy for anyone, and its especially hard for recent college grads."
But Don't Blab On and On
That said, "Don't offer a long, drawn out explanation about why you left your last position," says Michelle Goodman, author of The Anti 9-to-5 Guide: Practical Career Advice for Women Who Think Outside the Cube. Less is more here—just say you left your job whenever you did. At this point, there is no need to use terms like "laid off," "fired," or "downsized," unless someone asks you point blank why you left—then, of course, honesty is the best policy.
Along those same lines, no matter what the terms of your departure, make sure not to badmouth your former boss or company. This can only make you look bitter and resentful—and sure, you might be, but those qualities are a big turn-off and will have the interviewer questioning your integrity and judgment. It's a much savvier move to be gracious and say, "I learned a lot at my former job. I'm grateful for the experience and opportunities they gave me." Get out all your negativity and griping to a friend before the interview.
Keep Focused on the Future
As soon as you can, you'll want to steer the conversation toward how you will do the job and contribute to the organization, says Cali Williams Yost, work flexibility expert and author of TWEAK IT: Make What Matters to You Happen Every Day. Rather than dwelling on or apologizing for the break, you want to let the interviewer know that you are excited and ready to work.
If you took a break on your own terms, try the party line Yost suggests: "I decided to take a break at the time, but today I'm ready to contribute to this organization in the following ways." If you were laid off, say something like, "I was obviously disappointed to be let go, but I'm so excited to put my marketing and social media skills back to work. Let me tell you about the last project I worked on."
Stay Active
Now, the #1 way to nail this question is to make sure you're doing something productive while you are unemployed, which will make interviewing for jobs so much less cringe-inducing. Healy says it doesn't really matter what you do— "volunteer, blog, freelance, or take online educational courses," he suggests. (Another good idea: Learn a language that would make you an even more attractive hire in your industry.)
That way, Healy says, your answers can communicate that you weren't just sitting on your couch eating potato chips (or watching cat videos) for the past six months. "You were actually being productive and pursuing something that has improved your skill set in one way or another."
More importantly, come prepared with a story that emphasizes the skills you used or learned. Even something like helping at your child's school or volunteering for a nonprofit can seem relevant if you can say, "I raised X amount of money for three events" or, "I grew the number of sponsors from 10 to 15 in one year." Get creative, Yost says. Hiring managers will love your productivity and initiative.
Bottom line: Answering this question on an interview is just like gliding through any other unpleasant situation in life. With that right finesse and preparation, you'll hardly wince.