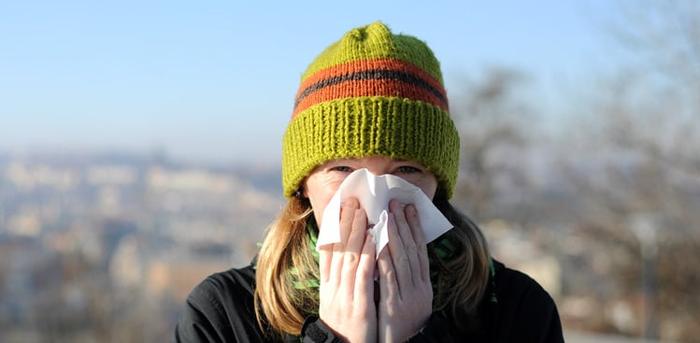 It's fall! For many people, the changing weather calls for celebratory traditions like sipping a pumpkin spice latte or heading to a football game at your alma mater. But for me, and for most working parents, the dip in temperatures and changing leaves only means one thing: the dawn of cold and flu season.
Working parents know that fall and winter can be brutal—colds, stomach bugs, and treacherous-sounding viruses and infections (hand, foot, and mouth, pink eye, thrush) hop from one child to another like joyful fleas and then hitch a ride to the office. Last winter, everywhere I turned—from my desk to my son's high chair to the pediatrician's waiting room—there was mucus. It sounds gross because it was.
My husband, son, and I all survived, but it wasn't easy. My husband and I both had to take off nearly a week of work during a critical time of the year, when our companies were tying up loose ends before the holidays.
Working parents nationwide are faced with this dilemma all winter long—to go in or stay home? Many workers, parents and non-parents alike, still go to work when they're sick, either of their own volition or because they have no paid sick days. A 2013 study by the University of Pittsburg showed that about 90% of employees come to work when they're knowingly sick. Why? According to the National Partnership for Women and Families, 40% of private sector workers and 80% of low-income private sector workers have no paid sick days, for starters.
But the problem goes beyond paid sick leave. Working parents are often reluctant to take sick leave for themselves because they want to save it for their children, who will surely get sick at least once. We also feel guilty for taking sick leave—shouldn't we just power through it, for the sake of the team? Or, in some instances, we're subtly discouraged from taking leave, despite paid sick leave policies, when employers meet absence-due-to-illness with suspicion or tacit disdain.
The bottom line is this: When employees come to work sick, when employers fail to offer paid sick leave, and when leadership enables a workplace culture that frowns upon taking care of oneself, a business' productivity will suffer. Sick people don't get the rest they need, thus prolonging their sickness, and germs are spread around the office, perpetuating the illness. Over the long-term, poor sick policies can lead to a drop in employee morale and retention.
So, how can we solve this problem? In short, we need to develop workplace cultures with healthy sick-leave policies that actually translate into healthy sick leave practices.
Here are a few ideas on how we can get started.
What Employers Can Do
Offer Flexible Sick Leave as a Separate Benefit From Vacation or Personal Days
Rolling sick leave into "paid time off" forces employees to choose between staying home to recuperate or shorten their trip to the beach—an unfair contest.
Implement Telework Procedures That Make it Easy for Employees to Work From Home When Sick
This means investing in the appropriate telework technology and setting clear expectations for what telework entails. Most employees will opt for telework if they can muster the energy to do so.
Lead by Example
Leaders should model the behavior they hope their employees will adapt—and be open about it. Work from home when you're sick, and stop working altogether when necessary.
What Employees (Both Parents and Non-Parents) Can Do
Get a Flu Shot
Lobby your employer to offer them for free, or make a team field trip to the local drug store.
Follow Tried-and-True Sickness Prevention Strategies
Wash your hands often. Stay active. Eat healthy. Fist bump instead of handshake. These small behavior changes actually work.
Develop Contingency Plans for Any Major Projects
Make it a habit to provide "understudies" for each project in order to prepare for illnesses.
What Working Parents Can Do
Support Each Other While Enforcing Stay-at-Home Policies
When a colleague reports that he or she is feeling under the weather, be the first to say, "You should stay at home. We can do this meeting over the phone." When you see a fellow working parent missing days at work to care for a sick child, jump in to help: "You'll probably come down with the same thing in a few days. What can I take off your plate next week?"
Stop Feeling Guilty
Parents can find themselves in a cycle of guilt during cold and flu season. We feel guilty for taking off work to care for sick children, for going to work while our partner does so, or for staying home to care for ourselves. We can't win. But we must stop harboring guilt about these unavoidable circumstances. Holding on to the guilt is a validation of an outdated workplace that assumes someone is always home to take care of the kids. Our workplace culture is moving on, and our mentality should, too.
Develop a Kid-Sick-Day Plan With Your Partner Based on Actual Professional Circumstances
About 70% of mothers work, so we can no longer revert to the antiquated "mom will take care of this" philosophy when a child is sick, nor can we continue to perpetuate the ridiculous notion that "sick kids only want their mommies." Each couple should develop a policy for their family, based on schedule flexibility, tenure, upcoming events and deadlines, and so on, and stick with it. Having a policy in place will also avoid last minute scrambling (and arguments).


Finally, as an entire culture, we need to stop framing paid sick leave and realistic sick leave policies as issues that exclusively impact working mothers. Alexis C. Madrigal of The Atlantic addressed this problem last month in his article, "Two Working Parents, One Sick Kid." When his son came down with his first real virus (the aforementioned and horrible hand, foot, and mouth), he reflected, "The state of affairs is absurd and is worth saying out loud: I've been led by a sexist culture to believe that men don't take care of sick kids. That's what Moms do." But after taking some time off and caring for his son so his wife could continue to work and meet pressing deadlines, he comes to this apt conclusion:
My hunch is that if enough dads stopped leaning on their partners in these situations—talk about unacknowledged male privilege—the culture would change. The problem of caring for sick kids would be seen as a universal necessity for the continuation of the species, instead of a site of concessions to working mothers.
Exactly. Let's make this sick season a little healthier by proactively changing these outdated policies and perceptions.