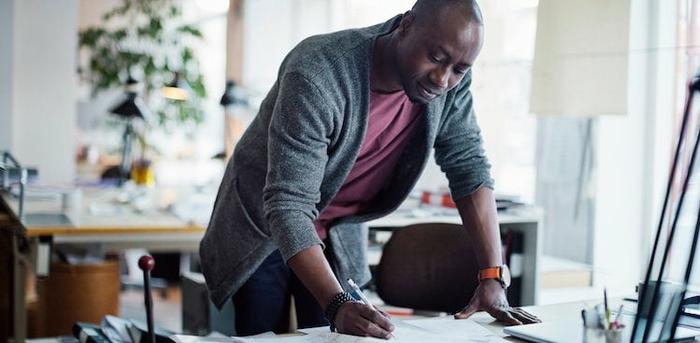 Creating an online blog today is easier than ever for people outside of the design or product world. We've partnered with Squarespace to show you how it's done. Remember to use code 'THEMUSE17' to get 10% off your first purchase when creating your own personal website.
We understand that if you aren't a writer, designer or photographer, launching a blog can be daunting. Especially when it comes to that first, most pressing question: what do I put on it?
But trust us on this one, you do have the skills necessary to whip up a blog.
And that's important because it's a great way to bolster your personal brand and set yourself up as an authority in your industry (no matter what industry that is). Blogging also provides recruiters—and just about anyone else you'd like to know professionally— a glimpse into your personality.
Here are some ideas to make your blog happen once and for all.


Marketers: Market Yourself By Showcasing Your Marketing Skills
What it shows outside of your resume: We want to know that you're a connector and clear communicator.
You don't have to be a writer: Marketing is a wide umbrella that covers a range of different roles and skills which is why you may be tempted to do it all on your blog. Instead, try to focus on a key aspect of your experience or create content that represents where you see yourself going in your career. If you are interested in lead generation, you can share opinions on the latest analytics tools using a format that highlights the pros and cons of each. If PR is your trade, get into the habit of posting any new learnings you find during events or conferences that you plan to apply to your current role.
Your blog could look like this:
Marketing is all about looking good, right? Because of that we recommend strong visuals that tie to the blog post titles. If your post is discussing the best conferences for marketing professionals, use an image from that conference! To keep your page cohesive, think about using photos that have colors within the same palette. For example, love the muted look? Try to stick to pastels or washed out photos.


Food and Hospitality Workers: Put Your Photos Where Your Food Is
What it shows outside of your resume: Instead of bullet points listing your work experience, why not get your reader drooling over your creative recipes or past travels?
You don't have to be a writer: When it comes to a food or hospitality blog, strong images are key. An effective blog for a chef will be driven by food photos that take presentation into account. The colors and textures of dishes, as well as, how food is plated can set you apart from the rest. While you don't want to give away all of your secrets, it's a good idea to offer cooking tips so readers remain engaged. It could even be as simple as a post on the five ingredients you always buy from the farmer's market and how you like to use them.
In the hospitality business, you can focus behind-the-scenes information that reveals how the service industry runs smoothly. Travel sites are a dime a dozen, but if you have a unique perspective on making your way around a new destination, wow your audience with some unique insider tips. Or try sharing a review of a favorite hotel and details on an itinerary in the region.
Your blog could look like this:
As we mentioned, images are gold for food and travel blogs. That's why we love a blog format that places the photos front, center and full scale.


Accountants: Use Words to To Show You're Good With Numbers (Really)
What it shows outside of your resume: If you deal with numbers, chances are you've been asked to simplify your findings for colleagues in other departments. Your blog can really shine by offering financial analysis in an easy-to-understand way, demonstrating you have the know-how to communicate with anyone.
You don't have to be a writer: An accountant might consider creating a post in a timeline format, breaking down a list of mobile apps (from travel to grocery shopping) you rely on throughout the day to monitor your budget and save money. Another post we are dying to see: clever or surprising ways to reduce monthly bills. You can use free tools online, like Canva, to add simple charts and graphs that illustrate your advice. Alternatively, you can tailor content to a specific niche you have a good track record in. Have you had wild success repaying your student loans? Share that wisdom with the world! Pro tip: schedule your financial advice with seasonal headaches like graduation or tax time for an SEO boost.
Your blog could look like this:
If you don't have time to create custom images for your posts, don't fret! This kind of layout is for you.


Salespeople: Close The Deal with Your Readers
What it shows outside of your resume: Show us the money! Your blog is all about how you tick as a sales machine.
You don't have to be a writer: Jump into the blogging world by sharing some of your tried-and-true sales tactics. What's your favorite networking technique? Do you have a fool-proof plan for getting high-level executives to respond to your LinkedIn messages? How do you go about following up on a lead? Whether you've discovered a great way to strike up an engaging phone conversation or never fail to close a deal over a dinner meeting, your blog is the place to organize your experience. You may even want to show off your presentation skills by crafting your advice on slides and embedding them into your blog with tools like Slideshare.
Your blog could look like this:
This layout from Ally Behnke puts your freshest face forward. Sales - at its core - is winning over people with a first impression. Why not bring that same approach to your blog? Put a professional portrait on your homepage and a short biography to let readers know your background.




With a clear strategy and thoughtful posts, there's no reason why your blog can't land you the the career opportunity of your dreams.