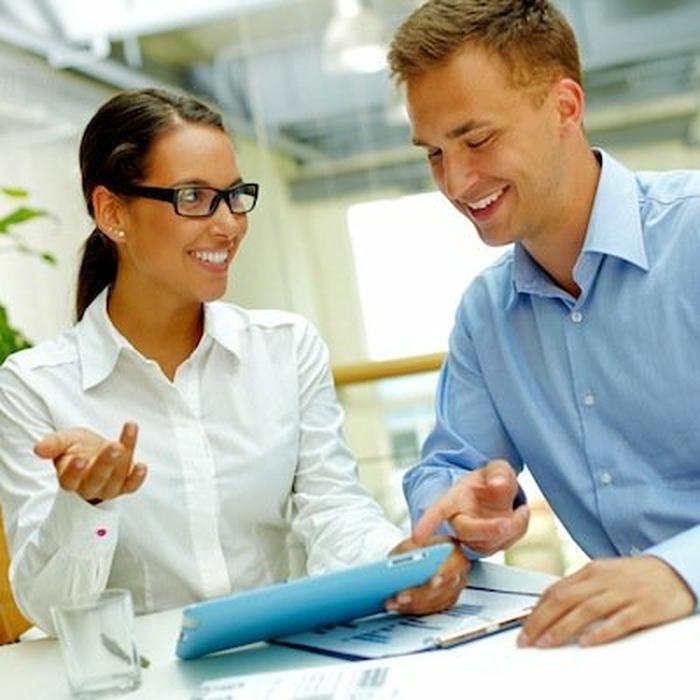 Ever wondered how to get started working in PR, entertainment, finance, or another profession? Follow along with our "How to Break Into" series, a guide to breaking into these cool fields and more, brought to you by those who know it best.
A budding business can't become the next big thing without money to help it grow. Working at a venture capital firm, you get to be the one to decide which businesses will get the backing they need to become huge. But VCs do more than just sign checks—in this field, you'll get to work with inspiring entrepreneurs to create business models that work. (And yes, you'll profit nicely when they do.)
Want to help entrepreneurs turn their ideas into reality? We sat down with two successful venture capitalists to talk about how they got their start.
Edlyn Yuen
Senior Associate, StarVest Partners
Years of Professional Experience: 4
Brief Description of Job: I work with the investment team to look for companies that have potential to grow into large-scale businesses with the help of an investment from our firm. I meet with entrepreneurs to learn about what the company has accomplished so far, their visions for the future, and how they plan to achieve their goals, analyzing their financial models and advising them.
What did you want to do growing up?
I was convinced I'd be working in the nonprofit sector. I had wanted to join the Peace Corps after college, and I traveled to India to volunteer with an international work camp one winter. It was rewarding to see firsthand the impact microfinance had on the village. When I was there, I was particularly inspired by a workshop where I helped teach women how to make soaps so they could support their families financially. The experience really encouraged me to think about job creation and the role of capital in improving people's lives.
Why did you choose this field?
After going to India, I spent the next summer as a starry-eyed intern at Kiva. The office was buzzing every day with people in their 20s and 30s using technology, finance, and business acumen to think about how to quantify the risks of investing in microfinance institutions around the world. It was my first exposure to business models, financial statements, and the practical use of data to drive decisions in nonprofits. Since Kiva was a nonprofit, I also learned a lot about lean operations and the importance of creating a strong culture. I emerged from that internship wanting to learn everything about business models, and how to support innovative ideas with executable, quantifiable plans.
After working in investment banking, I wanted to work in an industry that exposed me to innovative thinkers and allowed me to help them think through business plans to implement their vision. The value of this industry, in my opinion, isn't just providing capital—it's asking critical questions, providing feedback, and helping entrepreneurs come up with risk mitigators so that their ideas can be successfully carried out.
What advice would you have for someone breaking into your field?
Don't be afraid to email and update people you've reached out to before for advice. You're not bothering me at all by sending me a short note on how your job search is going. I'm always interested to hear back from people who have connected with me in the past, and I genuinely enjoy hearing the thought process behind any job hunt.
In an industry like venture capital, where many internships and jobs aren't disclosed to the general public, it also helps to stay at the top of a connection's mind. If I remember you and your objectives, I won't hesitate to reach out if I see something that may be a fit.
Nick Tomaino
Associate, North Atlantic Capital
Years of Professional Experience: 5
Brief Description of Job: I do deal sourcing and due diligence on prospective investments in the technology sector, as well as support portfolio companies on market research and business development initiatives.
Why did you choose this field?
I love investing because it's challenging and requires preparation and discipline—kind of like competitive athletics, which I've participated in since I could walk. When it became clear I wasn't going to make the NFL, investing was the next best option. I chose venture capital because I am more interested in investing in people than making investments solely based on numbers and financial information, as is done in public market investing. In this field, I have the opportunity to meet, invest in, and be inspired by interesting entrepreneurs every day.
What did you want to do growing up?
I wanted to work in finance because I am competitive and wanted to make a lot of money, and thought that would be the best career path to do so. Looking back on it, I don't think I really knew what "working in finance" meant, and I wish I was a little more open minded about different paths. Regardless, I am happy with the end result.
What advice would you have for someone breaking into your field?
Be resourceful! There is so much information on venture capital and the early stage startup world on the internet, and there are so many people in this industry that are willing to talk to you via email and Twitter. You need to be thoughtful in how you go about connecting with people, but if you spend the time and are truly interested in the stuff, I don't think it's too difficult to make your own connections. Show that you have good ideas and can add value, and you will be well on your way.
I was amazed at how many top tier VCs responded to my emails when I first was learning about the industry. I don't think the CEOs of major banks or consulting firms answer emails from random young people who have an idea or a question, but partners at top tier VC firms did.
What industry-specific job search resources would you recommend for job seekers in your field?
This is not the type of industry that you can break into by sending a bunch of resumes out and hoping something sticks; you need to bring lots of knowledge and insight to the table and make real connections.
I started acquiring knowledge by frequenting blogs like AVC (Fred Wilson's blog), FeldThoughts (Brad Feld's blog), and Both Sides of the Table (Mark Suster's blog). In addition to learning about how great VCs think, you also must be knowledgeable about current trends—publications like TechCrunch, PandoDaily, Techmeme, and Mashable are great for doing this if you're interested in the tech startup scene. Do your research with these tools, make connections, reach out to experienced entrepreneurship career coaches, and the jobs in this space will find you.