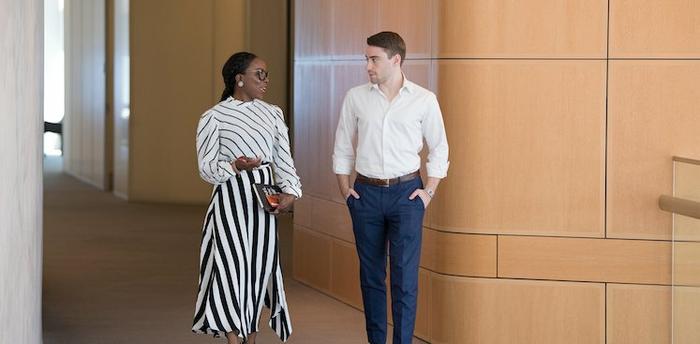 In partnership with Goldman Sachs, we're putting the spotlight on professionals who embody a personal mission to make things possible. Below, we talk to Lade Ayediran about her career journey and how curiosity can open doors.
Lade Ayediran's career took her from the country of her birth, Nigeria, to the UK, New York City, and finally, back home again. Her journey took hard work and determination, but it all paid off when she was able to give back to the country she calls home.
Below, Lade, a VP at Goldman Sachs and the Technical Product Manager with Compliance Engineering, tells her story and imparts her wisdom on taking risks, being adaptable, and staying curious.


Jill of All Trades
If you name it, chances are Lade has done it. Software Engineering? Yes. DevOps? Sure. Move from the UK to New York City and become a Technical Product Manager? You bet. It's a testament to Lade's intellectual curiosity which has afforded her the opportunity to constantly innovate and try new things.
"I think in one's career it's important to take risks because that's the only way you grow and expand the tools within your repertoire. And so, when I took the opportunity to make a career change to Human Capital Management (HCM), two months beforehand I really didn't know I was going to do that."
Instead of building software, she was building Goldman Sachs' campus recruiting strategy. Now, she's the person telling potential employees what it's really like to be an engineer at the company. An important role, since nearly a third of their employees are engineers, and they want to attract those who are interested in STEM careers.
More importantly, this gave Lade a chance to help kick off their Africa Recruiting Initiative. One of HCM's priorities was to focus on diverse hires, and last year, Lade attended the Ghana Investment Summit where Goldman Sachs hosted an engineering recruitment event which attracted over 140 students.
They narrowed the field down to 50 high-potential candidates and played a game involving an escape room geared toward techies.


An International Playbook
When she got back to the states, Lade and her colleagues started to think about how the company could further evolve its recruiting playbook.
Last February, HCM ventured to Nigeria, and instead of a day-long function, they hosted a four-day recruiting event. Of the 864 applicants, 200 students were selected to attend. They were separated into small groups and began working on a technical project by building a budgeting app. In addition to writing algorithms, they would also take part in interviews, and on the fourth day, the best of the best would then take a coding test. Over the course of this trip, the firm hired more than 20 people.
Not only are they enriching the company with diverse talent, they're also enriching the continent. "If we're able to provide this type of exceptional opportunity to work at Goldman Sachs—which I am a beneficiary of—and we're able to provide that to the students and impact their families, I think we're doing something right."


Curiosity—Bad for Cats, Good for You
If there's one thing Lade has learned during the course of her career, it's this—be curious. For her, intellectual curiosity is essential.
"Once you start to dig into the why," she says, "you'll find yourself constantly figuring things out and know 'Oh, this is how this works.' When you get into the why, you know the how, and then you can teach other people and that solidifies the knowledge for you. So stay curious."
Lade has certainly worn a few different hats in her time, whether it's working in software development or in Human Capital Management. "I don't know what my title will be tomorrow," she says, "but I can tell you whatever is required I will reinvent myself to take on a new role. That's critical in my field and in this industry."
For Lade, that also means repositioning your skillset and being aware of new and different technologies in your field. If you're thinking of changing industries, draw parallels in the soft skills needed for each position. As a recruiter you need to be a good communicator, very organized, and passionate about finding and working with the best people. That could transfer nicely to a marketing or account management position, where the same types of skills are needed.
Remember, more often than not you will learn the specifics of the job on the job (unless, of course, the job or industry requires a programming language you need to know beforehand), but it's important to show you have the skills to be successful and are willing to adapt. If you can do that, you can be a real change agent, because you'll be at the forefront of whatever you find yourself doing.
"Technologies just go obsolete at an exponential rate," she says. "If I don't stay current, if the firm doesn't stay current, we are going to be left behind."


Take the Risk
Lade's career has taken her to different parts of the company and expanded her knowledge, and she's incredibly proud of the work she's done for the Africa Recruiting Initiative.
"It was everything," Lade says, "because, for me, it gave me an opportunity to help impact diversity recruiting at the firm and give back to the continent that I'm from."