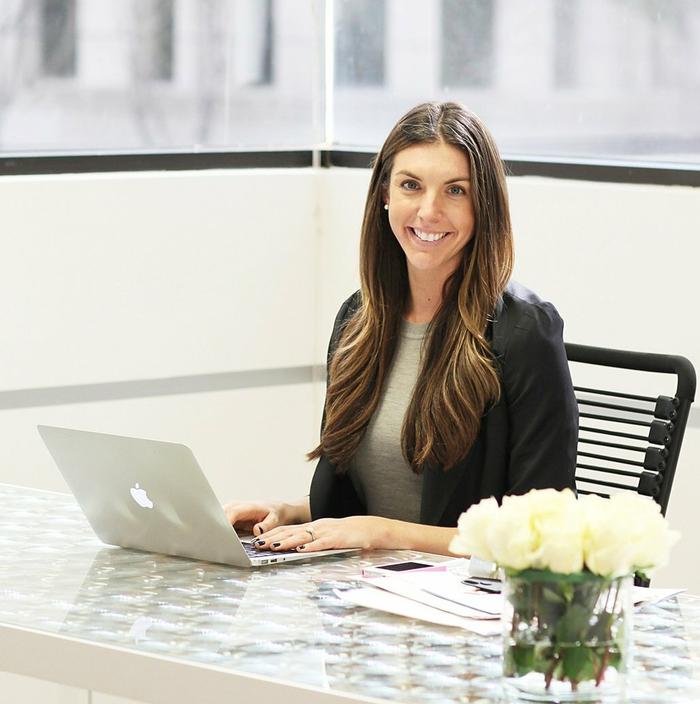 When now 31-year-old Alle Fister was looking for her first position out of college, she wanted "the coolest job" she could possibly find—one that she could brag about to all of her friends.
Well, she pretty much nailed it.
Alle's first gig was at online retailer Shopbop (then just a startup!), heading up its PR and appearing on TV and in magazines as a style expert on the company's behalf. After two years there, she founded her own company, communications and style firm Bollare, which now has 50 team members between New York and L.A. and works with clients like Beachmint, Blank Denim, DITA, NCLA, Smythe, and Vans.
But, neither of these dream jobs came to her by chance—to land both opportunities, Alle honed in on exactly what she wanted and made a plan to get it.
Read on for her story on how she launched the career of her dreams, plus her advice for breaking in to the fashion PR world.
You have a great story about landing your first job out of college. Can you share it with our readers?
Yes! I was approaching graduation at Pepperdine University and I was feverously searching for the coolest fashion job to brag to all my sorority sisters about, one where I could have exposure to many different brands and facets of the industry.
In my searching, I came across Shopbop and used the customer comments section of the website to pitch to the e-commerce platform why my 21-year-old self would be an asset to the business, including specific initiatives and ideas I had for the growing retailer. The business was in its early phase, and I received a call from company president Bob Lamey asking if I'd be interested in flying out to Madison, Wisconsin (where the company is based) to speak further.
Cut to: I soon became one of the founding team members of the now epitomes women's online retailer!
Initially, I was styling the photo shoots and writing product descriptions, and then I moved into pitching the site for coverage with media and appearing on over 400 television talk shows on the brand's behalf!
How did you decide after Shopbop that you wanted to be an entrepreneur?
About seven years ago, the Shopbop business was sold to Amazon. In that transition, I pitched starting my own communications consulting business to Shopbop, with my former employer as my first client!
It was the perfect transition, with my first client being one of the most prestigious in the contemporary fashion industry, coupled with the fact that many brands knew a bit about me and my work already. I had the opportunity to be incredibly thoughtful with what businesses I chose to partner with, growing the Bollare reputation from the start based upon great work for great brands.
Did you always know you wanted to work in fashion and beauty?
I come very a fashionable family—my mother and father have some of the best personal style, ever (according to the Bollare team!). Additionally, growing up my father would travel around the world for business and would always bring my sister Sarah and I something amazing back, like kimonos from Tokyo, saris from India, or cutting-edge fashions from France. It certainly sparked my appreciation and interest for beautifully crafted things!
What do you look for in employees? What advice would you give women looking to break into fashion PR?
Tenacity: This is an industry where the want to succeed is high. We can teach technical understanding, but a commitment to personal success has to come from within.
Creativity: What I love most about my career is that no two days are ever the same. A large reason why is because our team is so creative in the press plans and initiatives they brainstorm for our clients, which in turn makes them much more successful and always super fun!
Altruism: An awareness and thought for the other. A successful pitch is one where the recipient is at the core.
And my advice for breaking into the space: Intern, intern, intern! Publicity can take many different shapes and forms by both industry and firm. Interning in the field, learning what you want (and don't want!) in a career and lifestyle, all while building your initial contact base—priceless!