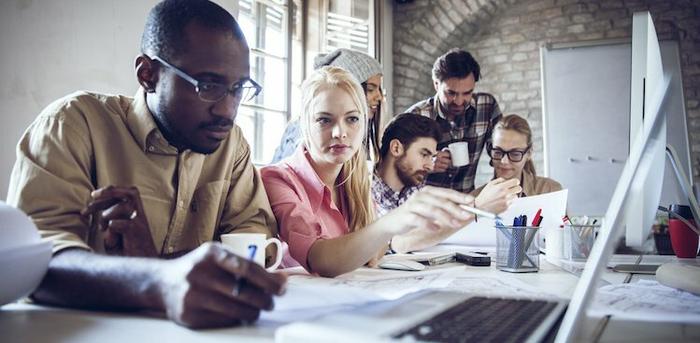 I once worked at a car wash. I started out in a role that had me wiping down windows and cleaning tire rims for customers who'd purchased a special kind of wash detail. I made a lot of money getting tipped for this, so naturally, when I was asked to move to the booth where the washes were sold, I was hesitant. The commission breakdown was explained to me, and I agreed to give it a whirl. I became a pro at selling extras like tire shine and deluxe cleanings, and it wasn't long before I started to see my paychecks grow. Soon, I was making more than I had when I was relying on the arbitrary gratuities.
I offer this anecdote because until this experience came to mind, I was prepared to begin this piece by laying claim to the fact that I never worked a day in my life in sales, when, in reality, it's how I got my start!
When I set out to write this article, after having surveyed a couple of dozen sales professionals hailing from companies across the country, it became abundantly clear to me just how nuanced and complicated the field is.
Obviously this isn't a one-size fits-all department. It's not black and white. It's not gray either—it's vibrant and bold and fast-paced, and it's changing too.
Want to do this for a living, but worried that you lack experience? First of all, keep reading, and secondly, take this from our own VP of Sales, Douglas P.B. Freeman: "Hiring managers aren't just looking for someone who matches a list of qualifications—they're looking for people who can walk in and show why they're the right one for the job."
What's in a Title?
You may be an account management team lead, a national solutions director, a regional vice president, or a director of strategic partnerships. Now, at the outset, it's not clear exactly what the day-to-day of the people holding these titles looks like since they vary from company to company.
While you would never say a VP's interchangeable with a sales development representative, you might come across situations in which an account executive at one company has the same role as an account manager at another. If you're looking to break into the field, you shouldn't place too much stock into the actual title—but rather the job description. It's usually pretty clear if it's for an entry-level person. (Spoiler: Look for phrases like "0-1 years sales experience" or "willingness to learn.")


What's a Typical Day Like?
For a lot of people, the trajectory of the day can vary quite a bit—more than one person said that there is no typical schedule and that every day is different. Some days you might do X, other days Y. Many of the survey's responders did offer a rather detailed account of their 9-to-5, and they had one thing in common: Not one person simplified his role to "selling." There's far more to it than that.
Regardless of what your preconceived notions you have or whether or not you're looking to join a startup in a big city or a corporate office in a medium-sized town, I think it's safe to say that the role isn't always associated with straight selling. As one survey responder from Stack Overflow explained when asked if she'd change her job title, "I would nix the 'sales' term in the title, because that isn't what I feel like I do. I'm a 'recruiting enabler' who does more than just sell a product with a dollar amount."
Lest you think that salespeople take their jobs too seriously what with all of those goals and numbers-driven work, just see how a Bounce Exchange Director of Growth Initiatives responded when asked to give a run-down if his day: "It's a New York tech startup. It's a mix between spin cycle and tumble dry."
What's the Best Part of the Job (Besides Commission?)
While you should never accept a job based on the perk factor alone, it's not such a bad thing if the little things keep you coming back for more, if they add another dimension of awesomeness to your job. The best thing I learned about perks through the eyes of the professionals surveyed for this article, however, is that it's rarely about the tangible items. It's perfectly OK to appreciate a packed beer fridge or the free lunch, but it's even better when the brilliant people you work with, the autonomy you're given, or the opportunity to be directly involved in a new product offering top your list of reasons you like going to work every day.


Speaking of Commission, How Does it Work?
This varies greatly from company to company, but there's no denying that one of the most enticing things about working in sales is the potential for a very high commission. Most typical positions (if there is such thing as typical in this field), will start you at a low base salary with the idea that you'll beef up your paycheck with money you receive from actually making sales.
How much earning potential exists depends, in large part, on what you're selling as well as the structure the organization has set up. An example of how a commission-based sales model works: If it's a transactional sale and there's higher volume (meaning, you'll see more—and often), then you'll typically receive a lower commission per deal. But, if the sale is not transactional and carries a higher dollar-size value, then you can probably expect to receive a higher commission because there are fewer potential deals overall.
If you're concerned about what a job in sales could mean for your bank account, you can ask a few questions before you sign on so you're clear on how the organization's commission model operates. Don't be afraid to bring up how ROE (rules of engagement) work and if there are any disputes over this. This refers to how your sales may interact with the sales of others in your position—worth understanding before you take a job.
Inquire about how you're going to be set up for success and given the training and ramp-up time to reach OTE (on target earnings). In addition, you can also ask how successful other sales representatives in the same position are doing. Having these questions answered should help give you a glimpse at the pay structure and what you can anticipate.
Is it Only for Extroverts?
Fortunately, for anyone thinking about a career in this industry and worried that they don't fit the "type," guess what? There is no type. While many working in this field consider themselves extroverts, plenty identify as introverts or ambiverts. After all, don't all personalities value working with intelligent, driven people?
Any introverts still not convinced? Just read what this TrackMaven team member has to say: "Listening closely and internalizing the things customers are explaining helps me to better understand how to offer a way we can work together and solve their problems. Listening and thinking before speaking can go a long way in sales...!"
Another person calls herself an ambivert and says that "Having extroverted tendencies helps build rapport and relationships with customers. But having introverted tendencies helps to actually listen to customers, which is ultimately far more important."
You may've assumed (as I'll admit I did) that you've got to be a total extrovert. It's the epitome of a people job, right? But, isn't it ridiculous to link certain jobs with personality types, especially because most of us have moments of introversion if we're extroverts and vice versa? A huge part of any job—within a new industry, at a new organization, in a changed role—requires adaptation and flexibility.
"The field of sales is changing," is how one person describes the industry. "It's transitioning from a profession where hitting the phones and building relationships was the currency to one where consulting and providing value for your customers (including challenging them where necessary) is what it takes to be successful," he says.
So while it may be tempting to giggle at the rampant stereotypes—Freeman mentions the "pushy" salesperson, the "person who is only in it for themselves and has zero trust from the perspective buyer"—it doesn't come close to what lies at the core of the industry.


From utilizing critical thinking skills to switching gears quickly when your organization makes a change, to delegating and coaching new members, to understanding the market and industry, a career in sales is likely to be anything but stagnant. Interested? Instead of stressing out about how your resume lacks relevant experience, take a closer look at it.
What have you done in past jobs, side gigs, or even in school that can speak to your ability to join a sales team? How can you take your skills and apply them to an unfamiliar industry? Once you start thinking of why you are right for the job, you'll be able to—yes, I'm going to go there—sell yourself with ease based on the compilation of all of your experiences.
Photo of teamwork courtesy of Geber86/Getty Images.