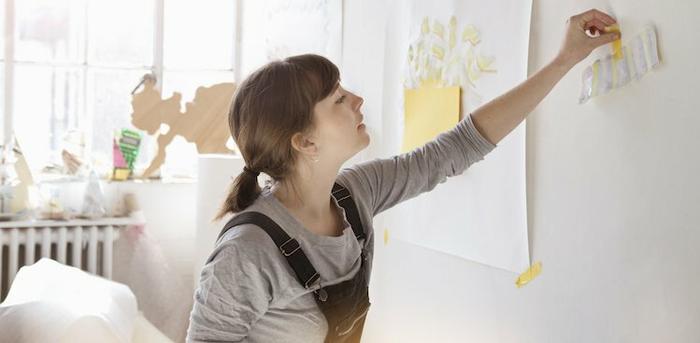 While most people have jobs that appeal to some part of their personality, it's rare that any position will utilize every aspect of your character or enable you to achieve every goal—especially for creative individuals whose day jobs lack a chance to do anything that stimulates that part of their brain.
And it can be difficult to find the time—between your 9-to-5 and your other responsibilities—to prioritize creativity. While you can always find time to work on your side projects after you get home, you can also find ways to incorporate it into your day job.
Yes, there are plenty of moments throughout the day that you could be utilizing to be inventive—without cutting into your productivity.
1. Keep Inspiration Nearby


Make sure to keep inspiration close by so that your mind doesn't have to wander too far when the opportunity to be creative arises. Even when you're doing something mundane, like filing expenses, keeping reminders—like notes of encouragement or inspiring images—within your eyesight will help the ideas to continue churning all day long.
2. Go Above and Beyond in Your Presentation


Spiff up your presentation at work by adding more flash to your business cards or giving your next report a bit more flare. Don't look at upcoming projects as one more thing on your to-do list, but rather an opportunity to do a little art at the office. Infusing your projects with creative touches will keep your skills sharp and go a long way when it comes to impressing your co-workers, boss, and clients.
3. Decorate Your Desk With Your Work


No matter what your title is, you can show off your creative personality by simply decorating your desk (within reason of course), whether it's with small masterpieces you've made yourself or just fun containers that hold office supplies, you can make it clear to your co-workers that you're more than just someone who lives and breathes Excel.
4. Doodle While Brainstorming


Whenever you're collaborating with employees or brainstorming projects with your team, keep a notepad close so you can scribble or sketch while you think. Many artistic individuals say that mindlessly practicing their skill helps them to free their imagination and let their mind work. And who knows, tapping into your creativity while deliberating might also open you up for more innovative problem-solving.
5. Create Projects for Yourself at Work


Last, but not least, remember that you always have the power to ask your manager to take on more creative work, even if it's in another department. If you know of an opportunity, seek it out. But if you don't, look for a hole in the office and aim to fill it. Maybe the lobby or company kitchen could use some sprucing up. Maybe your company newsletter could use better visuals. It's likely that once you start thinking of it, you'll be able to come up with a few projects that could use your artistic touch.


No day job's really lacking artistic opportunities, as long as you're willing to get creative—and as an artist you should be.


Photo of artist courtesy of Betsie Van Der Meer/Getty Images.