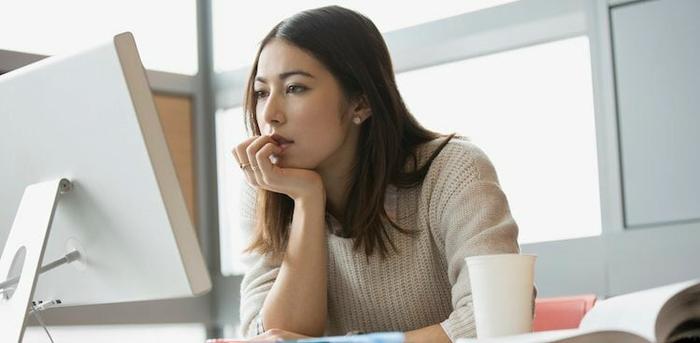 When you apply for a job, hiring managers are scoping you out to determine if your experience, skills, attitude, and personality traits prove you're a perfect fit for their open role and company culture.
And to do that, they do what all of us do when we need information: They turn to Google.
So, whether it's personal or professional, what you share online is a crucial part of the image you're projecting to prospective employers—not to mention a key factor in whether or not you get hired.
Since your online activity can surface everything from your personal website and side hustle to anything that's stalkable on social sites, we talked to a couple of hiring managers who let us know exactly what works (and what doesn't) when it comes to catching their attention and guiding a decision.


Google Results Can Make or Break Your Chance of Being Hired
Think that the hilarious Quora topics you write about in jest late at night or your recent comment on a news article doesn't matter? Think again, because your activity might be archived on the web, showing up when a recruiter or hiring manager pops in your name.
"Searching candidates on Google is one of the fastest ways to get a quick general read on a person, surfacing major career milestones and impressive projects or sometimes, concerning red flags," a recruiter from Slack confirms.
So, Google yourself, and consider what kind of impact the results might have on an employer. Positive news mentions (be it personal or professional) and thoughtful blog posts might inspire hiring managers to dig deeper into how you spend your time and what you do well. On the other hand, aggressive debate-laced comment threads, inconsiderate political opinions, poor reviews you've written, and other generally negative results can be immediately off-putting, no matter where a hiring manager finds them. Yikes!
If you really want your search results to impress (or want to push down some less-than-flattering results), a solid personal website can earn serious points. Your personal website is your chance to go beyond the info that's on LinkedIn and social media.
Start with a professional domain name (i.e., "YourName.com") to help your name show up at the very top of Google searches. Squarespace has great SEO built-in, so chances are your professional website will show up near the top of search results (even above your Facebook page!).
"When a candidate has taken the time to put together a personal site that tells their story and shares recent work, I instantly know that they're someone who takes the initiative to make things happen," a recruiter from Yahoo! shares. "It also shows how much they really care."


Learn about what it's like to work at Squarespace
Professional Stalking Starts With LinkedIn
The handful of hiring managers we talked to told us that, following general search results, their stalking usually shifts to professional platforms. Depending on your search, recruiters and hiring managers might look at Linkedin, AngelList, or any other places where you have a professional profile or portfolio.
"Expertise usually has direct business value, which is the very first requirement we look for. While more social stuff is valuable, it comes after thinking about meeting our goals or the bottom line," says Pete Abilla, the founder and hiring manager of education startup Tutors Near Me. Deborah Sweeney, a hiring manager at My Corporation, agrees that ensuring a candidate has professional qualifications definitely has to happen first. "We've found Linkedin to be a consistently amazing resource," she tells us. "The platform is little bit more edited and formal-feeling, but it still gives a ton of information about a person we might like to meet."
Abilla and Sweeney both say that a complete profile is key when it comes to earning attention on job-focused platforms. A friendly and professional headshot attracts attention while a short, polished summary is an easy way to share what you do and how you add business value.
For extra credit, consider following industry-specific thought leaders and liking or commenting on their content, following admirable or innovative companies in the space, and sharing media that proves you're educated and thoughtful about a specific topic or type of work. "It's not just about what someone shares in terms of resume experiences that matters," Sweeney explains. "It's the content they engage with, companies and brands that they follow, along with any public testimonials and endorsements they've collected—and from whom."


Social Media Shows You're a Great Culture Fit
Just like the social engagement aspect of LinkedIn, sites like Facebook, Snapchat, Instagram, Pinterest, and even Spotify can tell stories about who you are.
Octavia Warren Gillmore from Creative Juice, an Atlanta-based creative agency, tells us that she rounds out a first impression about a potential hire by searching their Facebook and Instagram profiles for smart articles, inspirational quotes, and everyday photos with family and friends. "Since the point of the exercise is to gauge what kind of person I might invite to join our tight-knit team, any offensive comments, articles, or inappropriate photos stop me right in my tracks."
When Arturo Escalera was hiring for an editorial role in his company, a co-worker highly recommended someone for the position. She looked great on paper and he was excited to set up an interview. Then, he Googled her. A quick search revealed that she wasn't a cultural fit, mostly because of some pretty revealing photos.
"Her Instagram had the potential to ruin our team's reputation."
If you're looking to use your social profiles to land a specific kind of job, be savvy about sharing relevant, attention-catching photos and videos. "With social media, you might not ever get a second chance to make a good first impression," Warren Gillmore confirms.
Larry Fein, an IT professional in New York currently looking for work, says it's been particularly hard to keep quiet about politics in recent months, but knows it is important for him to in case any potential employers are checking out his social profiles.
"I will not post or repost anything political on Facebook. Other than an occasional like on someone else's post, all they'll see on my Facebook are humorous posts and kittens."
Never underestimate the power of collecting all of your social content together in one place, either. A personal website is an easy way to accomplish this, linking to each of your profiles and giving you even more space to tell your story and share what you know and can do. Think about the role you hope to land and the kind of content you can create to take your efforts an impressive step forward. Looking to land a job in the travel industry? Instead of just linking to your Instagram, stream a live feed of your photos and write posts about where you've been lately. If your focus is breaking into something totally new (like moving from finance to fashion), use your website to link to products you love and embed the video tutorials you create, showing exactly why they're awesome.


Showcasing your work experience and job-specific skills by refining what shows up in search results and on professional platforms takes time, but it's worth it. Companies are paying attention, and you want them to see that you're a solid, genuine person ready to be their next new hire.