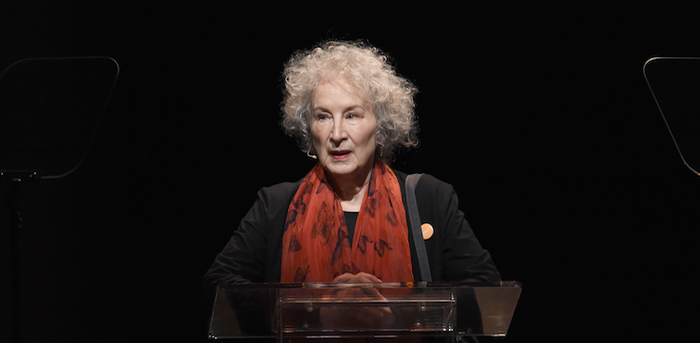 In hindsight, risky ventures that became successes seem so obviously worth it. It's easy to take the results for granted and ignore the uncertainty that came first. But sometimes the scariest prospects are the best ones. Just ask Margaret Atwood.
It's hard to imagine a world in which The Handmaid's Tale had never been written. There's a decent chance you read it in high school. Or maybe it's on your radar because of Hulu's Emmy-winning streaming series starring Elisabeth Moss, currently in its second season.
Atwood's 1985 novel won her Canada's Governor General's Award and the Arthur C. Clarke Award. It was nominated for the Nebula Award and shortlisted for the Booker Prize. Before Hulu's streaming series, it became a (largely forgotten) 1990 film starring Natasha Richardson and Robert Duvall with a screenplay by Harold Pinter. It's art that's inspired more art, with adaptations for the radio and for the stage as a play, an opera, and a ballet.
Whether you read, watched, listened, or have only just heard murmurings about it, consider the fact that Atwood, arguably Canada's most famous author, wasn't so sure at first that she should write it.
"I began writing this book in 1984 after throwing out a hot mess of a novel that I'd been laboring over while living in an English rectory haunted by 13th-century nuns. Maybe something about the nuns inspired me, considering the outfits in the book," Atwood said in a brief talk at the Tory Burch Foundation's Embrace Ambition Summit.
Then she casually mentioned this simple but striking fact:
I'd been putting off The Handmaid's Tale. It seemed like such a far-fetched idea and likely to get me in trouble. Some people wouldn't love it.
Luckily, Atwood had some experience and perspective that convinced her it was a risk worth taking. "I'd already published a number of books by then and it was clear to me that there was no such thing as a book that everyone loves, people being as various as they are," she said. "If you want to be a writer, get a thick skin," she added (though surely writers aren't alone). "Despite my misgivings, The Handmaid's Tale was clamoring to be written. So I plunged in."
And so she wrote the book that would become one of her best-known titles.
Atwood was right. The book did get her into trouble. Some people really don't love it, and not just based on its literary value. It's been banned and challenged regularly since it was published, appearing on the American Library Association's list of the 100 most frequently challenged books at number 37 for 1990-1999 and at number 88 for 2000-2009.
But it's also never been out of print. It's not only won prestigious awards and seen a slew of adaptations, but it's also sold millions of copies (including more than 500,000 in 2017 alone) and been translated into dozens of languages.
Perhaps most importantly, it's helped generations of readers explore themes including power, reproductive rights, religion, and free speech. It may be fiction, but it's a lesson about our real past—Atwood said she drew on 4,000 years of women's history and has also said that every technology, law, and atrocity in the book is drawn from real life—and thought-provoking literature for the present, as the world continues to grapple with new iterations of old issues.
So yes, it's rare to write a book as influential and controversial as The Handmaid's Tale or to do anything as publicly as Atwood did with the novel she'd been putting off. But that doesn't mean you can't learn from her.
Not every risk is worth taking. But next time you're putting off a risky move—whether it's bringing up an ethical question, making a controversial decision, speaking out about sexism or racism at work, creating a new work of art, starting a company or nonprofit, or something else—ask yourself a few questions.
Is this a risk for its own sake? Or do I have something important to say (or do), even if it might be unpleasant for others? Am I afraid because I know deep down it's wrong? Or because I know deep down it's right?
Remember that there's no such thing as a book, decision, initiative, or [fill in the blank with anything here] that everyone loves. You can't please everyone. Sometimes you'll just have to trust that the risk is worth it.