For LGBTQ employees, true workplace equality can still be difficult to find. And as a job seeker, you want to know if a prospective employer will have your best interests at heart. So how can you tell if a company backs up their rainbow social media posts with action? We checked in with The Human Rights Campaign Foundation, the educational arm of the largest LGBTQ civil rights organization in the United States.
The companies on this list have a 100% rating on the HRC Foundation's Corporate Equality Index or meet the criteria outlined in the index, which is considered the national benchmarking tool on corporate policies and practices pertinent to LGBTQ employees. For example, all the companies here have equivalent benefits for same-sex and different-sex partner benefits; offer equal health coverage for transgender individuals; have policies and training that actively promote LGBTQ inclusion in the workplace; and actively engage the greater LBGTQ community through recruiting, advocacy, and social responsibility initiatives—among many other criteria.
If finding an employer that truly promotes LGBTQ equality is a crucial factor in your job search, you should take a closer look at the companies below.
1.
UnitedHealth Group
UnitedHealth Group, the parent organization of UnitedHealthcare and Optum, is one of the world's leading diversified health care companies. Their goal is to improve the lives and health of others by helping to drive affordability, accessibility, and quality of care while also helping shape the way the health system works in the future. As a part of a global team, the people at UnitedHealth Group are passionate and motivated to tackle some of the toughest problems the industry is facing while building a meaningful career.
UnitedHealth Group has earned a perfect 100% rating for the second year in a row as one of the best places to work for LGBTQ equality in the Human Rights Campaign Foundation's 2020 Corporate Equality Index. UnitedHealth Group earned its top rating for taking concrete steps to ensure greater equity for LGBTQ workers and their families in the form of comprehensive policies, benefits and practices, according to the 2020 CEI.
2.
Palo Alto Networks
At Palo Alto Networks, employees are winning the battle against cybersecurity threats. The organization drives an innovative vision of prevention different from anywhere else—forcing the industry, and the world, to change the way it thinks about protection. With a culture that embraces authenticity, collaboration, and ground-breaking innovation, the team at Palo Alto Networks is unlike any other in the world as it protects the digital way of life.
Receiving a score of 100 on the HRC doesn't mean they'll stop! Palo Alto Networks continues to be proactive about engaging and uplifting the LGBTQIA+ community, starting with their employees. They've implemented gender-neutral bathrooms, inclusive surrogacy benefits, and their LGBTQIA+ Employee Network connects employees and engages with the community. Each year, they walk in the Silicon Valley Pride Parade, work with the Billy DeFrank Center, and sponsor Lesbians Who Tech to recruit for their future PAN-mily.
3.
Deutsche Bank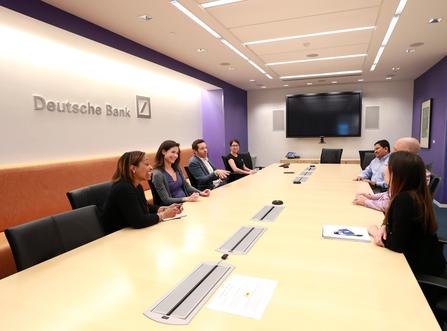 With a presence in 59 countries, Deutsche Bank is a German financial institution servicing a global client network. The Americas play a central role in delivering revenue growth for Deutsche Bank. At Deutsche Bank, they pride themselves on their change-driven culture of collaboration and opportunity, and on fostering an inclusive environment where employees can bring their whole selves to work. The organization aims to create a positive impact in all that they do, for their clients, investors, employees, and the communities that they interact with.
Deutsche Bank has received a 100% score on the HRC CEI every year since 2013. Their top leaders are committed to equality and have taken meaningful action to further LGBTQI protections in the communities they operate. Other company initiatives include doing pro bono work for Immigration Equality, the leading LGBTQ immigrant rights organization in the U.S., and volunteer and philanthropic support for LGBTQI youth in New York City and Jacksonville, Florida.
4.
Charles Schwab
Financial services can be complicated. Charles Schwab is trying to fix that. They have a history of challenging the status quo and innovating in ways that help individuals create a better tomorrow. Their purpose is to champion every client's goals with passion and integrity, empowering them to take ownership of their financial future at every income level and life stage.
For 15 years in a row, Schwab is proud to be named one of the best places to work for LGBTQ equality in the Human Rights Campaign Foundation's Corporate Equality Index. This recognition is testament to Schwab's commitment to creating an inclusive environment where everyone—of any sexual orientation, gender identity, or expression—feels valued. Long before this recognition, Schwab has been dedicated to doing the right thing for their clients and employees with passion and integrity.
5.
Clearlink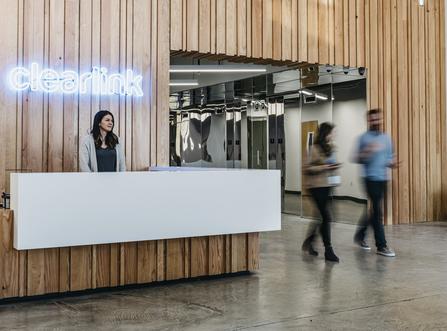 Clearlink, a SYKES company, is an award-winning digital marketing, sales conversion, and technology company headquartered in Salt Lake City, UT. A trusted partner for Fortune 500 companies since 2003, Clearlink delivers intuitive, engaging experiences throughout the customer journey to connect consumers with its brand partners. The company's people-focused culture has been recognized internationally for strong leadership, business growth, innovative employee initiatives, and corporate social responsibility.
6.
Broadridge
Broadridge Financial Solutions, Inc. (NYSE: BR), is a global Fintech leader, delivering technology-driven solutions that drive digital transformation for banks, broker-dealers, asset and wealth managers and public companies. At Broadridge, we are committed to making a difference. Our unique culture is guided by the Service-Profit Chain—the idea that success is mutual, directly connecting employee engagement, client satisfaction, and the creation of stockholder value. We enable better financial lives by providing the critical infrastructure that powers investing, corporate governance and communications. A certified Great Place to Work®, Broadridge is part of the S&P 500® Index, employing over 14,000 associates in 21 countries.
7.
Kohl's
Kohl's is an omnichannel retailer with over 1,100 stores stocked with amazing products—including national and exclusive brands their customers know and love. The company's purpose is to inspire and empower families to lead fulfilled lives—with a goal of being the most engaging retailer in America. Kohl's associates explore, design, and develop new ways to make shopping experiences effortless and unique by leveraging bold innovations that push boundaries and revolutionize the way customers shop.
8.
Capital One
We're working on some bold, transformative things—like changing banking for good. What's in it for you? A career surrounded by brilliant minds. People from different backgrounds, experiences, and education levels. Coming together to create a sense of belonging. Supporting you where you are and where you want to be. That's life at Capital One.
Here at The Muse, we partner with a lot of great companies to bring you insider looks at their offices and awesome job listings. These employers pay us to be featured on the site, but these Muse-worthy brands made this list not just because they want to be included, but because their culture, policies, and employee feedback showed us that they deserve to be.

Think your company should be on a list like this? Learn more and get in touch!