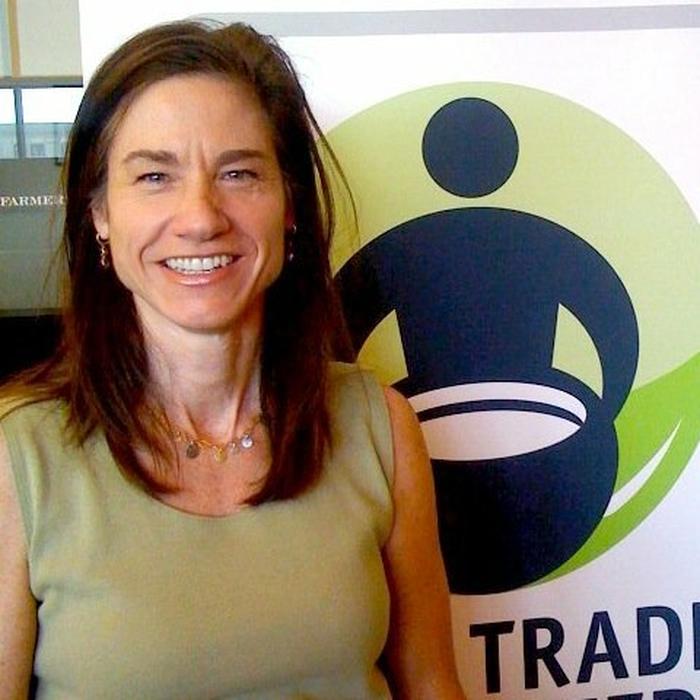 This article is the next installment in our "Finding Your Path" series. Over the next few months, our friends at 40:20 Vision will feature successful 40-something women sharing their stories on how they found their career path, and the lessons they've learned along the way.
Mary Jo Cook, Chief Impact Officer, Fair Trade USA,
Former VP, Innovation at Clorox
Education: The University of Chicago, Booth School of Business
First Job: Working for KPMG, a financial consulting firm.
What did you want to be when you grew up? An adventurer. I was more Batman than Barbie.
Most interesting country you've visited for work? Haiti. There are so many challenges in that country, and we see my organization, Fair Trade really making a difference.
What do you like to do on your spare time? Hang out with my kids, go to my book clubs, Zumba, and yoga.
What's the most surprising thing I would find in your fridge? My biggest addiction is Diet Coke.
Background: More and more women these days are looking for ways to combine a passion for giving back with a successful career. Others are caught between the pull of an entrepreneurial environment and the push to follow the corporate path.
Mary Jo Cook decided to do it all. In her 20 years at Clorox, she constantly created new opportunities for herself, rising to become the VP of Innovation while spearheading sustainability programs and founding the innovation group that was behind the Clorox Bleach Pen and Green Works Natural Cleaners. Eventually, she decided she wanted to take her passion for sustainability to a smaller, more entrepreneurial environment, and left Clorox to join nonprofit Fair Trade USA, which supports products farmed or produced in a fair, sustainable way.
Now, as Fair Trade's Chief Impact Officer, Mary Jo is responsible for everything from "origin to pantry"—assisting farmers and workers to become Fair Trade Certified, helping businesses source Fair Trade products and ingredients, encouraging consumers to become aware of Fair Trade products, and building a grassroots movement around the organization.
I caught up with Mary Jo on her many experiences and got the download from her on creating your own entrepreneurial path and aligning your values with your professional life.
Being at Clorox for 20 years, you had many crossroads. What was your first decision point?
Three years after I started at Clorox, I had my first child and started to work four days a week. That's unusual for a brand manager. After my second child, I cut that to three days a week. This set the precedent for other women to achieve more flexibility without foregoing their career path.
Since I wasn't working full-time, I was actually more empowered to carve out my own career path. I was able to work more on special projects, rather than be tied to one brand or one traditional path. I could create opportunities, such as instituting the first corporate innovation group, which is still going today.
It's great that you could create a very entrepreneurial path within a very large, established organization.
Exactly, and that's what kept me there for 20 years. I wore multiple hats and worked in a variety of areas and got to innovate. I've always been driven by the desire to figure out what people want and how to create a business to deliver it, so that helped me create a culture of innovation at Clorox. Things were always fresh, even within the same company.
Do you have any tips for someone who is in a corporate environment who wants to try to create their own path within it?
First look within your day job and responsibilities. Can you carve out 10% of your time to explore a passion? If so, do it. Then, figure out how to tie this passion back to the company's strategy.
The other advice I would have is to take the projects you are assigned, and shape them in ways that are consistent with your values and your interests. I don't care what level you're at, you have a ton of latitude.
What sparked your eventual move to the nonprofit world?
After we launched Green Works, my kids were getting older and I was open to ramping back up to full-time. Being in the innovation group, I was exposed to different company environments. I was also on the board of a local nonprofit that provides leadership development services to executive directors. Lastly, through my church, I volunteered for a program that took me to Malawi and Vietnam. Putting all those pieces together, I knew that my next move would be smaller, more entrepreneurial, and very mission-driven.
How did you end up making the move?
I just started talking to people. I talked to all the contacts I had in the nonprofit industry, people at the companies that I worked with, friends who had left to go into startups, and venture capitalists. I took my time. I started networking and I just knew that, given time, I would find something that would be the right fit.
What was the biggest difference when you made the switch from corporate to non-profit?
The biggest difference is the commitment to our mission that everyone has at Fair Trade USA. It feels so tangible and real and it permeates everything we do. It's not that the people at Clorox weren't motivated—they do believe in what they're doing—but the sense of mission at Fair Trade USA is unbelievably strong. Also, the impact I can make is exponentially larger.
For perspective, from 2010 to 2011, imports of products certified by Fair Trade USA grew by over 30% and additional income returned to farmers grew by 57%. Through Fair Trade purchases, farmers received over $20,000,000 to invest into programs that improve their quality of life and productivity, from education and healthcare to more sustainable ways of farming and water treatment. That's a tangible output of the work I'm doing. I constantly believe that I'm meant to be here.
How did your time in the corporate world prepare you for what you're doing now?
First, I developed excellent technical skills and solid experience at Clorox. I was around smart people. I learned how to run a business, how to do good marketing, and how to understand what consumers want and need.
Secondly, I learned how to lead and work with other people to get to a common outcome. Virtually every single thing I did at Clorox depended on relationships with multiple functions and with people both inside and outside of the company. So learning how to bring together people to achieve a common goal has been invaluable.
The third thing I learned at Clorox was the importance of ethics and integrity of business. Clorox is a very ethical, well-run company. That has to be the foundation of any decision that you make.
Tell us more about Fair Trade—what's the most important thing that 20-somethings should know?
That you have incredible power. You can change the world through your purchases by choosing a Fair Trade Certified cup of coffee, banana, or chocolate bar. I can go on and on about the products that are available. You can know that you're getting a quality product while improving lives and protecting the environment.
How do you know when you're buying a Fair Trade product?
Just look for the label. We've just launched the re-designed certification mark that clearly communicates the words "Fair Trade Certified."
And finally—what is the one thing you've learned on your path that you would share with a 20-something?
I would focus less on the job title and more on the attributes of the job. What can you contribute? What can you learn, and who are you going to be surrounded by? Is it a company with ethics that you share? When those characteristics are in place, almost regardless of the industry or the job itself, you can contribute and learn a lot.
Stay up to date on all things Fair Trade on Facebook, follow Fair Trade USA on Twitter, or learn more at fairtradeusa.org.
Check out more from the Finding Your Path series at The Daily Muse!