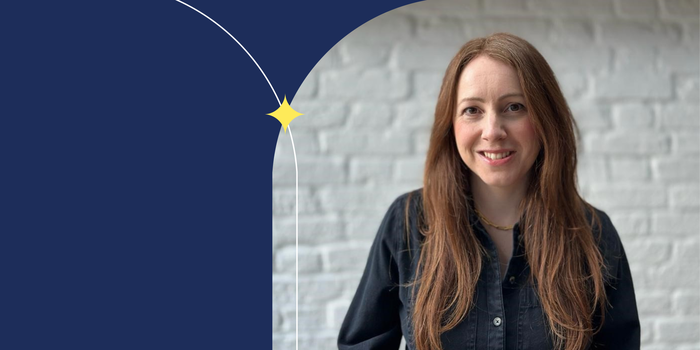 It's no secret that working in finance—especially within investment management—can be a high-stress career. "I've always worried about what toll that can take on an individual," says Gemma Holmes, an equity trader at BlackRock.
Leaning into her educational background in human sciences and interest in human behavior, Holmes—along with some fellow employees at BlackRock—set out to help address the issue of mental health. During the earlier days of the pandemic, when many people were facing new challenges, they hosted a session about how stress can impact traders.
"We were able to get traders to open up and share their experiences," Holmes recalls. "It received a great response and people were really engaged and honest."
The session inspired Holmes to join BlackRock's Mental Health Ambassador program. As she says, "We can all benefit from having a relationship with our mental health."
Here, Holmes talks more about the Mental Health Ambassador program, why acknowledging mental health is crucial in the workplace, and how she maintains work-life balance.
Tell us about your career journey. What inspired you to pursue a career in finance, specifically in investment management?
I kind of fell into it. My first job out of university was in advertising and after 18 months of doing that, a friend suggested I apply for a role at a hedge fund. My knowledge of finance was very limited at the time, but I got a good vibe during the interview so I took the opportunity. What I liked was the relationship side of it; my role required being the bridge between the fund manager and about 500 brokers across many European sell-side institutions.
What led to your job at BlackRock, and how did you know it would be a good fit?
After trading for two hedge funds—the second being a startup—I was attracted to joining BlackRock to see inside the powerhouse! I was interested in experiencing the difference between executing hedge fund flow, where I would be both buying long and selling short, versus working with long-only funds, with the prospect of handling some very large—and sometimes multi-month—orders. The beauty of BlackRock is that due to its size and breadth of product, I get to trade for both, which requires a mix of skills and keeps it exciting!
What are you responsible for in your current role? What do you like most about your job?
I predominantly trade for the European Fundamental Equity funds, but also get an opportunity to dip my toe in smallcap U.K. and emerging market funds, so there is always something new to learn. Whatever is happening in the markets, BlackRock is usually involved somehow.
Tell us about BlackRock's Mental Health Ambassador program. How does it work and how has it impacted you and your colleagues?
BlackRock's Mental Health Ambassador program has about 400 volunteer ambassadors globally, across all functions and levels of seniority, who receive training on how to talk to people who are struggling and help direct them to our professional health resources. Stress is a normal part of most of our lives and, being a trader, I have learned how to handle acute levels on a daily basis and am keen to help others understand what is manageable or when they might need help. Recognizing that some days are going to be better than others and understanding what might trigger us into feeling stressed or anxious is important.
Why are mental health and well-being programs important for companies to offer?
Being aware of coping mechanisms that we can employ in order to prevent stress from turning into a more serious and prolonged period of negative well-being is essential. Unlike physical health, poor mental health is trickier to spot in others and so it can often go unnoticed by colleagues or managers. It is important for companies to remove the stigma around mental health and provide the right resources for employees to get help easily.
We understand you're also involved in BlackRock's Women in Investments (WII) Committee. How has it supported you and other colleagues?
WII is powered by a small committee of dedicated and passionate women who believe in supporting, and hopefully retaining, female talent in Investments. We offer regular sessions on areas that women may find challenging during their careers. For example, I recently hosted an "ask me anything" session titled "Clarity Around Compensation" with two senior women within Investments. We also run annual listening sessions to collect feedback from our population, and this year we introduced a chat group for women to share investment and market insights in a safe and supportive space.
What is your favorite part about working in BlackRock's London office? What is the culture like?
I have never worked somewhere that offers as much of a wide smorgasbord of things to get involved in outside of your day job. I have had the opportunity to volunteer as a reading partner at a local primary school, attend mindfulness sessions, experience a sound bath, and listen to famous and interesting speakers across many industries who have come to address intimate audiences in the office.
What advice would you offer to women trying to succeed in a predominantly male-dominated field like finance?
Early on in my career, I used to worry that I would struggle in trading because I didn't act like all the men around me—and back then there were only men. A wise colleague gave me a great piece of advice: nobody was expecting me to behave like a man and I should do it my way. I've always held on to that and used it as my strength. I now know that there is never just one way of achieving the same outcome; if you play to your strengths and have confidence in yourself, you are more likely to stand out and be noticed for finding a different route. It's all about being yourself and standing up for what you believe in.
What advice do you have for maintaining a healthy work-life balance?
This is the toughest question! I can't say that I'm striking the right balance since, let's be honest, it always feels like a juggle. The upside of becoming a working parent is it gives you hard deadlines—you have to leave the office at a certain time because a little human depends on it. For those without children, try and commit to putting work down at a reasonable time in order to get to the gym or keep that date for drinks with friends. Having something to do that switches our brain off from work is super important in order to recharge. Kids are a perfect distraction; they really demand your full attention and although it's exhausting, as my dad always says, "A change is as good as a break!"