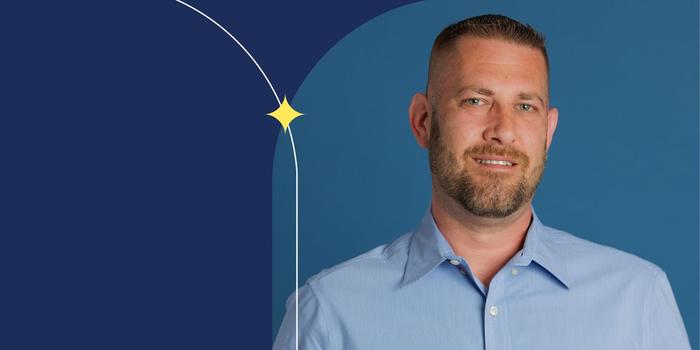 When Dave Bowden graduated from high school, he enlisted in the United States Army because he wanted an opportunity to see the world outside of his hometown.
"I was incredibly lucky because I was exposed to a wealth of new experiences while stationed overseas," he says.
Nearly 10 years into his military career, which included deployments in Eastern Europe and the Middle East, Bowden decided it was time to leave the service. "I loved my job, but after enduring a high-tempo, demanding schedule for several years, I had enough wear and tear on my body," he says.
When starting over in the private sector, Bowden had to learn how to talk about his military experience and apply his skills to a role in a civilian setting.
"While my experience was valued and appreciated, it was not easily translated," says Bowden, who is now the Director of Enterprise Incident Management at First Citizens Bank. "Most people's understanding of servicemembers come from books, news clips, or sensationalized depictions in movies."
Here, Bowden talks about how the values he learned in the military have helped him succeed at First Citizens, why the bank is an ideal fit for veterans, and his continuous drive to learn new things.
What led you to work at First Citizens Bank, and how did you know the company would be a good fit?
I was approached in the later half of 2021 about possibly joining the organization. After researching the bank's history, meeting many individuals, and learning about their workplace culture, I was intrigued.
At that point in my career, I had worked for large technology and entertainment companies, as well as other financial institutions, and it was refreshing to see the approach First Citizens took with their employees. Nobody is lost in the shuffle, every position is equally important, and individual experience is highly valued. That, along with the bank's family-first culture, aligned very closely to my values, so I knew this would be a great fit.
What was the interview process and onboarding experience like?
The interview process was completely different from what I was accustomed to. Rather than having a traditional interview, which tests knowledge and experience, we had a conversation about our working styles and current projects. Therefore, we discovered at the onset if our approaches meshed together in a mutually beneficial way.
What are you responsible for in your role?
I am responsible for overseeing incidents and issues that can affect our organization, from natural disasters like hurricanes to cyber threats, technology outages, and even socio-economic instability in our areas of operation. My department assists in organizing subject-matter experts into a collaborative group for more efficient and transparent action, while consolidating activities, logging for future reference, and informing senior bank leaders of the situation, status, and current impact. We also stand ready to alert senior and C-level executives of major incidents in which the organization would require their input and guidance.
What challenges did you face while transitioning into the civilian workforce and what lessons did you learn from them?
First, it was on my shoulders, not on those of my potential employers, to demonstrate what I brought to the table and how my experience could translate into a civilian role. Second, while I had great success in the military, I had to be willing to start over in the private sector and work my way up.
I overcame these challenges by learning how to talk about the transferable skills I developed in the service and show that I was capable of handling complex issues at work.
What are some of the skills or values you learned in the Army that have helped you achieve success at First Citizens Bank?
My success at First Citizens stems directly from the army values I've had ingrained in me: loyalty, duty, respect, selfless service, honor, integrity, and personal courage. I use them as a guideline in how I conduct myself and approach tasks. Am I being respectful to my peers and our customers in my actions? Am I going above and beyond to ensure not only my success, but also the success of the team and organization? Would people be proud of how my department conducts itself? Are we doing the right thing, all the time, every time, even when nobody's looking?
Why is it an exciting time to join First Citizens Bank, especially for veterans?
One of the main reasons veterans need to consider a career at First Citizens Bank is the potential to contribute directly to the bank's growth. The experience and knowledge veterans bring to the table are valued highly within the bank. We are looking for talent who can help elevate the organization and be major contributors.
What advice would you give to someone who is transitioning from the military to the private sector?
First, you're going to have to continue to improve yourself. You've set yourself apart through your service, but self-improvement never ends. Don't be too prideful to put yourself in a position to start a little lower than where you were in the military. Everyone starts somewhere and this is an entirely new arena to learn.
Second, find a mentor and listen to them. They will help you navigate a new and, at times, confusing landscape of the civilian work sector. A good mentor will never steer you wrong.
Lastly, ask questions until you fully understand something. I never fault anyone for asking questions because it's better than the result if they hadn't.
What are some of your hobbies outside of work?
I spend time with my wife and three children in New Jersey. I enjoy hiking, golfing (though I'm not very good at it), shooting darts, and traveling overseas to new locations. I also love attending any live sports function—I spend hours following the NY Giants, NY Yankees, and NJ Devils. Finally, exploring old battlefields is a passion of mine, and I hope to one day write a historical account of the movements and locations of my military unit, the 2nd Infantry Regiment, going back to their inception in 1808.