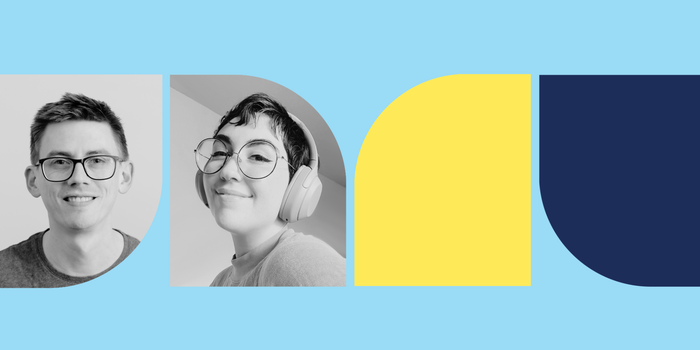 When Dave Chevell's mother took her own life five years ago after struggling with mental illness, it was understandably an incredibly tough time for him, and he needed support—and he received it from what felt like an unlikely source: a coworker he didn't really know that well.
"They reached out to me and shared that they too had lost a parent in the same way and offered up their time on an ongoing basis to chat," says the Australia-based Chevell, the Head of Cloud Enterprise Support, Access, and Confluence at the software company Atlassian. "They [also] encouraged me to sign up for Atlassian's employee assistance program to see a professional just to check in on where I was."
Chevell greatly benefited from the peer-to-peer support, and when COVID hit, he realized other colleagues might also need help and have nobody to turn to. "It was incredible for me to connect with somebody who had that shared experience, which made me feel a bit more normal in a very not normal situation," he says. "So when we were all stuck in neverending isolation and struggling more than usual, I came back to that idea and wanted to do what someone had done for me."
The result of Chevell's efforts is Atlassian's Mental Health Buddies Program, a network that now has about 70 employees who share their stories and volunteer to provide support for fellow coworkers. They're given a safe space to talk about anything, be it struggles with depression, ADHD, or addiction.
Rachel Armstrong, a technical support team lead at Atlassian who has long suffered from social anxiety, loved the idea of being there for her colleagues as a member of the Mental Health Buddies Program.
"I've always been the person to offer my shoulder or ear to just be there or listen," she says. "Offering that support to anybody in my company who might need it and can relate to my lived experiences brings me joy. I love being an advocate for those who don't know where to start."
Programs like Mental Health Buddies is just one of the ways Atlassian has made employee well-being a priority. And for good reason: According to the National Alliance of Mental Illness, nearly 58 million people in the U.S, or one in five adults, are affected by mental illness. And many of them are looking to their employers for mental health benefits: In 2022, 48% of large employers saw an increase in the number of employees seeking these services and 81% of individuals said they will be looking for companies that support mental health when looking for future jobs.
"Employees expect more from their employers now than ever before," says Alice Vichaita, Global Head of Benefits at Atlassian. "The turmoil of the past few years has reinforced how important it is for companies to meet their employees where they are and provide whatever help and benefits they need—not just as workers, but as people."
Atlassian has done just that by putting a tremendous amount of effort into not only cultivating a culture where mental health is a priority, but also actually providing services to help employees. And the work is paying off.
"Working for a company that invests time, money, and resources into upholding my mental health is an investment in me directly as a person," Armstrong says. "It's nice to feel valued and looked at as a human, rather than a number on a sheet or a metric of productivity."
A staple of Atlassian's wellness benefits is the mental health platform Modern Health, which the company introduced during the height of the pandemic after seeing an increase in mental health strain across the employee base. This program offers team members and their dependents access to resources such as therapy visits, 1:1 coaching, digital courses, and meditation offerings. By providing a variety of options, Atlassian is acknowledging that different people need different things to succeed at work.
"Employees can select a preferred coach or therapist who best aligns with their situation, background, or interests to provide unique support," Vichaita says. "After launching Modern Health, we saw outstanding usage from 52% of our employees. We're also proud to share that 30% of employees use the benefit on a recurring basis, demonstrating its long-lasting impact."
There's also an annual stipend to use on fitness and wellness expenses, like cycling classes, joining a tennis league, or buying a new yoga mat. Armstrong has taken advantage of this perk by purchasing a bicycle to spend more time outdoors, while Chevell bought an Apple watch to keep track of his daily movement.
A cornerstone of Atlassian's approach to employee wellness is flexibility, which they provide through its TEAM Anywhere policy. This allows employees to choose where and when they work—whether in an office, from home, or a combination of the two. For Armstrong, the ability to work in a remote-first environment has greatly improved her mental health.
"In the past, I always struggled with going into the office on days where I just wasn't feeling able to cope well with the anxieties that can come with being in a public place," she says. "At Atlassian, I feel supported and capable of completing my work in a way that honors the struggles I might have throughout the day. The fact that I'm not forced to be in an office and am trusted to do my job makes me feel empowered to do my best work."
Having a distributed workforce can make it harder for employees to connect with each other. But thanks to Atlassian's intentional togetherness gatherings, teams are able to spend time together for a few days. In addition, the company hosts events such as monthly regional online socials so teammates are able to feel like they're truly part of one community.
"Everything's done with the remote experience in mind," says Chevell, noting that the company is always finding opportunities to bring team members together based on their geographical locations.
Employees also use Confluence, one of Atlassian's own products, to build connections. The team workspace and collaboration tool has become central to the company's internal blogging culture; it's where people share blogs about their work, as well as their personal lives and other fun updates.
"Confluence is a building block of our community. Sharing, reacting, and commenting on blogs is a big part of how Atlassians stay connected," Chevell says.
For Atlassian, helping employees cultivate close relationships and providing benefits that make them feel like real people with real problems is not just a passing trend. In fact, the company plans to continue adjusting and expanding its wellness benefits in the future.
"We need to constantly think about what difficulties our employees may face and how we can better support them to live life to its highest potential," Vichaita says. "We need to identify employee needs before they actually need them, offering support and interventions. Not only does this provide employees with vital assistance, but it also demonstrates an overall understanding of how they are impacted by the world around them, proving that you have their back."