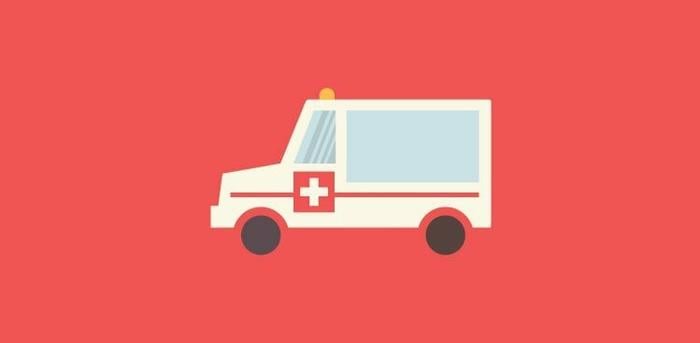 A friend of mine called the other day, panicked that change was underway at her office and that she was about to be laid off. "I really don't know what I would do," she said. "I'd be so, so screwed."
I started talking her through a few possible action steps, which got me thinking about my time working in PR and events. One of our department's to-dos was to create and maintain an "emergency plan:" Basically, if there was ever a crisis—a fire or earthquake (welcome to LA), a health scare, even a last-minute change in an event venue or speaker—we had everything in place to launch into action in an organized, streamlined way. We updated it quarterly, and while we always thought doing it was a pain, it was an absolute lifesaver when we needed it.
The same kind of preparation, I think, is incredibly valuable for your career. A crisis, like being let go or having your company go under, isn't something you ever want to think about, but if it happened, wouldn't you rather have a ready-to-go action plan than be running around like a crazy person trying to get anyone to hire you?
That's what I thought. So, take a cue from my old PR playbook, and start creating your own Career Emergency Plan. Here's what you'll need.
An Updated Resume and LinkedIn Profile
I know—updating your resume isn't fun when you are looking for a job, so when you're not, it's easy to push it aside. But there are plenty of good reasons to keep it updated all the time, not the least of which is that it'll be ready to go should the worst happen. (Here are a few more.)
A great way to do this is to set aside a half hour each quarter or so to update your accomplishments and skills. If you get great client feedback, finish an awesome project, or hit a big goal, file it away in a "brag folder" in your inbox or desktop, and you'll have an easy place to turn to when you need to make updates.
An Ongoing List of Dream Companies
When it comes to job hunting, we always recommend quality (honing in on a few companies you know will make you happy) versus quantity (sending your resume to every opening that's remotely related to what you do). So, it's a good idea to start compiling your list of dream companies long before you need to. Create a spreadsheet with your favorite companies, their websites, any contacts you have there, and—time-saver alert—links to their jobs pages. Or, for an even easier step, start favoriting some of your top companies on The Muse.
A Ready-to-Send Email
One of the most effective job-hunting techniques on the planet is to enlist your network in your search, telling them exactly what you're looking for and making it easy for them to pass along your resume and opportunities. Especially if you've been let go from a job, your friends and contacts are bound to go out of their way to help you—you just have to tell them what you need.
So, have some sort of email ready to blast off to anyone willing to help in the event of an emergency. For some ideas on exactly how to do this, check out "How Some Friends and a Simple Spreadsheet Helped Me Land My Dream Job" and "'Help Me Find a Job' Emails to Send to Your Network."
Basically, you'll want to have a rough template ready, so if the time comes, you can just update the copy and click "send." Of course, for this strategy to be effective, it requires that you also have:
A Regularly Managed Network
You can't just drop out of the blue and ask your contacts to help you (well, you can, but you probably wouldn't get great results). So, if you haven't already, make it a priority to keep up with your network. Make sure you're connected to everyone you know professionally on LinkedIn, or keep a separate contacts group or spreadsheet with your top contacts.
And stay in touch! Make it a point to reach out to your contacts periodically, even if it's small things, like retweeting their work, complimenting them on a great article or recent promotion, or inviting them to coffee or drinks now and then. (Here are a few more ideas.) At minimum, make a list of the 10-15 people who could be most helpful in your potential job search, and prioritize keeping up relationships with them.
A Cubicle Exit Plan
I've seen people be "restructured out of positions"—with instructions to vacate the premises on the same day. Not exactly ideal if you have two years' worth of files, documents, work samples, and photos saved to your work computer.
So, make a point to, quarterly, collect anything you'd want (and are allowed by your employment policies) to keep—work samples, important contacts saved in your work phone, processes or documents you've created—and back them up on a personal computer.
A Plan B
Ever thought about consulting, freelancing, or selling refurbished antiques on Etsy? You might not have time for it now, but it's worth putting together a plan of what that would look like—the services or products you'd offer, the rough pricing, how you'd market yourself to prospective clients. Especially if you're in a higher-level or very specialized role, this can be a great alternative while you're looking for that next big full-time thing. Or not—you may find that entrepreneurship is the path for you! On that note, perhaps the most important step is to know:
Your Career Non-Negotiables
Ask anyone who's been laid off: It's easy to panic and be tempted to take the first job that comes along. And ask anyone who's done that: At best, you won't love it, and at worst, you'll be job-hunting again in six months.
So, it's worth going through the process of identifying your career non-negotiables—what you absolutely must have in a job—so that you're not tempted to jump into something that's not right. Here's how to do it.


No one wants to plan for the worst (believe me, creating and maintaining a comprehensive phone tree for everyone in the organization was not my favorite part of the job). But it does happen, and the best way you can prevent it from keeping you down is to have a plan of action. Spend an hour or so every quarter getting your ducks in a row, and you'll feel prepared no matter what punches get thrown your way.