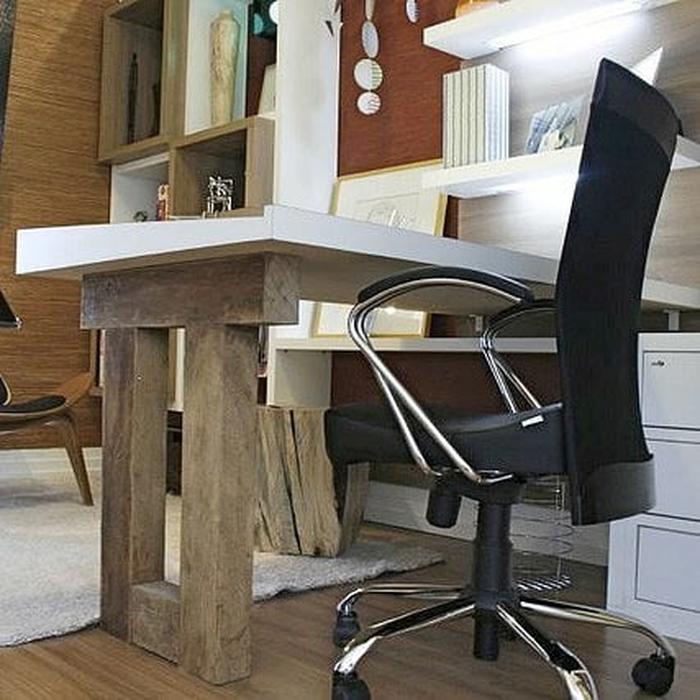 I work from home. In some respects it's great—wearing pajamas on conference calls, taking impromptu hour-long walks with the puppy, and not getting shifty-eyed stares from judgy co-workers when I spend 99% of my day snacking.
But not working in an office also has its challenges. Mentally leaving home mode and entering work mode can be a difficult—even downright futile—effort when you never actually leave the house and your bed is right there.
I've found that the secret, though, is creating a space that actually inspires you to get to work instead of back under the covers. How? By following three key interior design principles, you can create a space that means business, even within the cozy confines of your home.
Emphasize What the Space is For
First, make sure you have a designated "work space." It can be a whole room, a corner of a room, or just a table. Got it? Good.
Now, consider that designers make very conscious decisions about what to emphasize in a space, because the objects that are used as focal points help immediately qualify its purpose. When it comes to your home office, it's important to emphasize those objects that tell your brain "this is a space for work." Visually, these items should command a majority of the attention.
Try it out:
If you're working from home, chances are your computer is your primary tool. So, it should always remain front and center on your desk, serving as a visual reminder that when you're sitting at your desk, you're doing so for work.
Don't let job-related things—like your phone or day planner—get buried under clutter. They should always be in plain sight, acting as reminders that you're supposed to be getting stuff done.
What's better emphasis for important tasks than a bright yellow sticky note? Nothing. (Well, unless you have so many of them posted around that they distract instead of help.) Try having two colors of sticky notes available—a muted color for jotting down notes, and a bright color that you use (sparingly) for important reminders.
Set a Tone that Gets You Working
Designers use proportion and scale to set a room's tone. (In plain English, this means that the size and relationship of objects in a room affect how you feel when you're in it.) Think about how a massive, relatively empty cathedral feels grand, or a small room full of couches feels cozy and warm.
Proportion and scale don't solely refer to square footage, though—the way you organize and display objects are also important indicators of what a space should feel like. When you're in your workspace, you want to feel productive and motivated, so think about how to set that tone. You'll probably want to arrange objects in a way that feels inviting, yet still formal.
Try it out:
Keep the clutter to a minimum. A room full of unrelated objects will make the space feel distracting, and an unorganized space will just feel cramped and busy.
You should also make sure that there is plenty of "negative space" (empty spaces surrounding important objects) around you. Again, this is to keep the space from feeling cramped and claustrophobic—neither of which are very conducive to productivity.
If you're working in a small space, keep your desk small and streamlined, too, so it's not overly invasive in the room. You want to feel driven, not trapped.
Create a Space You Want to Work In
The design idea of harmony—or everything working together to create the right vibe—is a little harder to define, because it's really about creating a space that feels good to you. It's about getting all the right components in all the right places (with a touch of personal flair) to create a room that will help you feel calm, confident, and (dare I say) happy while you're working.
Try it out:
Balance out the colors you're using. If you love bright colors, use them! But offset them with some muted tones so that they're not overly distracting.
Go to Target or the Container Store and buy a cute matching set of desk organizers. Not only will they help you keep everything in its place and easy to locate, they'll make the space feel cohesive and peaceful.
Bring in some personal touches. Go beyond the simple desk lamp by hanging some string lights or mini lanterns, or fold a funky blanket over the back of your chair. Just make sure your flair isn't too distracting—a life-size cardboard cutout of Johnny Depp in Pirates 2 might be (a tad) too much.
By designating a certain area in your home as "work only," and utilizing some basic design principles to make it productive and inspiring, you can make sure you actually work when you're working from home.