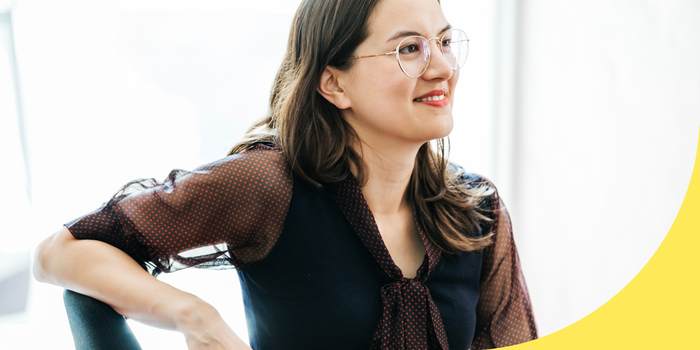 When you're interviewing for a job, it's common to be asked about your leadership skills and experience. Of course, if you're applying for a management position or a job with a management component, questions like "What's a time you exercised leadership?" or "Tell me about a time when you demonstrated leadership skills" are to be expected. But that's not the only time you might be asked these questions.
"There is a misconception that if you're not a manager, you're not a leader," says career coach Emily Moyer. But everyone in a company—even individual contributors and consultants—is a leader in some area, making leadership skills and qualities important to have no matter what your title.
For example, even if no one reports to you, you might be asked to take the lead running a project or planning a company event, or you may be responsible for training coworkers to use a technology or methodology you're familiar with. And traditional leadership attributes like responsibility, confidence, strong communication skills, and relationship building come up no matter what your job is.
Another possibility? Even if a job isn't a managerial role, "companies might be looking for someone with leadership skills because they want a person who can grow in a position and within the company," says Muse career coach Steven Davis, owner of Renaissance Solutions Inc. So it's a good idea to have your future employer think of you as a leader or potential leader from the start.
Keep reading for three steps to acing questions about a time you demonstrated leadership skills—with sample answers included!
1. Define What Leadership Means to You
Built into questions about demonstrating leadership is a hidden subquestion: What does leadership mean to you? So you'll want to make sure you start your answer by making your definition clear.
There's no one way to be a leader, so as long as you've taken some time to think about what leadership means to you personally, you're not going to give a "wrong" answer. Your interviewer doesn't want you to guess what they think a leader is. Instead, it's more important to show that you're self-aware, that you've reflected on what leadership looks like, and that you know it's a journey. "I would want to hear something that is authentic and intentional," Moyer says.
Before your interview, take some time to think about what you think makes a strong leader and what sort of leader you are and want to be, whether or not anyone would be formally reporting to you in this role. Start by thinking about your past experiences both as a leader and an employee and what worked and didn't work for you. For example, maybe you've thrived in work environments with regular, clear communication between teammates and team leaders at each step of a project. Make a list of the qualities, skills, and actions you value in a leader and use this to define what leadership means to you.
If you're interviewing for a job where you'll be managing people, this definition is especially important. A theory of leadership will help you stand out in the crowd, Moyer says. It shows you understand the power you have over people's jobs in a management role. As the saying goes, "People don't leave jobs, they leave managers," so it's in every company's best interest to make sure their new hires won't send employees out the door. One way to prove you won't drive direct reports to quit is to have a thoughtful, concrete plan for how you'll oversee people's jobs and elevate your team.
2. Choose a Story to Share
Once you know what you think leadership is, it's time to think about times you've put it into practice. You should also ask yourself what leadership situations and skills are likely to come up in the job you're interviewing for to help you pick the most relevant story. For example, does the job description mention taking the lead on certain cross-functional projects? Talk about a successful project (no matter how small!) you led with folks from different teams.
If you feel like you've never been a leader before, don't worry! You probably still have examples of times you demonstrated leadership. Go back to your list of qualities, skills, and actions and think about times when you exemplified them. Reach outside of the workplace if necessary; a situation from a class, school activity, club, or volunteer position will work just fine. For example, maybe you were a key organizer for a fundraiser or started up a new group on your campus or in your neighborhood.
"Women [in particular] tend to downplay their leadership," Moyer says. Be careful not to fall into the trap of underselling your role in something. And remember that you don't need to have had a leadership title to exercise leadership. Maybe you noticed a coworker was struggling with time management at your last workplace and you took the initiative to help them out. Maybe the person who'd organized an important meeting got sick at the last minute and you stepped in to coordinate day-of logistics and give the presentation.
If you can think of a situation where you demonstrated leadership and achieved tangible or quantifiable results that benefited your team or company, that's all the better. However, even if things didn't quite go as planned, if you learned something from the experience, you shouldn't immediately dismiss using it as an example—as long as it wasn't a total disaster.
3. Structure Your Answer
You have your definition of leadership and you've identified a great story. All that's left now is to put it all together and organize your response. Like with most behavioral questions, you'll want to structure your answer to this question using the STAR method—but with one added component.
Define what leadership means to you in one to two sentences. (Hint: To streamline your answer, you should emphasize the aspects of leadership demonstrated by your story.)
Outline the situation briefly, including all the details necessary to understand your story (and any that mention skills you'd be using in this job).
Describe the task—or what your responsibility was in the situation.
Talk about the action (or actions) you took and make sure you frame it all in terms of your leadership.
Talk about the results of your actions—the more quantifiable and concrete the better. You can also briefly talk about anything you learned about leadership from this experience.
Read about how to use the STAR method in more detail here.
So how would this actually sound?
If you're interviewing for a managerial role, your answer might be something like:
"I think that a good leader is someone who can make decisions while also taking into account the opinions and feelings of others. This also includes being willing and able to admit when you're wrong and course correct.
"In my last role, my team and I were responsible for giving a big presentation to a prospective client that involved a lot of research ahead of time. I quickly assigned different tasks to members of my team, including giving the newest employee a chance to actually give the presentation. However, the project never really got moving. I asked my team about their concerns and gave everyone an opportunity to share their input, and it turned out that they were struggling in the roles I'd given them. I ended up switching a few people around.
"Meanwhile, the employee I had assigned to give the presentation was nervous, but still wanted to give it a try. I worked with them to make sure they were ready and even held a practice session so that they could rehearse in a more comfortable environment. When the time came for the real thing, they nailed it! We landed the client and the company still has the account to this day. And that employee became a go-to person for important client presentations. I'm really glad I took the time to listen to everyone's concerns so that I could re-evaluate my approach and help my team be the best it could be."
If you're interviewing for a role where you won't be a manager, you could say something like:
"I think that strong organizational skills are some of the most important for a leader to have. My company has an annual summer barbecue, and the person who used to organize the event every year recently left the company for a new job. Since I'd helped them in the past, I volunteered to run it this year. It's a potluck event and we usually have a few organized activities throughout the day. I sent out a survey to get a feel for who wanted to bring what dishes and which activities people were most interested in.
"Once I had that information, I figured out which activities could be run by employees and which needed me to bring someone in from outside the company. I managed the budget to make sure that we had as many of the popular activities as possible as well as enough food and options to cover any dietary restrictions. I sent reminders to people to make sure we had everything we needed. I also sent out a schedule that made it clear when everything was happening and at what time people needed to arrive and set things up.
"In the end, there were a few small hiccups on the day—we briefly ran out of ice—but since everything had been planned and shared in advance, the event overall went really smoothly and everyone was able to adjust to last-minute changes. I got a lot of great feedback after the event from people at all levels of the company both in person and in notes. Everyone said they had a great time!"
The biggest way to mess up answering, "What's a time you exercised leadership?" is to simply say you have no leadership experience. "Everyone has demonstrated leadership at some point in their life or another," Moyer says. And even if you're not interviewing for a management role, it doesn't mean what you think about leadership isn't important. After all, pretty much everyone either has a boss or is a boss (or will become a boss) and interviewers want to make sure you'll thrive in the hierarchy of their company.