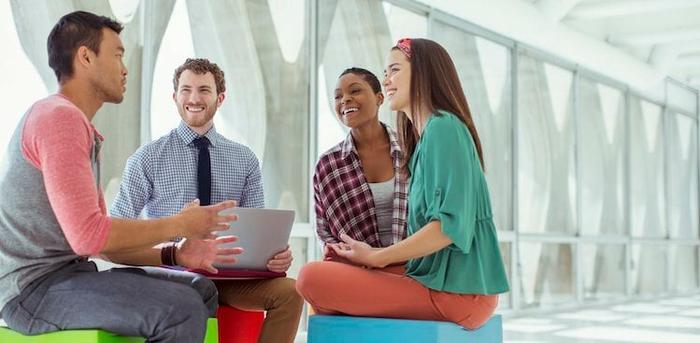 When you're in college, it's easy to feel overwhelmed by the unknowns of your future career. What if you never get a job? What if you get one and hate it? How are you going to build a career you love?
It's all too easy to feel bewildered, running in circles trying to chase the perfect position. But at this stage in the game, a better approach is to think about the skills you want to gain. And what should be on your short list? Leadership skills.
Although there's no one way to become a leader, entry-level job programs—structured programs for interns or new grads that help acclimate you to the working world—are designed to help you build the skills you'll need to become the next Sheryl Sandberg or Elon Musk. And these fundamental leadership skills will help you no matter how your career unfolds!
Here are some awesome leadership qualities you can get through these types of programs, plus some real-life examples of young professionals who became leaders on the job.


1. Confidence
To build a thriving career, you need confidence—after all, believing in your own skills and abilities will help you take risks, tackle challenges, and put yourself out there for new opportunities. But that's pretty hard to do when you're starting your first job and you don't even know where to make a cup of coffee.
Experts agree that the best way to build confidence is stepping out of your comfort zone and trying new things, both of which are actively encouraged in most entry-level job programs.
Take Dekia Blackmon. Despite serving in leadership roles in her sorority at Kennesaw State University, she found herself struggling with confidence during her three internships at Cox Communications, and thus shying away from new opportunities.
After Blackmon's second rotation, an administrator noticed her hesitancy, then pulled her aside and asked her to take on more of a leadership role. That conversation wouldn't happen at just any workplace, but it really inspired Blackmon, and she started volunteering for new projects and even mentoring her peers.
"Now, I know that whatever situation or scenario I'm in, I can be the first one to raise my hand and take a new opportunity on," says Blackmon.
This confidence had a ripple effect—her team at Cox was so impressed, they hired Blackmon as an independent contractor while she finished up her senior year at college. Now, she's set to start in a full-time position after graduation.
2. A Willingness to Ask for Help
As counterintuitive as it seems, humility is just as essential for leaders as confidence. As a leader, you won't know everything so it's important to be approachable and open to new ideas and ways of doing things. But, because many cultures emphasize self-reliance, entry-level professionals often start their first jobs feeling like they should already know everything.
Organizations create these job programs specifically to help new professionals learn the ropes, offering built-in support to make it easy to learn how to learn. Lola Rufai, an Accounts Payable Coordinator at Cox Media Group, believes that this idea was the most transformative of her time as an intern.
"I'm very prideful sometimes, and I'm always afraid to ask questions about things," she admits. But during her internship, she learned how much more she could grow if she was willing to ask for help and guidance. "I learned to be open to new experiences, open to asking questions, and open to being able to learn as much as I could wherever I was."
3. Clear Communication
When you think of the quintessential leader, you probably imagine them standing at a podium. The most impressive leaders stand out because of their ability to communicate clearly and professionally, especially in front of groups.
If the mere thought of this makes your palms sweat, know that the best entry-level job programs will give you regular opportunities to get comfortable relating to and inspiring other people. You'll be immersed in nearly every form of communication, from drafting everyday emails to leading big presentations in front of your peers.
Teach for America, for example, does a great job helping first-time teachers gain stellar communication skills. Not only does the organization offer rigorous teacher training, it shows professionals how to communicate with students, parents, other teachers, and administrators, so they master the art of talking to people and leading a group.
4. Relationship Building
You've heard the term "networking" countless times before—and for good reason. The ability to build relationships across teams and pay grades is essential to becoming a leader. That said, reaching out to pick someone's brain over coffee can feel artificial and forced—especially when you're the low person on the totem pole.
When companies successfully incorporate interns into their company culture, they create the ideal environment for people to build organic relationships. Robert Cook, who participated in two internships—one at Cox Automotive and another Autotrader—appreciated the crash course he received in relationship-building.
"I felt so many relationships start in the internship period," says Cook. "Everyone was trying to help me and going out of their way to assist me and help me grow as an individual. Different departments were all willing to help. They weren't just giving me busy work or menial work."
Now, Cook works in sales operations as a full-time employee, in part because of the strategic connections he made across the company as an intern.


5. Problem-Solving Skills
Every career has challenges that require serious problem-solving skills. Successful leaders don't buckle under the weight—they overturn conventional thinking and come up with solutions.
But learning how to solve problems in a corporate environment, rather than the classroom, doesn't come naturally to most of us, which is why the best entry-level programs give participants a range of experience solving problems in multiple situations. Boston Consulting Group, for example, offers their interns the opportunity to travel and work onsite with clients. Interns gain experiences, not only in their workplace but in others', too.
IDEO's Wildcard Internship offers the same level of problem-solving opportunities, but for designers who haven't defined their niche. Their participants rotate through a variety of teams, gaining a unique perspective along the way.


In short? By participating in an entry-level job program, you cultivate leadership qualities that will serve you through your entire career. And the sooner you get started building these must-have skills, the quicker you'll stand out as a young leader ready to tackle the next challenge.