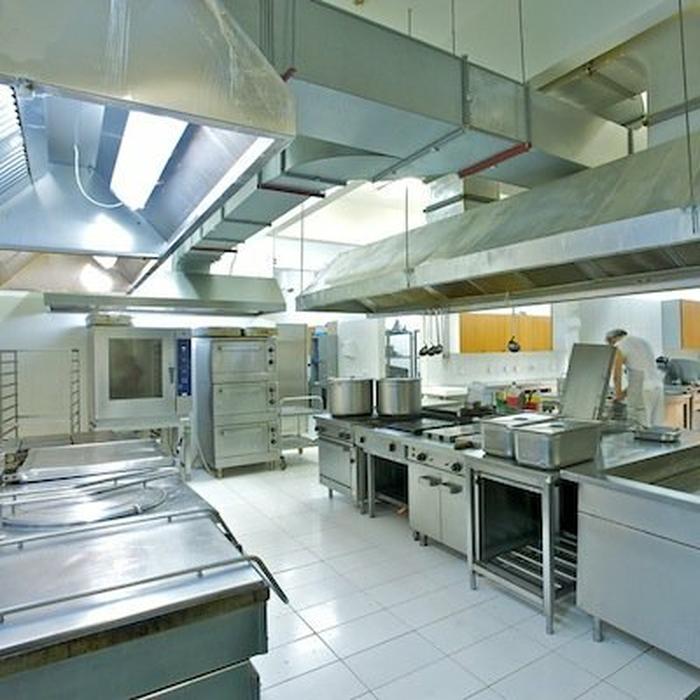 Construction is never a pretty thing.
Most homeowners who have been through it act as though they've been through battle. In some extreme cases, I've even seen it end marriages.
And commercial construction? Well, let's just say that comparing the renovation of a home to the build-out of a commercial kitchen space is like comparing a bruise to a bullet wound.
But, if you want to start a food business—like a bakery, a restaurant, or a catering company—it's a bullet you'll probably have to take at some point.
I know from experience: It was at this time last year that I signed a 10-year lease for a run-down restaurant in Bedford-Stuyvesant, Brooklyn that would become the home to a commercial kitchen and office space for my catering and event company, Kurent Events. The roller coaster ride that followed has all the makings for a good book one day, but in the meantime, I can shed some light on the process of bringing the brick and mortar dream alive.
If you're thinking of building or renovating a space for your food business, read on for some of the biggest lessons I learned during each phase of the process.
The Leasing Phase
Think About Your Business in the Long Term
Unlike many residential leases, commercial leases are no joke. It's probably easier to get divorced than to get out of a commercial lease, so you really need to know what you're getting into. What do you need in terms of the neighborhood, square footage, and foot traffic? Are you looking for a turn-key space with little to no work required before you move in, or are you ready to invest a serious chunk of change to transform and customize a space for your business?
You'll also want to think long term—you know your business now, but what does it look like five years from now? A space that works for your company this year might not work after business takes off and you've hired more people. If you think you might outgrow your space long before your lease expires, make sure to have a back-up plan for a second use of the space, whether it's a sub-let or another business venture.
Don't Mess Around With the Lease
Three words: Get a lawyer. This is, hands down, the most important piece of advice I can give anyone prior to signing a commercial lease. Don't do it yourself, or even with a smart friend. My lease was 60 pages and took almost two months of negotiation between me, my lawyer (also known as "Dad"), my landlord, and his lawyer.
Each page of the lease was filled with language that, if skimmed over or misunderstood, could have huge financial implications years down the road. For example, in the space I was renting, the previous tenant had invested $100K in construction, yet signed off on a lease that allowed the landlord to sell the building at any time and end his lease, forcing him to walk away with nothing. You definitely don't want to get yourself in this type of situation.
The Planning Phase
Remember Everyone is Looking for a Pretty Penny
The more money you start throwing around for contractors, building consultants, branding experts, legal counsel, and financial consultants, the more people will come out of the woodwork claiming that they hold the key to your success and can guide you in the right direction—for a not-so-small fee.
Here's my favorite example: Every time I went into my bank to make a sizable transaction, I was sure that the teller had a silent button alerting the high-volume business banker to my arrival. He would suddenly appear by my side, eager to discuss ways to "serve my needs" better—and we all know what that means.
Get as much free advice as you can, but be wary of people wanting to help you throughout the process. At the end of the day, most people are out there to make a dollar for themselves, not put one in your pocket.
Avoid Too Many Cooks in the Kitchen
Along similar lines, I found that more is not merrier when it comes to making decisions about your space. The more specialists and opinions I had involved, the more confused I got—and that's not a good thing when so much is at stake.
I've always believed in trusting my gut. Whenever I've followed that rule, things have worked out. It's when I've veered off course a little, following some strongly opinionated near-stranger's advice, that things have gone wrong. Just because you're in uncharted waters doesn't mean that you can't still make a good decision for yourself. Input from others is important, but find a small team of people whose opinions you trust, and stick to them.
The Hard Hat Phase
Don't Cut Corners on the Contractor
The level of complexity in the building code and health department regulations in New York is enough to put any sane person over the edge, and I would guess it's not much different in other states. So, when you're choosing a contractor, make sure that they specialize in restaurant or kitchen construction and in your location. (Not food businesses in a neighboring state, and not offices space in your area.)
And, while you may think that you can save a little money by not choosing the best firm out there, I encourage you to consider using the people who you know can get the job done in a professional manner and on time, even if it means pushing your budget to the max. The more time it takes you to get into your space, the less income you're making and the more rent you're wasting.
Prepare to Be a Jack-of-All-Trades
Don't know what a check valve is? How about the formation of your underground sewage system? The number of amps of power you need for your roof compressor? This is just the beginning—as the proud lessee of a commercial space, you're going to need to be well-versed in more construction lingo that you ever knew existed.
If the language above scares you and you just want to go back to cooking, then opening up a facility of your own might not be your calling. But, take it from me, you never know what you can do until you're really tested.
Plus, if you can make it through the process of building a physical location for your business, you can make it through anything. Dodging financial bullets daily and getting crash courses in just about everything you can imagine—plus dealing with the pressure of simultaneously growing your business—makes everything else look like a piece of cake!