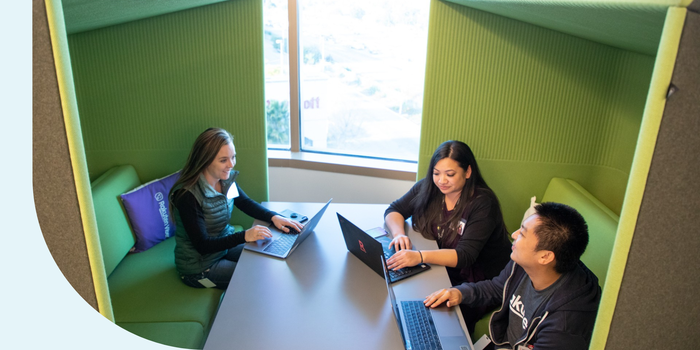 As we shift from winter to the season of renewal, now's the perfect time to turn the page on your career. And we're here to help you find your next role—starting with the 17 companies below that are looking to hire today.
Here you'll find a range of businesses both big and small in a number of specialties, from the healthtech startup quip—known for its innovations in the oral care industry—to government entities looking to make a difference like the U.S. Department of State.
Before you apply, make sure you check out the company profiles on The Muse. There, you'll be given the opportunity to learn more about each company, their perks and benefits, and even hear directly from employees. Take Sam Campbell, a military reporter at Gannett, who says, "I've never worked for a company quite so committed to honesty, transparency, and the truth as Gannett. The management really does care."
Keep scrolling through the rest of the list below to find the company and role that is the perfect fit for you.
1.
Rakuten Americas
2.
GANNETT
3.
U.S. Department of State
4.
Nuvera Life Science Consulting
5.
PURE Insurance
6.
quip
7.
Intradiem
8.
Fetch Robotics
9.
Dropbox
10.
Broadway Technology
11.
Checkr
12.
Goldman Sachs
13.
AdvaMed
14.
King's Hawaiian
15.
Bright Cellars
16.
Outbrain
Here at The Muse, we partner with a lot of great companies to bring you insider looks at their offices and awesome job listings. These employers pay us to be featured on the site, but these Muse-worthy brands made this list not just because they want to be included, but because their culture, policies, and employee feedback showed us that they deserve to be.
Think your company should be on a list like this? Learn more and get in touch!