Starting a job search often takes a bit of self-reflection—and research. If you're looking for some inspiration as you figure out what's next in your career, here's a list of exciting companies you can dive into. The best part? They're all hiring right now.
The companies here include big names in their respective industries, including GEICO, Bloomberg, and Instacart—plus many other interesting businesses that may pique your interest.
Reading a company's profile on The Muse is a great way to gain insight into what the work culture is like and who your teammates might be; in fact, you can hear from some of them before you even apply. For example, André Lachlan, a regional sales director at Splunk, says, "We're fun, we're open, we're disruptive, but for me, the real winner here is the heavy emphasis on teamwork."
Keep reading to learn more about all the incredible employers on this list, and check out their openings.
1.
GEICO
Standing for Government Employees Insurance Company, GEICO was originally founded in 1936 to provide quality insurance for government employees and military personnel. Today, GEICO has kept its tradition of exceptional service alive, but has expanded its coverage. GEICO serves more than 14 million people across the U.S. and offers a diverse array of policies from auto to homeowners to identity theft insurance.
2.
UnitedHealth Group
UnitedHealth Group, the parent organization of UnitedHealthcare and Optum, is one of the world's leading diversified health care companies. Their goal is to improve the lives and health of others by helping to drive affordability, accessibility, and quality of care while also helping shape the way the health system works in the future. As a part of a global team, the people at UnitedHealth Group are passionate and motivated to tackle some of the toughest problems the industry is facing while building a meaningful career.
3.
UnitedMasters
Artists build cultural capital through authentic connection with audiences. We believe that artists' cultural capital is the most powerful force for creating financial capital—and defining a brand's success or failure.
As such, our employees understand the cultural resonance that the UM brand must have within the artist community in order to continue to grow and connect authentically with even wider audiences. They are committed to pushing culture forward.
4.
CarGurus
Car shopping is complicated. At CarGurus, we use data and technology to make it simple, giving people the information and tools they need to confidently find, buy, finance, or sell a car. Today, tens of millions of consumers visit CarGurus.com each month, and ~30,000 dealerships use our products. But they're not the only ones who love CarGurus—our employees do, too. We have a people-first culture that fosters kindness, collaboration, innovation, and fun. Expect the feel of a startup backed by a proven business model and sustainable growth. We're always building new ways to bring trust and transparency to car shopping—come join us for the ride!
5.
Instacart
Instacart is a North American leader in online grocery and one of the fastest-growing companies in e-commerce. By bringing fresh groceries and everyday essentials to busy people and families across the U.S. and Canada, Instacart gives customers two very important things: food and time. Can't find time to get to the store? Just Instacart it.
It seems simple right? Well, it's more complex than that. From connecting customers with coupons and deals for their favorite retailers and brands to updating over half a billion lines of grocery data from more than 25,000 stores each night, every change and expansion Instacart makes to the product moves them closer to becoming the operating system for the online grocery industry.
They're looking for people who are excited to noodle on these challenges along with them.
6.
Bloomberg LP
Life at Bloomberg is many things, but it's never dull. We're a truly global business with a truly diverse workforce. We pride ourselves on being open, inclusive and collaborative -- and in providing a work environment that inspires our employees to be their best.
At Bloomberg we work on purpose. In some roles no two days are the same. In others you'll get to hone your talent to a fine point. But all of us engage in meaningful work, delivering leading edge products and solutions that shape the industry and are critical to our customers. You'll also get to work at a company that lives its values and provides employees with opportunities to give back.
7.
CVS Health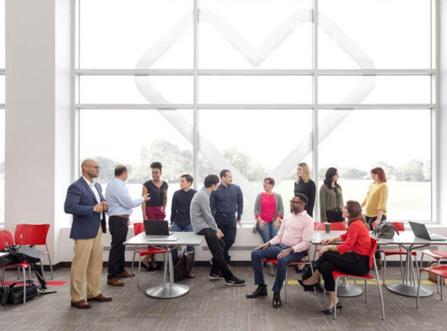 It's a new day in health care. At CVS Health, we bring our heart to every moment of your health. Inspired by our purpose and empowered by our bold strategy, we work to redefine the consumer experience and reimagine our community impact. Through our health services, insurance plans and community pharmacists, we're pioneering a bold new approach to total health. As a CVS Health colleague, you'll be at the center of it all. We help people with their health wherever and whenever they need us. And we do it with heart. Because our passion is our purpose: Bringing our heart to every moment health™.
8.
Hudson River Trading
HRT brings a scientific approach to trading financial products. Having built one of the world's most sophisticated computing environments for research and development, HRT researchers are at the forefront of innovation in the world of algorithmic trading.
9.
FanDuel
FanDuel Group is a world-class team of brands and products all built with one goal in mind: to give fans new and innovative ways to interact with their favorite games, sports, teams, and leagues. That's no easy task, which is why we're dedicated to building a winning team. We also believe in winning right and we'll never compromise when it comes to looking out for our teammates. From our many opportunities for professional development to our open and inclusive environment, we're committed to making sure our employees get as much out of FanDuel as we ask them to give.
10.
Restoration Management Company
For more than 35 years, Restoration Management Company has been providing residents and business owners exceptional service in the states of California, Texas, Washington, Colorado and Arizona, as well as catastrophe sites across the U.S. RMC stands out in the restoration field because of their professionally trained employees, commitment to customer service, and seamless processes that only a private company can provide. Work-life balance is very important to RMC as well as team spirit. Every day is unique and meaningful for RMC employees as they help people get their homes and business back in order after fires, floods and other environmental situations.
11.
Arcadia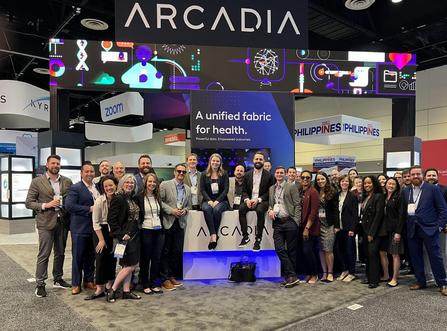 Arcadians believe in a world where people thrive. They're a collaborative bunch of tech lovers, data nerds, and care fanatics who are passionate about taking on the biggest challenges in healthcare. Sound like you?
12.
Thought Machine
United by a goal of revolutionizing the banking industry, Thought Machine's 450+ employees blend high-quality technical work with a healthy dose of fun. Our unique approach to company culture—complete transparency, collaboration, ambition, and continuous progression—has led to Thought Machine being one of the best fintech companies to work for, no matter if you're based in London, Melbourne, Singapore, or any of our other offices.
Our team is guided throughout their journey. From day one, they are onboarded into a custom training program—Thought Machine Academy—which equips them with the knowledge required to excel in their roles. From thereon, our team has multiple opportunities to learn, socialize, find mentors, and flourish.
13.
Yext
Yext (NYSE: YEXT) helps organizations answer every question about their business. Yext's Answers Platform collects and organizes content into a Knowledge Graph, then leverages a complementary set of products — including Listings, Pages, Reviews, and Search — to deliver relevant, actionable answers wherever customers, employees, and partners look for information. For over 15 years, thousands of companies worldwide have trusted Yext to create seamless content-driven experiences at scale across search engines, websites, mobile apps, and hundreds of other digital touchpoints. Learn more at yext.com.
14.
Illumio
Illumio provides Zero Trust Segmentation to proactively stop ransomware, malware, and other attacks from moving beyond their initial point of entry in order to end headline-breaking cyber disasters. Since our company's founding in 2013, the top names in business continue to recognize our innovation and ground-breaking technology. We are a leader in the Forrester Wave™: Zero Trust eXtended Ecosystem Platform Providers, and we are positioned as having the strongest current offering and the strongest strategy.
As a business, we're approaching a major milestone in growth. To help us achieve our ambitious goals, we're looking for smart, truth-seeking individuals who value transparency, love both working together and taking the lead, and are eager to make sweeping contributions to one of the world's most significant and compelling industries.
Here at The Muse, we partner with a lot of great companies to bring you insider looks at their offices and awesome job listings. These employers pay us to be featured on the site, but these Muse-worthy brands made this list not just because they want to be included, but because their culture, policies, and employee feedback showed us that they deserve to be.
Think your company should be on a list like this? Learn more and get in touch!