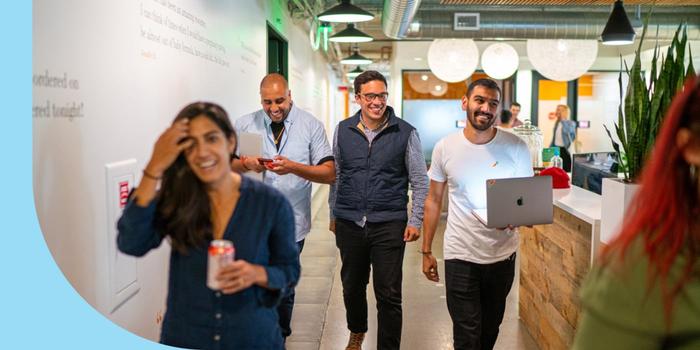 Now's the perfect time to kick your job search into high gear—and we're here to help you find your next role. These 19 companies we love are a great place to start, and they're hiring now.
Here you'll find businesses both big and small and in various industries, from finance to software. Some we recommend for the many growth opportunities, including Clover, a fintech company that continually invests in its staff's professional development. Others have caught our eye because of their emphasis on employee well-being. Take KnowBe4, a security software company, which offers mental health benefits, fitness subsidies, and parental leave for both parents.
Before you apply, make sure to check out their profiles on The Muse. There, you'll have the chance to learn more about each company and hear directly from employees. For example, Emeka Okafor, a product manager at Instacart, says, "For those who are looking to develop their careers and learn more about organizational leadership, Instacart provides a huge opportunity for that."
Check out the rest of the list below to learn about more opportunities that might be the right fit for you.
1.
Instacart
2.
Enterprise Holdings
3.
Clover
4.
Spectrum
5.
Success Academy Charter Schools
6.
Lumafield
7.
KnowBe4
8.
Deutsche Bank
9.
Splunk
10.
Oscar Health
11.
Galileo Health
12.
Audible, Inc.
13.
Federal Bureau of Investigation (FBI)
14.
Duo Security
15.
TaxBit, Inc.
16.
The Commonwealth of Massachusetts
17.
Equity Lifestyle Properties
18.
J. J. Keller & Associates, Inc.
19.
KIPP NYC Public Schools
Here at The Muse, we partner with a lot of great companies to bring you insider looks at their offices and awesome job listings. These employers pay us to be featured on the site, but these Muse-worthy brands made this list not just because they want to be included, but because their culture, policies, and employee feedback showed us that they deserve to be.
Think your company should be on a list like this? Learn more and get in touch!