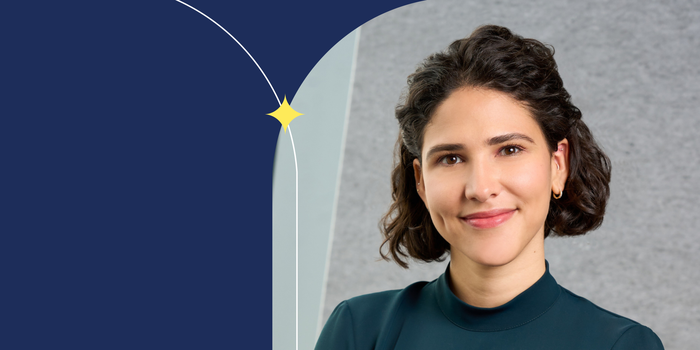 Flavia C. was used to excelling during college—and following two successful internships at Meta, she landed the exact job she wanted at the company right after graduation. But the first few months of adjusting to her role as a client solutions manager proved to be more challenging than she anticipated.
"I was missing home and trying to figure myself out in New York City, and things at work were not going how I wanted them to go," Flavia says. "It was hard for me to come from school, where I had performed really well, to a place where I felt like I didn't know what I was doing."
Flavia turned to the Latin@ Meta community for help. She participated in their program, La Familia ("the family" in Spanish), where new employees can find support from more tenured colleagues. She recalls attending a meeting early on where she opened up about her struggles and was given actionable advice about approaching her manager about how she was feeling.
"That was a really clear example of the community saying, 'You're not alone here. We've all been there and had that experience, and here's how you can grow from it.'" says Flavia, who is featured in this new Meta video.
In the five years since, Flavia has been thriving in her role and continues making connections and building a sense of community and belonging at Meta. She's also become an advocate for improving diversity and representation at the company.
Here, Flavia talks about why her internships were pivotal to figuring out her career path, her experience as a woman of color at Meta, and how she's seen diversity, equity, and inclusion (DEI) evolve at the company.
What inspired you to pursue a career as a client solutions manager?
During college, I completed two summer internships at Meta, first on the product team and then on the sales team. After my first summer working in product, I thought I wanted to end up being a product marketing manager (PMM), and my manager at the time advised me that working in sales is actually a good experience to have for that career path. The following summer, I worked on a sales team as a client solutions manager. It turns out, I enjoyed that role so much that I haven't looked back since. I was really excited by the clients I got to work with and the challenges we were trying to solve.
What about your internship experiences made you want to join the company full time? How did you know Meta would be a good fit?
I absolutely loved my internships here. Both were part of a program previously called Facebook University (now called Meta University) meant to exclusively recruit diverse talent. The community I found within that group was a huge reason why I knew the company was a good fit for me. We were encouraged to bring our whole selves to work and be authentic, and I loved that.
I was also surrounded by really smart people. Everyone I worked with was sharp and pushed me to do my best work. I learned a lot, which made me feel excited about working here full time when I graduated.
What are you responsible for as a client solutions manager? What do you like best about it?
I work with some of the largest advertisers on the platform, advising them on media strategy and supporting day-to-day activations. Over the last five years, I've worked with clients like Estée Lauder, Cartier, Under Armour, Ralph Lauren, and J.Crew.
We like to say that we do consultative sales because we form really deep partnerships with our clients and end up touching much more than just media or marketing. It's what I've liked most about the role. I get to learn how all these different businesses make decisions and what's important to them, and how we can use our products to support their business needs.
Tell us about Meta's approach to DEI. How has the company's commitment to DEI changed since you joined the company?
I think DEI has become so much more important since I've been here. I've seen leadership be really intentional about including DEI as part of their annual goals, and I've seen more resources allocated to programs that champion diversity and inclusion. The company has also made commitments to supporting communities of color and hosts learning days throughout the year aligned to Black History Month and National Hispanic Heritage Month.
In what ways do you think Meta can continue to improve in its commitment to DEI?
We always need more representation. That doesn't necessarily mean what we're doing now is not great. It just means that there's still room to grow—especially as we think about the metaverse and that next frontier, where there's a lot of opportunity for inequality and bias. We need to include diverse voices and make sure that we have those perspectives in the room as we're building these new products. We need to be inclusive from the get-go so that we're building for everybody, and everyone feels like it was built for them.
How have you benefited from Meta's employee resource groups or communities?
The Women@ Meta community and the Latin@ Meta community have been great places for me to meet like-minded people who have similar experiences. I don't have a leadership role in these groups, but I attend all of their events and summits. The summits, in particular, have helped me feel like I'm part of that community. It's a moment to connect with people, share stories, and understand that you're feeling similar things at the company. They're also a way to hear how people have dealt with something that you're going through and get their advice.
What has been your experience as a woman of color at Meta?
Coming into a space where you feel like a minority is always difficult. It's not just about walking into your office, looking around, and thinking, "Oh, it's just me and one other person on the floor." It's also the conversations that you can't participate in because you had a very different experience growing up. I didn't go skiing in Aspen, or I didn't do this, or I didn't do that, so relating to certain coworkers can be difficult.
I think there are always opportunities for the company to do better when it comes to DEI, but the pockets of community that I have found have been so strong. People are so willing to be authentically themselves and open about their experiences, which is really refreshing. It gives you the opportunity to be yourself as well. I've found strong mentors in other women of color who are more tenured in their careers and who have prioritized guiding me through challenges and setbacks.
How have your managers helped cultivate a feeling of inclusivity during your time at Meta?
There are a lot of champions for diversity internally. I've been really lucky to have managers who emphasize and place importance on diversity. And not just diversity, but also inclusion, which I think is almost more important. Diversity is the first step, but inclusion is really what matters. They want to know, do you feel like you belong here? Do you feel welcome here? Do you feel like what you have to say is valued and appreciated?
My managers have made space to understand my background and where I come from, and how that informs my opinion about the world. They emphasize the importance of diversity events and give me the opportunity to share my experiences with the team when appropriate. I've always felt like my perspective has been valued by the people I work with.
Tell us about your involvement with Meta Elevate and how the program impacts Black and Latinx communities that use Meta's tools and services.
Elevate was started by Meta employees of color around the time I was hired. It was a grassroots program that came about because employees realized there was a gap in the way the company was servicing our Black and Latinx business owners.
A few employees on the sales side knew they were well-positioned to come up with a solution. We have advertising knowledge and understand how businesses can use our platforms to grow. The program started as an in-person workshop held in a few cities. We invited business owners for a daylong program to learn about Facebook and Instagram and how to use our platforms to grow their business.
While the workshops were great, there was an opportunity to go deeper with some of the businesses. So I developed a six-week mentorship program that pairs business owners who have gone through our basic training on Facebook and Instagram with Meta employees who are familiar with our ads products. The program has been incredibly successful. I think we've had close to 800 businesses participate and 600 employees who keep coming back to mentor cycle after cycle.
I'm really grateful to the company for giving me the agency and flexibility to take this on as a side project. I care deeply about it and it directly impacts my community. My managers also valued this work and were supportive with any resources I needed to run the program.
Who is your biggest role model and why?
I grew up mostly with my mom, and I get a lot of my hustle from her. She set a good example of how to do things on your own, even when it's difficult. When we first arrived in Miami from Cuba, we were sharing a small apartment with my grandparents, an aunt, and two cousins—so there were seven of us living together. My mom was like, "We can't do this," and within three months, she had gotten us a place for just the two of us.
She also helped me learn Spanish before I started school. By the time I was four or five years old, I was already reading and writing. Then, she took it upon herself to go to school in the evenings to learn English because she knew it was going to open doors for her here. My mom is always looking for the next thing. And no matter how hard it is, she's willing to do whatever is necessary to accomplish her goals.