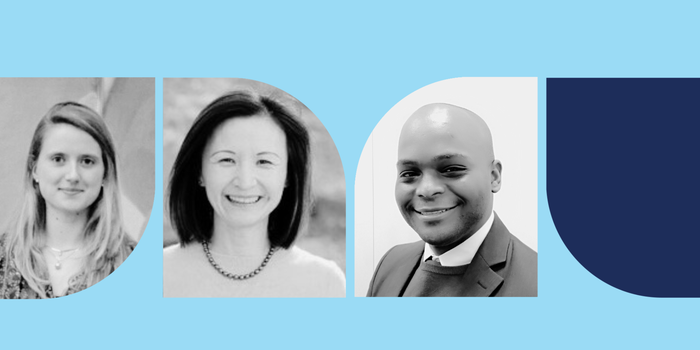 Mael Pidjou was barely six months into his role as an associate on BlackRock's Aladdin Client Business team when a manager asked him if he might have an idea for HACK:BLK, the finance firm's annual hackathon. And despite being a fresh face at the company, Pidjou had just the thing.
In his role, Tokyo-based Pidjou works closely on Aladdin, BlackRock's investment management technology, often delving into the firm's deep reservoirs of data to find pertinent information for clients. When generative forms of AI such as ChatGPT began to dominate the news this year, he wondered: What if this kind of machine learning could search the database more easily, freeing up more time for him to tackle new projects?
"Almost every person I had discussed my problem with said it was a pain point for them, too. In general, everyone wants to find information faster," Pidjou says.
That inspiration became the basis of Smart Sensei, the winning project of the 2023 edition of HACK:BLK. The hackathon, which will celebrate its 10th anniversary in 2024, invites employees to collaborate with colleagues from their region, including some they may never have met. Regional teams are given a short time to virtually plan a project and just two days of around-the-clock hacking to bring an idea to fruition. Then, finalists create video presentations to showcase their prototypes, and employees vote to select one winning project.
Mimi Narbonne, a VP on the Aladdin Engineering Chief Operating Officer team, says the hackathon is a perfect example of one of the firm's guiding principles, 'One BlackRock.' The concept refers to the power of working collaboratively and building connections across the company—from engineering and communications to sales and legal—to get things done.
"The hackathon wouldn't happen without the whole firm being involved because the purpose is to think innovatively, and we have to bring everyone together to do that," Narbonne says.
Pidjou's 2023 hackathon team is an illustrative example. The team came together during a HACK:BLK meeting in the Asia-Pacific region, where Pidjou and other employees pitched their ideas and formed small groups.
There were two other members from the Tokyo office (which inspired Smart Sensei's name) plus three colleagues from India, and everyone came from different teams within those offices. An analyst had studied a little machine learning in college and was keen to see it applied in the real world. Two engineers were experts in machine learning and language models. And a director who joined provided project management experience in taking an idea all the way from A to Z.
"The hackathon really proved to me that BlackRock has so many skillful people all over and that it's possible to collaborate with different teams and different regions," Pidjou says.
According to Narbonne, HACK:BLK is a way to not only inspire grassroots ideas that could improve the firm's operations, but also create a culture of innovation in which employees from every division—not just engineers—can hack, too. In fact, hackathon teams are often made up of employees with engineering skills as well as those who want to contribute in non-technical ways. The event also shows employees that smart solutions can come from anyone, rather than just top-down.
"We're spreading our tech culture across the firm," Narbonne says. "We're inviting everyone to bring their ideas, and then connecting them with engineers to take their ideas across the finish line because, in the end, you need a working prototype."
"Most people on the technology side are well aware of what's expected from a hackathon, but we want to encourage employees on the business side to get involved, too, and to think like technologists," adds Jing Chen, a director on the Aladdin Product Service Engineering team based in Atlanta and one of the six 2023 hackathon directors.
In previous years, HACK:BLK asked teams to innovate within a specific category or field such as cloud, blockchain, or sustainability. But in 2023, the directors took a different approach, choosing a broader category called "operational excellence" in the hopes of inspiring even more employees to get involved. The challenge? To come up with ways to be more productive and efficient.
"I was a little worried that not as many people would participate because the theme wasn't as tech-driven," Chen says. "But everyone loved it. In the end, operational excellence had the most project submissions ever. It was a great experience for me to see the excitement around a common vision and goal. The hackathon helps BlackRock advance its technology and have a stronger employee community."
Sometimes, HACK:BLK ideas do lead to real products, with engineering leaders adding them to their roadmaps. Narbonne recalls a past hackathon project that was implemented within Aladdin. "The team didn't come in first place, but their idea is now a real business," she says. "A lot of times, it's not a flashy project you see in the headlines."
Take Smart Sensei. According to Pidjou, "Our use case caught the eyes of an AI team in London, and I'm going to be meeting with somebody about collaborating on it. Hopefully by the end of the year, we'll have some beta users testing it."
Before participating in HACK:BLK, Pidjou never imagined he'd have the chance to pursue his idea. "I was surprised at first that my manager pushed me to go and do it," he says.
Now, however, he knows better. "There is a mindset at BlackRock that you should be like a student—always learning and improving," he says. "The hackathon is quite representative of the company, and how we always try to find new ways to do things."