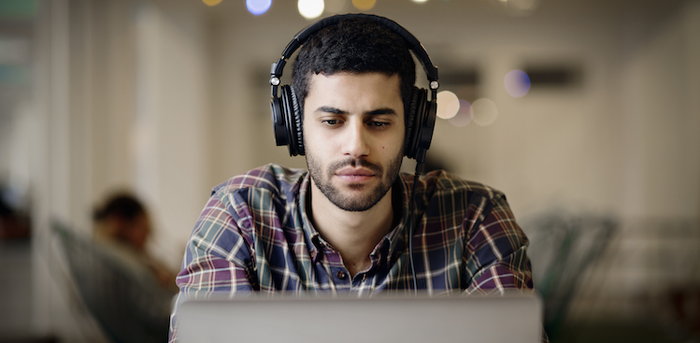 I arrived in the office this morning feeling a little off. Nothing in particular had happened to make me upset—unless you count the fact that it was the beginning of the week and another busy weekend had sped by without much opportunity to recharge. But I was anxious, and struggling to start my day right.
You've probably experienced this once, or more likely, a lot. As I poked around for an article idea, I came across an all-too appropriate post on the TED website by Kara Cutruzzula on how to be more optimistic and hopeful.
One of the suggestions—"listen to another person's story"—was inspired by a 2015 TED Talk by StoryCorps founder Dave Isay. His nonprofit organization started with a booth at Grand Central Terminal in Manhattan where people could record an interview with someone they care about.
"So many of these are just everyday people talking about lives lived with kindness, courage, decency and dignity, and when you hear that kind of story, it can sometimes feel like you're walking on holy ground," Isay said in his talk. He's "learned so much from these interviews," he added, not least "about the poetry and the wisdom and the grace that can be found in the words of people all around us when we simply take the time to listen."
Cutruzzula wrote that "when you're feeling down," listening to someone else's story "can help to get out of your own head." She doesn't go into too much detail about what kind of story, except to recommend that you "listen deeply and intentionally" to "a story about a meaningful time in their life."
So maybe all we need during a bad day (or week) is to stop thinking about our bad day (or week) and discover a story about someone we love or even one about a stranger. It might be funny or sad or absurd or nostalgic. But regardless, you might just find yourself moved. As Isay said in his talk, "I think it's because you're hearing something authentic and pure."
Here are a few places to start looking if you want to try this out yourself:
1. Watch or Listen on StoryCorps
I'd be remiss not to start with the huge story repository that's grown out of that project in Grand Central Terminal. You can spend two or three minutes listening to short snippets of audio stories or watch stories that have been set to animations on the StoryCorps site or you can set aside a little bit more time to listen to an episode of the StoryCorps podcast.


2. Listen to Stories From The Moth Library
There's something invigorating and inspiring about watching someone get up in front of a room and share a true story about themselves. And that's exactly what another New York-based nonprofit organization, The Moth, is devoted to. Its motto is "true stories told live," and its events are all over the country and beyond. (So take a look and buy a ticket to a live event when there's one coming up in your town because they're worth it.)
But for the purpose of fixing your bad day right now, listen to stories from the online library, on The Moth Radio Hour, or The Moth Podcast, or watch on YouTube.
3. Ask Someone You Know
Don't forget that you don't need to put on your headphones to listen to other people's stories. There are people all around you with stories they haven't yet told you yet and ones you've yet to ask about.
So go grab coffee with a friend from your office, go home and talk to your partner, or pick up the phone and call your family—and ask about their lives. In a recorded conversation with his nephew, Isay suggests using questions like: "Who was the most important person in your life? Or what are you proudest of?"
You can even create your own StoryCorps recording using the organization's app and add it to the organization's archive and the Library of Congress.
Taking a break from your bad day to listen to other people's stories could help turn it around. As I did some research for my article, I watched Isay's TED Talk (which includes snippets of StoryCorps stories) and listed to Rachel Dratch's story "Horsemeat," which happened to be featured on The Moth's homepage.
I can't say for sure whether it was the stories, the momentum of digging into my first big task of the day, or a combination of the two that lifted my mood. But I'm thinking that as a longtime bookworm who's always dived excitedly and completely into novels, the stories might've had something to do with it.
It was a reminder that you don't have to read a book to recharge with a story. And that you don't have to wait for a bad day to start listening.