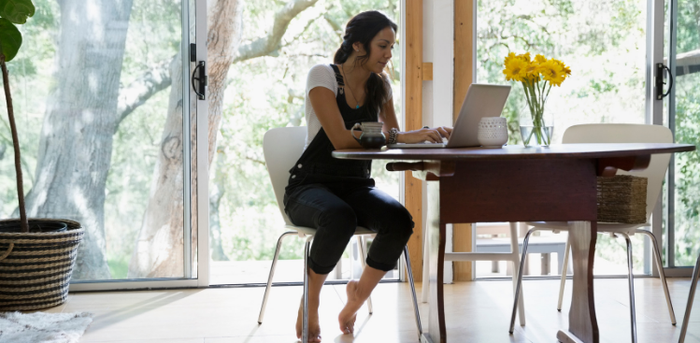 Hiring in today's tight labor market isn't easy. Today's candidates expect a lot more from their careers, which means companies have to work harder than ever before to win over the people they really want on their teams. A talent shortage is also on the rise, presenting employers with the added challenge of trying to recruit from an increasingly smaller group of prospects.
But what if you expanded your talent search to include people who live outside of your company's geographic region?
While it may seem counterintuitive to recruit someone who would theoretically have an impossible daily commute, more and more candidates are seeking out the option to work remotely, or even relocate for the right career opportunity. In fact, our own 2018 survey of Muse users found that 89% of respondents would consider moving for the right company and role, while more than half of Muse users specifically search for positions outside of their current area.
The bottom line is that you could be missing out on a lot of qualified candidates by limiting your talent search just to your home city, or excluding applicants interested in a more flexible work arrangement.
So, what can you actually do to ensure that your employer brand is ready to attract candidates interested in remote work, virtual jobs, and relocation opportunities?
We teamed up with Rally Recruitment Marketing for a webinar where Kiley Rumpf, Senior Technical Recruiter at DigitalOcean, and Amy Winebright, Global Project Manager, Talent Attraction & Employer Brand at Dell Technologies, shared three actionable strategies you can leverage at your own companies, plus real-life examples of what they look like in practice.
Strategy #1: Speak "Remote"
If you want candidates to know about your remote opportunities and flexible work environment—and that your team culture is set up to effectively support those employees at your company—you have to make that information readily available throughout the entire candidate journey.
At DigitalOcean, they incorporate their remote-friendly culture at every stage of the hiring process, starting with their careers page where they highlight a few locations where they're able to support remote employees, depending on the role and needs of the team.




DigitalOcean also clearly labels their open positions that are remote-eligible and include details in the job description about what working remotely at their company actually looks like (check out an example here). For candidates interested in learning more about the interview process, a section of DigitalOcean's FAQ page specifically addresses what to expect during a remote interview.
At Dell Technologies, one way they demonstrate their commitment to building a more flexible work culture is by sharing the stories of their employees that actively embrace it. The company wants potential candidates to be able to see themselves in those stories and trust that they would be fully supported if they chose to take a remote position with Dell, or feel comfortable exercising flexibility to accommodate their lifestyle.
By finding team members that are willing to tell their stories and helping them do so, Dell is able to create compelling employee-focused content that they can share across their @CareersAtDell social media channels.




They also make a point to showcase experiences (like the above) that aren't just from working parents. Everyone has a life outside of work and these distinct stories verify that Dell's flexible policies extend to all of their employees.
Strategy #2: Be Authentic
Candidates want to see that the culture and values they're presented with during the recruiting process match the reality of their work-life once they come on board—and that's arguably even more true for remote candidates that also have to worry about feeling included and supported from afar. You have to connect the dots between the messages you're communicating through your employer brand and the way your company actually operates.
At DigitalOcean, they make their remote culture real and genuine through a number of key policies, processes, and tools—many of which mirror the ones in place for their onsite employees.
DigitalOcean's remote workforce has its own dedicated employee experience representative.
Remote employees are offered targeted perks to help support a productive and inclusive work environment, wherever they are. For example, while onsite employees have access to a "snack wall" in the office, remote workers can opt into a monthly subscription snack box.
The company has a centralized onboarding experience for remote employees, which includes a week-long event called Shark Week. All employees are invited to attend and interact with their colleagues face-to-face.
Slack is used to create a support network and cultivate inclusivity among DigitalOcean's remote workforce. New "remotees" are welcomed to the channel with a series of GIFs and comments to help them feel like part of the team right away.
At Dell, they truly believe in flexible work as a cultural tenet—so much so, in fact, that one of their Corporate Social Responsibility (CSR) goals is to have a certain percentage of their team members leverage the company's various available work arrangements.
In order for the company to be successful in achieving that goal and bringing their flexible work culture to life, the executive leadership team at Dell understands that it needs to start from the top down—and that they have to put trust in their employees to embrace these policies responsibly.


Trust begins with leadership. As leaders build an environment of trust, the values and positive impacts of trust ripple through their teams, and then through entire organizations.


Leading by example, Steven Price, Chief Human Resources Officer at Dell, has published articles about how trust accelerates success. In one article on Forbes, he wrote, "Trust begins with leadership. As leaders build an environment of trust, the values and positive impacts of trust ripple through their teams, and then through entire organizations."
Strategy #3: Meet Candidates Where They Are
You already know how important it is to incorporate messaging around your remote culture throughout the entire hiring process to keep active candidates engaged. But content that provides insight into your remote and flexible work arrangements also needs to be a part of your overall employer branding and recruitment marketing strategy. Ideally, you want anyone who engages with your brand for any reason, at any time, to be able to learn about this aspect of your company's culture.
DigitalOcean uses their company profile on The Muse to curate content specifically for their remote audience. In addition to the dedicated office pages they have for their New York and Massachusetts locations, they also have a page showcasing their Flexible/Remote "office," with photos of different remote work set-ups and details about how DigitalOcean has built a culture of inclusiveness so employees feel connected no matter where they're based.




Similarly, if you explore Dell's careers site, you'll find an entire page focused on the company's journey toward a more flexible work culture—which started in 2009 with the launch of their Connected Workplace Program (CWP). They use this page to cover a wide scope of information about their various flexible work options, including a video that features employees talking about how Dell's program has enabled them to work in a way that meets both their professional and personal needs.
The best part about both of these resources from DigitalOcean and Dell? They're always available.


Whether you already support flexible work arrangements at your company, or are just starting to think about how you can adopt this type of workforce and culture, these strategies are key if you want to stay ahead of the competition and combat the talent shortage.
Just remember: In order to be successful with these strategies, your employer brand message has to align with and address the unique needs of remote and virtual talent.


Want to dig deeper into these strategies and gain more insights like how to build a business case for investing in a flexible work culture at your company? Watch the full webinar right here.