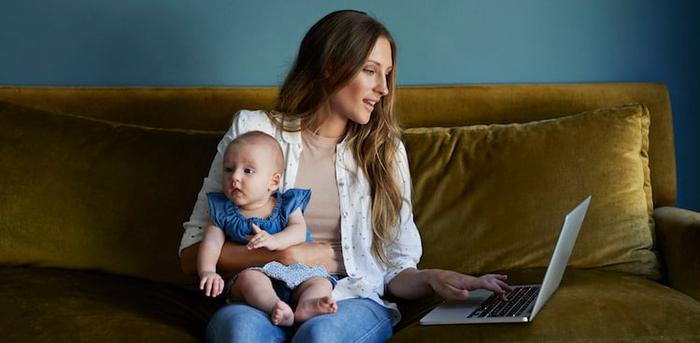 Christine Sanders has had three kids in eight years—and knows firsthand how workplace parental benefits can make the difference between surviving and thriving at the office.
Each of Sanders' children was born while she was working at the Nashville-based tech company Asurion. In addition to paid maternity leave, employees also have access to a leave of absence coordinator to answer any questions about paperwork relating to medical leave or health insurance. "It can be really overwhelming going through this, especially as a first-time mom," Sanders says.
Sanders and other parents who work at Asurion share how the company has made their lives easier, both while waiting for the baby to arrive and upon returning to the office after parental leave.
The Women's Initiative Network is a Voice for Working Moms
Sanders is a member of the Women's Initiative Network (WIN), an employee resource group that inspires and empowers women to achieve their full potential by promoting personal and professional growth.
"The group is a place for women to come together and have open and honest conversations," says Sanders, Director, HR Business Partner at Asurion. "It also enables us to share ideas, thoughts, and frustrations that come with being working moms."
WIN and other employee resource groups have successfully advocated for enhanced parental leave, including domestic partner and paternity leave.
Pregnant Employees Feel the Support—Even as Applicants
When Caroline Iacono applied for her current role as HR Technology Content Manager at Asurion, she was six months pregnant. "I was really nervous about job hunting while pregnant," she says. "I did a search for companies in Nashville that were open to pregnant candidates, and Asurion popped up."
Not only did she get the job, but her team also went out of their way to be supportive. "They threw me a baby shower after I'd only been there for a few weeks," she says. "And when I came back to work, they made it an easy transition, allowing me to work from home a lot."
Iacono had another colleague who was hired at six months pregnant, and she says, "It was nice to see someone else also join my team who was in the same spot in life."
A Coordinator Makes the Hard Stuff Easy to Navigate
When you're about to have a baby, the last thing you want to do is deal with paperwork—that is, if you can even remember you have to fill it out in the first place. That's where the leave of absence coordinator comes in. For Sanders, it helped to have someone available who could make sure she was checking all the boxes before going on leave.
"The coordinator helped me navigate the entire process, from filing documents to making sure I knew to initiate my leave once the baby was born and adding my newborn to my health insurance," she says. "On her advice, I saved the right number in my husband's phone so he could call and inform the company when I went into labor."
Asurion continuously looks to improve its benefits programs and will be launching a new set of benefits to support families through their parenting journey, including online apps for fertility tracking, healthy pregnancies, and support for newborn health tracking.
They Don't Forget About Dads and Partners
Pierre Delinois, Senior Manager of HR Product Development, was instrumental in researching and testing various benefit policies including expanded maternity and parental leave. "We worked with the benefits team to do an internal research cycle wherein we talked to about 70 different employees with different elements of our policies," he tells us.
Not only is his team responsible for designing the employee experience like paid time off, but as a father of four, Delinois recently used the parental leave policy himself after his son was born last fall. "I have really appreciated the support I've received here," he tells us. "My team even went so far as to provide some meals to help ease the transition." He adds that the flexible schedule after returning to work has been a huge help to his family as well.
More Perks and Resources
Nursing rooms in all U.S. office locations? Yep, they've got those. But the company also goes above and beyond to show their support with perks including expectant mother parking.
Employees have also taken it upon themselves to create additional support systems. For example, there's a group on Workplace at Facebook for working parents at Asurion. "I've found it helpful because I can ask about things like childcare recommendations," Iacono says. "And it's a nice place to post pictures without feeling like you're inundating people who don't have kids."
Flexible Schedules Are Encouraged
Even 19 months after giving birth to her son, Iacono continues to work remotely about three days per week—which has taken a lot of the stress out of going back to work. "As a parent, things arise unexpectedly and having this flexibility makes me want to work a lot harder," she says. "I've even had to take meetings with my kids in the room, and people have always been gracious about it. It makes me feel like we're all in this together."
Sanders couldn't agree more. "Having a flexible schedule is one of my top reasons for staying in this job," she says. "Oftentimes I work from home once or even twice a week just to keep my head down and get stuff done. But if I stay home because my baby is sick, nobody holds it against you. And that goes for employees without kids, as well."
She also adds that managers are not watching the clock on the days she does come to the office. "If I show up at 9 AM instead of 8 AM, it's not a big deal," Sanders says. "They know I'll deliver the work. Nobody has once batted an eye at my ability to do my job despite having to take time to be with my children."