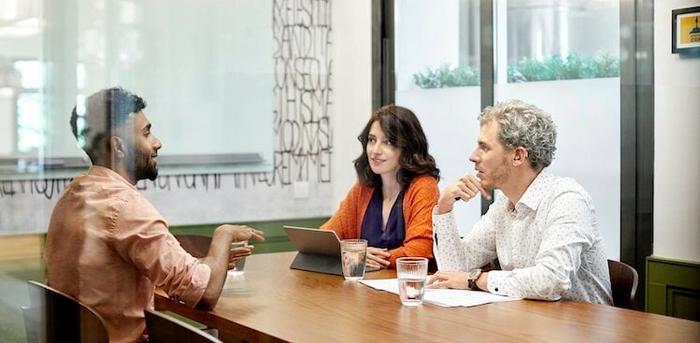 As an account manager, you have to impress clients on a daily basis. But before you can start solving client issues or hitting your revenue targets, you have to impress the hiring manager at the company of your dreams.
SEARCH OPEN JOBS ON THE MUSE! See who's hiring here, and you can even filter your search by benefits, company size, remote opportunities, and more. Then, sign up for our newsletter and we'll deliver advice on landing the job right to you.
Whether you're entering the field with no experience or you've been an account manager for years, prepping for the interview ahead of time can help increase your chances of receiving an offer. You'll definitely get a few basic interview questions. But you should also be ready for plenty of questions specific to the account manager role, from role-playing how you'll upsell a client to walking through how you use a CRM to stay organized.
What Companies Are Looking for in Account Managers
When you're interviewing for an account manager role, it's important to understand that not all account management jobs are the same. From company to company, the responsibilities, role, and title can vary greatly. Typically, an account manager is responsible for fostering new client relationships and keeping existing clients happy. In this role, you'll generate revenue and upsell clients. Account managers generate sales reports, revenue reports, and more for their managers. If you have a background in sales, this role will feel similar, but the relationships you're building with clients tend to be longer term.
At some companies like Leighton Interactive, which creates websites and digital marketing campaigns for clients, account managers are at the center of it all. There, in addition to upselling clients, generating revenue, and retaining revenue, account managers play a very strategic role in helping clients, almost like a business consultant, according to the company's Vice President, Jennifer Lawrence. Meanwhile, when I hired account managers who handled nonprofit clients advocating for controversial issues, candidates had to be prepared to help manage brand perception and be proactive about any issues that might affect the clients' reputations.
But regardless of the specifics of the role at a given company, hiring managers are often looking for a lot of the same qualities.
Lawrence started as an account manager at Leighton Interactive eight years ago. Now, she's the first person to interview prospective account managers, and her company is always looking for candidates who are confident and emotionally intelligent and who can read a room.
Matthew Fromm, Senior Sales Recruiter at Palo Alto Networks, oversees account manager hiring at the company. He's looking for candidates who are willing to challenge themselves and are hungry to become better. (Disclosure: Palo Alto Networks is a client of The Muse.)
"It's someone who actively seeks opportunities to expand their knowledge and skill set and grow professionally. It means having a CEO mentality that prompts ownership," Fromm says.
Here are four key qualities hiring managers are looking for in account managers:
Leadership skills: A good candidate will show ownership over their past work and demonstrates this by suggesting improvements and learning from their mistakes. You don't need to have been in a management position to have leadership skills. "Someone who takes accountability and strategic direction for their accounts and territory" demonstrates leadership, Fromm says.
History of meeting goals: Strong candidates for account management positions will demonstrate a track record of bringing in new clients and hitting revenue targets.
Organization skills: Account managers will likely have to work in Salesforce, keep track of client details, and run revenue reports. So to be effective, candidates must be organized.
Communication skills: When I interviewed account manager candidates, I looked for candidates with strong communication skills. Account managers need to be able to impress clients during every interaction, handle complaints, and give strong presentations. When Fromm interviews candidates, he isn't just listening to the content of their answers, but the delivery. He looks for a candidate who can describe the specifics of how they upsell clients or run campaigns without being too long-winded. He's wary of any candidate that dodges questions and tries to distract him with a story that doesn't answer what he asked. So in your interview, you should aim to answer questions in a concise and compelling way.
Depending on the company, hiring managers might also be looking for:
Sales skills: Account managers have to keep their current base of clients happy, but bringing in new business is how the company grows. Depending on the company, this might be the job of account managers. For example, Palo Alto Networks requires account managers to focus 50% of their time on bringing in new business, while at Leighton Interactive this is not a function of the role.
The best way to show hiring managers you have the skills to excel in the account manager role is to answer their questions with strong examples from your past work history and explain your process. Preparing to answer the following questions before an interview will get you thinking critically about your past experiences and track record and get you ready to impress with your answers.
1. How Do You Build Good Client Relationships?
Clients often stay with a company because they have a long, trusting relationship with their account manager. It's still business, but these relationships have an element of personal connection to them, and knowing that an account manager will deliver quality service keeps clients with the company longer. Hiring managers will want to see you know how to establish these relationships.
How to Answer:
You should come prepared to answer how you have built relationships in the past. For example, you can talk about if you like going into a meeting knowing if the client has children, bonding over a shared love of golf, or taking the client out to lunch or coffee. If you've ever gone above and beyond for a client, such as getting them concert tickets or providing a specialized product just for them, this is a good place to highlight that. If you're a novice, walk the interviewer through the steps you'd take to build trust and learn about the client.
Here's what one answer might sound like:
"I build good client relationships by first by doing research on the company and the person I will be speaking to. Understanding their background, including challenges the company has and the work experience my point of contact has, is key. When I call the client, I'll introduce myself and our company in a way that's easy to understand. Then, I'll tell the client something about them that impressed me during my research or that we have in common, like perhaps we both went to college in New Jersey. Then, I'll ask questions and really listen to understand how I can become a trusted advisor for them."
2. Tell Me About a Time When You Made a Mistake That Made a Client Unhappy or Cost You That Customer. What Did You Try to Do to Rectify the Situation? What Did You Learn?
Mistakes happen. The best account managers own them and learn from them. Hiring managers want to see that you've grown from past errors and are a stronger account manager today. Lawrence wants candidates who can admit they're not perfect, but also are not too self-deprecating. "It is important that candidates have that level of self-awareness," Lawrence says. "I want them to say 'This was the mistake. It was really bad. This is what I learned, [and] it helped me know what to work on.'"
How to Answer:
Before you head to the interview, familiarize yourself with the STAR method. The STAR interview method provides candidates with a technique to answer behavioral interview questions (the ones that ask you to "tell me about a time when" or "describe a situation where"). STAR stands for:
Situation: Any background needed to understand your story.
Task: Your role in the situation
Action: What steps you took to address the situation
Result: The outcomes of your actions.
So when you're answering this question, first, identify a mistake you've made that affected a client. Then, think about what your role in the situation was, the actions you took to fix it, and the outcomes of your actions. You should also think critically about what you learned or would do differently in the future. Ideally, you already have an example of how you applied the lesson in your career and had a different outcome.
For example:
"In 2017, I was helping a client roll out a new website to launch their newest product. The domain transfer took longer than anticipated and for several hours their site was down, costing the client business when customers came to the site. The client was irate because they thought the transition would be instant. I apologized profusely, and immediately called our tech team to troubleshoot the delay. After 12 hours, the website started redirecting to the new URL. While the client did lose earning potential while the site was down, as a way to rectify the situation, I offered my client a discount on our services for the next three months, and we were able to keep the account. I learned to always set proper client expectations, and to help the client have a backup plan in case things don't go as planned. I also made sure to pass on the feedback to people within my company that clients would be happier if we were able to reduce the time it takes to transfer a website domain."
3. What Is Your Process for Closing a New Client?
Depending on the company, an important part of the account manager role might be bringing in new business. Sometimes that means convincing a prospect to switch services or buy an entirely new service that they've never invested in before.
How to Answer:
Start by explaining your process for gathering information about a potential new client. Walk the interviewers through the resources you use before making a cold call. Then, explain your process for building trust with a new client and, finally, for closing a deal.
You could say:
"When I have my sights on a new client, I do a lot of research about what competitive services, if any, they are using. I try to find this on our competitors' websites through press releases or showcased client work. If we offer a better price or offer more for our price, I highlight the difference. When I call them, I recognize the competitor's work, and ask what they liked and didn't like about the service. Then, I explain how our company could do it differently and the additional things I have to offer them."
4. When Cold-Calling a Potential New Client, How Would You Respond to Someone Who Says That They're Too Busy and Want You to Call Again in Six Months?
When asking this question, hiring managers are looking for candidates who don't give up at the first sign of resistance. In the sales world, there's a saying that it takes three nos to get to a yes. Hiring managers want to know that you can get to that yes.
How to Answer
Explain how you'd talk to a prospect about a service or product the company you're interviewing at offers and how you would try to convince the potential client that waiting six months could cause them to lose out on revenue or something else the company's product or service provides.
This question can also come in the form of a role-play, so be prepared to get into character and demonstrate how you shine on the phones.
One way you could answer is:
"When someone says they're too busy to buy right now, I try to briefly explain how adding our services can save them time and make them money during the next six months. As an account manager, I might also be able to solve other problems they have or help them fill any voids they currently have in strategy in that time frame."
5. What Experience Do You Have With Salesforce and/or Other CRM Software(s)? How Else Do You Stay Organized?
Salesforce is a favorite CRM, so understanding how to use this platform will likely be a requirement of the role you're interviewing for, but this question can be asked about whatever CRM is used by the company. (Hint: check the job description to find out which CRM this is!) Your new manager wants to gauge how much training, if any, you'd need on the platform.
How to Answer:
Like the account manager role, Salesforce can be heavily customized from company to company. Explain to the interviewer your favorite and most used features within your previous CRMs and how you used that to help you achieve your goals. For example, if you set yourself reminders for client check-in calls or ran any special reports to understand early if you were behind on revenue targets, you should mention them here. If you have ever given feedback to past companies about how to improve their Salesforce reporting, be sure to share that here. You'll also want to explain any additional resources you like to use to keep yourself organized.
For example, you might say:
"In my last two roles, I've worked with Salesforce to create new contacts, run reports, and log calls. The companies had slightly different versions, customized to their needs, but I found I learned my way around both quickly. I created a few personalized Salesforce reports in my last role that helped me manage my goals and see which clients were routinely performing the best and worst. Since so much of an account manager's job is on the phones, I was wasting too much time logging calls into Salesforce. More data time meant less phone time. So I gave this feedback to my company and asked for the Salesforce iPhone app that tracks calls. While this was an investment upfront, ultimately it helped us save money and time, because all the account managers were more productive. In general, to keep myself organized, I sync my calendar with Salesforce and create reminders for myself to follow up with clients and run reports on specific dates."
6. What Steps Do You Take to Hit Your Revenue Targets If You See You're Behind?
Successful account managers hit revenue targets. Part of your role is to track this through the month or quarter to make sure you're keeping up the right pace. Hiring managers want to see that you can be proactive and self-identify if you're behind on your goals.
How to Answer
Explain how you track your progress toward goals—for example, using Salesforce to run weekly or monthly reports. Then, talk through the steps you take to increase revenue, such as offering an exclusive deal to a client or pitching another service in addition to the normal package a client uses.
Here's what this might sound like:
"Every Monday morning I take a look at my progress to goals for the month and ensure I adjust my weekly goals accordingly. On Wednesday, I do a check-in so I can ensure I'm on track. I automatically run revenue reports for myself, far ahead of when my manager needs them. These early checks help me see if I'm on track to meet my goals. When I'm behind, I call clients to see how things are going. For those experiencing any challenges or looking to expand, I offer an additional service or enhanced package to benefit both parties."
7. What's the Most Common Objection You Get at Your Current or Former Company? Can You Walk Me Through How You Handle It?
The hiring manager wants to see how you handle customer complaints and overcome adversity. This question showcases how resourceful you can be and what your behavior is like when you hear "no."
How to Answer
Identify a common reason a client would push back in your current role. Maybe your current product or offering is a big investment or perhaps you're competing in a flooded market place.Then, Lawrence recommends explaining what questions you'd ask the client after they've objected to help them realize your product is actually just what they need. This helps show resourcefulness and creative thinking. Now, it's time to overcome this objection. The hiring manager wants to hear how you'd passionately—and concisely—explain to the client why it could help them.
You might respond:
"At my current company, a common objection is the service we offered is quite expensive. While our services do require a financial investment, I ask what they're currently spending to get the job done. Then, I ask how much humanpower is being used. Finally, I ask about their current results versus their goals. Ideally, I'm then able to present them with a cost analysis of how spending more on our services can also make them more money than the current way they're operating."
8. Can You Give an Example of a Time You Contributed to a Product Upgrade, Change, or Fix Based on Client Feedback?
Account managers are a company's eyes and ears into what clients want and need. Exemplary account managers give constructive feedback to their managers or colleagues in other areas of the company based on what they're hearing from clients.
How to Answer
Ideally, you have a concrete example of when you heard a client complaint or feedback and you brought that to someone at your company to improve your product or offering. If you don't have an example of a time your feedback was acted on, you can use a time that it wasn't. But don't badmouth your current employer during this question for not taking the feedback. Find a way to keep it positive.
Here's how you might answer:
"One of my top clients wanted their customers to be able to schedule an appointment online. However, our current product didn't have that feature. This meant the client had to commission a separate service and add it onto ours in order to provide this option. It was messy and they had to deal with two bills and two separate account managers. I approached my manager and let them know that our clients needed this service and were currently paying someone else to do it. I knew if we offered it, scheduling appointments could integrate with our service and clients would be willing to pay more for it. About six months later it was built, and I was able to sell that client—and several others—the new appointment scheduling service on top of what we already provided them."
9. How Would You Go About Upselling an Existing Client?
A big part of an account manager's job is upselling existing clients. You can also use this question to showcase your creativity and techniques for interacting with clients.
How to Answer
The best account managers get clients to upsell themselves by asking questions. As the client answers, they'll realize the best way to reach their goals is by adding on a service from your company. The idea is to truly listen to the client explain what challenges they're having. Then, successful account managers will explain the challenges back to the client while weaving in how their service can fix the issues.
"Once the account manager has listened to what the client is saying, then they can respond saying we can do this, this, and that for you, with these extra services, to eliminate your challenges," Lawrence says.
The idea is to gradually lead the client to understanding that your product can solve the challenges they're facing.
One way to answer might be:
"I'd ask the client a lot of questions about their current workforce and work streams. I'd ask: "How many people are you dedicating to work on this?"; "How much time and money are being spent on building this internally?"; "What's the biggest challenge your team is facing?"; and "Have you been able to figure out how to get customers to engage?" After hearing their challenges and plans, I'd suggest how our company could make things easier for them. And at that point, they've already told themselves why they need these additional services from us."
10. Can You Give an Example of a Time You Turned a "No" into a "Yes" During a Contract Renewal Conversation?
An important part of most account managers' jobs is turning a "no" into a "yes." This skill especially helps when renewing an existing client's contract, which is core to the account manager's function.
How to Answer
For this answer, it's a good idea to again consider Lawrence's advice to ask the client more questions. You'll want to talk about how, if a client doesn't want to renew, you'll discover why and really listen to the client's concerns. Then, you'll want to walk through how you'd explain the ways your company can fix the issues the client is having. If you have a past example of how you did this, highlight that anecdote using the STAR method.
Try saying something like:
"When someone says no, I like to first understand why. If the company is struggling financially or wants to see higher customer engagement, these are important factors in how I direct the conversation. At my current company, I was working to re-sign a client who uses our SEO services. However, they had just hired someone to handle this internally and were thinking of not renewing their contract with us. I still wanted to renew the client, so I started asking questions about the background of their new hire. I suggested that perhaps we could work in tandem for the next year to help train this new manager, as our company was more familiar with the space the company was competing in for search and could help the manager start off on the right foot. The client saw this as wise and re-signed for another year."
11. Can We Call Your Past Clients for References?
Regardless of the job you're interviewing for, most hiring managers will likely want to call your references. When interviewing for an account manager role, your new company may want to call an existing client to talk about your past performance and truly understand how you behave as an account manager.
How to Answer
You want to be able to answer "yes!" to this question. While your current boss might not know you're interviewing elsewhere, it can be a good idea to prep a trusted client before your interview and ask them if you can list them as a reference. This way, you can give the company you're interviewing with a trusted, long-term client who will rave about you.
Sample Answer:
"Yes! I'll email you my best client's contact information. He is expecting your call."
Practicing these questions before your interview will help you shine during your time with the hiring manager, but a lot of how you answer is about passion and your behavior, not just the content. Lawrence looks for candidates who are prepared, curious, and confident. "Do your homework. There is nothing worse than when someone doesn't know anything about the company," she says. "Some level of confidence and genuine curiosity about the role and company's culture will impress."