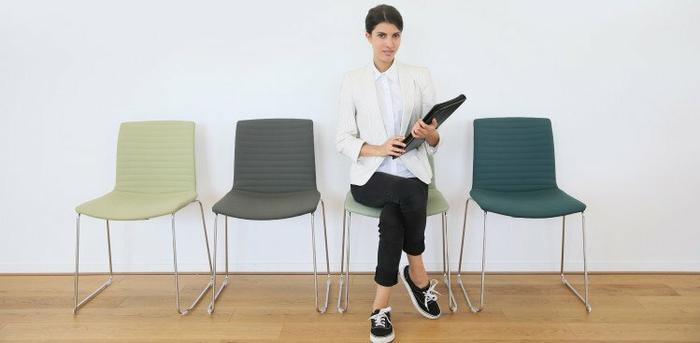 It's important to arrive at an interview prepared, polished, and professional looking. You know that you need to project confidence, be prepared to answer the most common interview questions, and have copies of your resume on hand. That's Interviewing 101.
However, what usually makes most candidates stumble is the research process. Or the lack thereof. So many candidates sit down across from the hiring manager ready to talk about their qualifications—yet know nothing about how exactly they'll help the company with its current needs.
But not you! You spend time reading the job description closely and trying to identify the team's current pain points, looking up the organization's mission statement, and doing a little social media digging. In fact, you feel pretty well-researched.
Be very careful, however, of knowing where the research stops and the stalking starts. Here are a few specific moments in any interview when you could cross that line and not only end up in the "no" pile, but also the "keep this person away" one, too.
When You Research the Company's Founder


Yes, you should know the CEO's name and a little bit of her background. You want to be well-versed in the company's mission statement and the history of this person within the company. (Is she new? Did she found it?)
But no, you should not recite her top three desert island movies, her high school yearbook superlative, or the name of her dog. There's the belief that knowledge is power, and then there's knowledge that screams "Stalker!"


When You Familiarize Yourself With the Company Culture


It's helpful to have a basic understanding of a company's culture before you go in for your interview. For starters, possessing this knowledge may help you decide between a suit and more casual attire. And it can serve to further your conversation with the interviewer.
Shamelessly thumbing through your interviewer's social media accounts, however, and looking—and liking—all of his recent photos from a family trip to Jamaica before you meet says that you a) have no life, and b) are unaware of acceptable social media norms. It doesn't say a thing about how you would fit in.


When You Read the Company's Mission Statement


You don't need to memorize the website's "About Us" page, but you should have an idea of what the company stands for and the direction it's headed. Keeping a couple of facts up your sleeve is probably wise.
Googling like a desperate job seeker, on the other hand, is not. And, under no circumstances, is it recommended that you hide outside your interviewer's house in the hopes of finding out something you have in common that you can discuss in tomorrow's interview. Do your homework, but don't attempt to glean enough information to write a dissertation.


When You Look the Hiring Manager Up on Facebook


Actually, this is just unnecessary. What are you going to learn about the hiring manager on Facebook that's going to help you in the interview? Unless he or she is a public figure, probably nothing. So, instead, turn to LinkedIn if you want to get a better picture of the this person's career scope and values.
Keep looking at those unfortunate photos only if you want to guarantee that the interview is super awkward when you accidentally bring up a recent status that you should not know about. Because seriously, this kind of social-media stalking is best reserved for your ex—not your future boss.


When You Research the Company's Origins


Projecting a positive attitude and possessing knowledge of your interviewer's role are important, of course, but bubbling over with information on her favorite lunch spots, how she takes her coffee, or what she read last summer is going way, way too far.
Demonstrating an understanding of a recent company initiative or recent revenue raised is going to get you much further than gushing over the fact that you both share an affinity for Of Monsters and Men will. Be professional, not chummy.


When You Plan Your Interview Outfit


Consider the company and what you know about it. Dress profesionally based on where you are interviewing (is it a cafe, the office proper, a happy hour?). But wherever it is, do not wear the same thing as your interviewer. (How you'd even know to do that is best left unexplored.)
Oh, also, here is an expert tip: Plan your outfit in advance, as scrambling the morning of and risking tardiness because you can't figure out what to wear is not advised.


When You Memorize Important Company Facts


Have them at the ready for questions that allow you to showcase your awareness of company happenings and history. As you tailor your resume, so too should you tailor your interview answers.
This, of course, does not include discovering that your interviewer's birthday was last weekend. It does not mean that you arrive with his favorite double chocolate cake and present it to alongside your resume. Nor, under any circumstances does it hint that you should start singing "Happy Birthday." That's creepy—not clever.


If any of these stalkerish interview behaviors ring a bell, there's a quick fix. Calm down, get back to basics, and avoid any and all illicit internet searching.