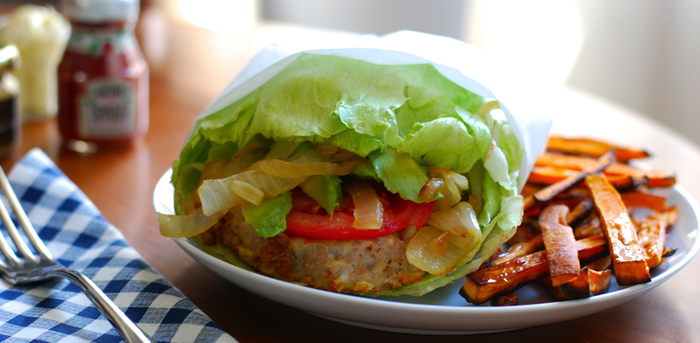 I know, it's so easy to reach for the takeout menu when you arrive home starved and hangry after a long day at work. And sure, it's totally okay to do this from time to time (I definitely do!), but there's no way takeout can beat a homemade meal (especially where cost and calories are concerned!).
On that note, I've gathered nine delicious, healthy meals for you to use as mid-week inspiration. The first is my own, a favorite that is a weekly staple in my home, and the eight others are from around the web. Nothing is overly complicated, and with ingredients you can buy just about anywhere, I promise you'll be pleased as punch once you add these recipes to your dinnertime routine.
1. Lettuce-Wrapped Chicken Burgers with Sweet Potato Fries
Serves 2
3/4 lb ground chicken breast
1/2 tsp salt
1/2 tsp pepper
1 medium yellow onion, sliced
1-2 tsp olive oil
1/2 avocado, sliced
1/2 tomato, sliced
Iceberg or butter lettuce leaves
1 sweet potato
Preheat your oven to 425 degrees F. Peel the skin from the sweet potato using a vegetable peeler, then chop into French-fry sized pieces. Spray a baking sheet with some non-stick spray, then spread the sweet potato fries out so they're about a quarter of an inch from each other. Bake for 20 minutes, take the pan out of the oven, and flip the fries over, then bake for 10 minutes longer.
While the sweet potatoes are baking, prep your burgers. Use your hands (or a fork if you're squeamish) to mix the salt and pepper into the ground chicken, then form into burger patties and set aside. Heat the olive oil in a separate pan over medium heat, and add the onions. Cook for 15 minutes until softened, stirring often until they start to turn golden brown, then remove from the pan and set aside. Use the same pan to cook your burgers—add a teaspoon more oil if need be—and cook for approximately five minutes on each side, until the burgers have cooked through.
To serve, take a lettuce leaf and place a burger patty on top, then top with sliced avocado, tomato, and a spoonful of the caramelized onions. Finish off with another lettuce leaf, and wrap with a piece of parchment or napkin to hold everything together. Grab the sweet potato fries from the oven and serve with ketchup, mayo, and mustard.


Need more healthy yumminess? Check out these delicious recipes from a few of my favorite food bloggers:


Tell me, what's your favorite healthy weeknight meal?
Photos courtesy of Niki Lowry, Cookie + Kate, and How Sweet it Is.