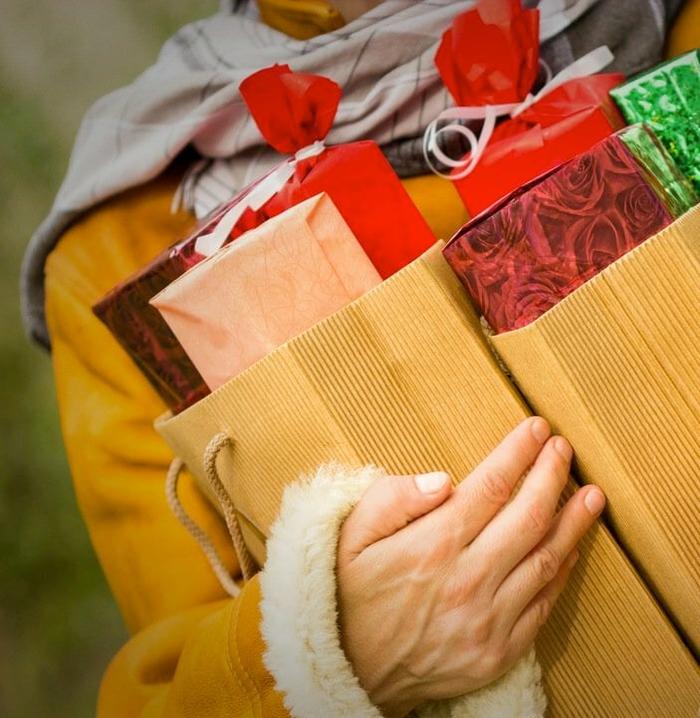 This article is from our friends at LearnVest, a leading site for personal finance.
Whew, the holidays are winding down.
The presents are unwrapped, that momentary what-do-I-buy-my-sister panic has subsided, and we're sure the egg nog turned out fine in the end.
Hopefully your finances are intact, too. But, just in case you're suffering from a mild budgetary hangover, we're here to help.
And, just to keep things light, we're here to impart a few financial lessons you can extract from the madness of the holidays. In fact, we asked LearnVest Planning Services CFP® David Blaylock how the hustle and bustle can help teach us to manage our money better all the time. Think of these tips as free gifts you can use all year long.
1. Planning Ahead is Key
We're willing to bet (and sure hoping!) you didn't buy your Christmas plane tickets last week. And you probably didn't buy your presents at the airport gift store either. You were planning ahead!
Guess what? That preparedness works miracles during the holidays, and it can do wonders for your everyday financial life. But, just as many of us come down with gift paralysis and pay far too much in shipping because we failed to act until two days before Christmas, the same thing can happen with our money.
"One of the things we work on with our clients is simply getting started," explains Blaylock. "It's not enough to think about the money you'll need for major financial goals—like buying a house or retiring—when your lease is up or your 65th birthday is around the corner."
Instead, focus on what you can do today to set the stage for what you want to happen, whether that's a blissful retirement account, a fat, happy emergency fund, or just saving up for next year's vacation. "If you start working on big financial goals well in advance," says Blaylock, "the small steps you take now can add up to huge accomplishments years down the line."
2. Family is Top of the List
For most of us, the holidays are all about family time. There's a reason you agree to look through all 180 of your cousin's safari pictures or stomach your brother-in-law's turducken—it's all because you love them.
But you can—and should—put them first year-round by getting your financial documents in order—specifically, the things that will protect them should something happen to you. What are those things, you wonder? Life insurance and wills.
"Most clients don't have their paperwork ironed out when they come to me, because it deals with a topic that's not exactly fun to talk about," Blaylock says. "Some of the first areas we focus on are making sure they have enough life insurance, a living will, and a regular will. Especially in the case of a living will, many people feel like they don't have enough assets to warrant one—but they don't realize it has nothing to do with assets, only healthcare."
No one looks forward to making these plans, but neglecting to specify the actions that should be taken with you and your assets in case the worst should happen could leave your loved ones to probate court (the often costly legal process to determine the fate of your estate), their own pile of paperwork, and a lot of financial stress—and we know you love them too much for that.
3. Giving Can Be Better Than Receiving
When we're feeling the comforting glow of the fire (literal or proverbial), we tend to want to share the warmth. Keeping that in mind, it isn't surprising that charities receive 41% of their annual contributions in the last weeks of the year. In fact, research from AOL and Chase Blueprint found that 94% of Americans agree it's better to give than to receive.
"Many of my clients feel like they don't have enough to give to charity," Blaylock explains, "but you're currently setting the patterns for the rest of your life. If charitable giving is a priority for you, you need to start getting in the habit today." If you want to give, he recommends designating a small percentage of your salary for giving—and it doesn't need to be the oft-expected 10%. "We tell people to start retirement contributions with 1% of their salary—why not do the same for charity?" Blaylock asks. "Contributions don't have to be large to be meaningful."
There are many ways to spread cheer, seasonal or otherwise, even if it's just paying for the car behind you at the drive-through. If charitable giving is a financial priority, make sure to evaluate whether you're giving most effectively, and take into account these four giving rules from master investor and philanthropist Warren Buffett.
4. Your Time is Valuable, Too
For many of us, the greatest gift of the season is time spent where we want to be, whether that's crammed onto the couch with all three siblings or sipping Mai Tais on a beach blissfully alone. In fact, when asked, "Would you rather have more time or more money?" in a nationwide LearnVest survey conducted earlier this year, respondents split pretty evenly, with only 54% in favor of more money.
"Most of our clients are hard workers—that's why they're here, because they're driven and self-motivated," explains Blaylock. "But sometimes I need to remind them that they're working hard today so they can achieve some level of work-life balance down the road. You don't need to get out of credit card debt in order to buy your future children expensive things; you need to get out of debt so later in life, you can take the time off work to spend with them."
By setting up simple systems, you can help make progress on your money without sacrificing your time. Start with two easy steps: First, automate your retirement and savings contributions so they're directly deposited into your accounts from your paycheck. (You can even continue your productive streak by automating payments for fixed costs, like your rent and internet service).
Next, adopt a "Money Minute." A favorite success tip of LearnVest founder and CEO Alexa von Tobel, the Money Minute is simply 60 seconds spent reviewing all the accounts in your Money Center first thing in the morning. In just one minute, you can keep an eye out for anything going wrong (or right!).
5. Goal Setting is Critical
From aiming to drop in on five Christmas parties to making New Year's resolutions, setting goals is a crucial part of achievement, and the same goes for your money. How are you supposed to achieve the things you want when you don't know what they are?
Setting goals is one of the first parts of the financial planning process, explains Blaylock. "The most important thing is that any goal is specific and measurable," he says. "We start small. If a client has no emergency savings, we aren't going to aim for six months of savings right away—we'll start with one month. People run into trouble when they start setting huge goals for themselves, then get intimidated and stop their progress."
After all, Blaylock points out, goals can—and should—be motivating. "When you set an achievable, measurable goal and make it happen, we call it a 'quick win,'" he says. "Achieving a small goal makes you feel great—we have clients who can't believe that they didn't touch their savings for an entire month or who are thrilled to even see a balance in their savings account. Just because a goal may not seem impactful right now doesn't mean it won't build up to something bigger and better in the future."
6. Family Can Stretch Your Patience—and Your Budget
No one gets under your skin like family, and they never have more opportunity than the holiday season.
Believe it or not, they can have that same effect on your budget. "I see people sacrificing their own financial health to take care of their families pretty frequently," admits Blaylock. "On some level, it's amazing that they want to do so much for their families. But if it isn't financially sustainable, it's not really that much help. It's like the oxygen-mask-on-a-plane analogy: You have to put yours on first, then help those around you. Once you're financially healthy, then you can help others."
If you feel like your family is everywhere you turn—including your bank account—you aren't alone. From lying to our parents about our salaries to feeling like the family ATM, many of us are familiar with that pressure. "It's up to you to decide how your money is used," Blaylock reminds us. "Whether that's saving, investing, or lending to your family (or not). If you're uncomfortable with how they affect your finances, it's up to you to set the appropriate boundaries."
7. Emotions Can Get the Best of Us
No one will blame you if you tear up at the end of Miracle on 34th Street. In fact, it's expected—the holidays make us emotional.
The trick is making sure those pesky feelings don't weasel open our wallets. Retailers know we're susceptible to nostalgia-induced spending: Playing Christmas music is shown to keep shoppers in a store for 30% to 40% longer.
"The biggest emotional spending trap I see at the end of the year is guilt," says Blaylock. "We feel guilty that we haven't spent the time we wanted with our families, and one of the ways we combat that is by buying expensive gifts to show our love. But the thing is, you can never spend enough to make up for missed time—instead of spending hundreds on mere things, you may get more value from that money using it for a plane ticket to visit family across the country."
Next time you go to hand over your credit card, ask yourself: How are you feeling? If the answer isn't "great, and confident in making this smart purchase," you may want to come back later.
8. Buying Quality Makes Your Money Last
Would you rather have the $50 headphones you've been coveting all year or $50 worth of mittens and marshmallow Santas? We thought so.
The holidays are the perfect illustration of quality versus quantity: Overstuffing a stocking with tiny tchotchkes is most likely less meaningful than choosing one more quality gift. And this isn't a phenomenon limited to the holidays. Have you ever looked at your shrinking bank balance and wondered where it went, unable to remember spending it? We fritter away $5 here and $15 there all year long, and when it compromises our larger financial goals, it's problematic.
"All too often, I'll sit down with clients to review their spending, and they'll be surprised to see how much they spend on something small like coffee or taxis," says Blaylock. "When you aren't monitoring your spending, your money has a tendency to vanish. That's why, when you're working toward a big goal, it's important that you can account for every dollar. After all, the money you save now is just money to spend later, on the things that you want most."
In the LearnVest iPad app, you can set explicit financial goals, and track your progress dollar by dollar. Do you want to buy a car? A house? Take a vacation? Maximize your retirement contributions? Right now, the things you want most may seem far off, but once you start working toward them, you'll be surprised how fast those $5 bills can add up.
More From LearnVest