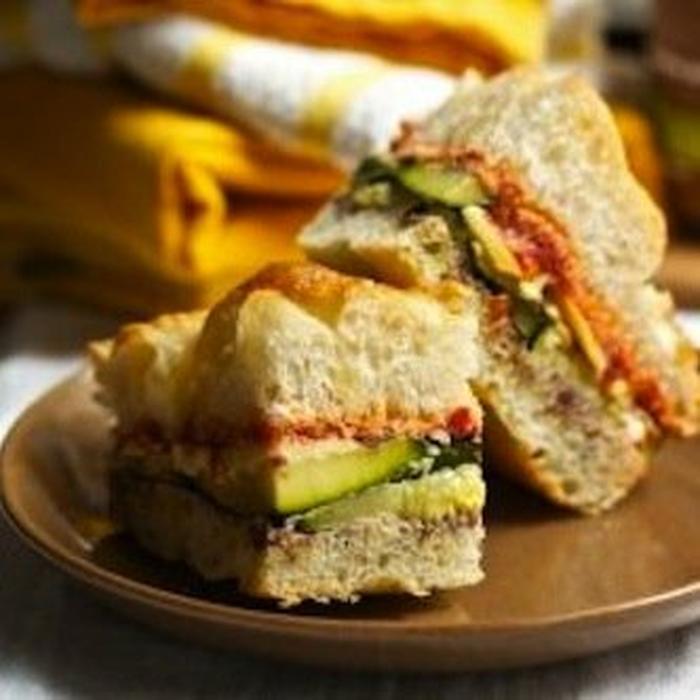 We have high expectations for our brown bag lunches:
The sandwich, salad, or whatever it is must be easy enough to prep the night before or early in the morning.
The ingredient list must cost less (preferably much less) than a store-bought lunch.
The nutritional balance has to be such that we're full but not so full we want to crawl beneath our desk for a nap.
Packed meals have to be satisfying to the senses—otherwise we'll risk food envy when our colleagues return from lunch breaks with salads, dumplings, chili, and pizza.
The lunches we've put together satisfy all those requirements. The best way to approach any of them is to make them in bulk. Plan on eating the same lunch at least three days a week, and you'll be in business budget-wise. The next week, switch it up.
So, as everyone returns from summer revelry and gets back in gear at work, use the opportunity to save a little cash—and give yourself something to look forward to in the middle of the day.
1. Arugula Salad with Roasted Chicken, Black Quinoa, and Lemon-Tahini Dressing
Makes: 2 lunches
Time: 10 minutes
Cost: $10
Jazz up a regular old salad with everyone's favorite protein-rich grain: quinoa. The mix of chicken, quinoa, and tahini—which enlivens the dressing—makes this arugula-based salad stand out, and not just for health reasons. You can make a big batch of the lemon-tahini dressing a week or more in advance to save prep time on weekday mornings. Bring the salad to work in two parts: the greens, grains, and meat, and then a little container for the sauce.
Ingredients
For the salad:
5 ounces baby arugula
1/2 cup cooked black quinoa
1/4 cup thinly sliced carrots
1/2 cup diced cucumbers
1 roasted chicken breast, shredded
For the vinaigrette:
Juice of half a lemon
1 teaspoon white wine vinegar
1 tablespoon tahini
1/4 cup olive oil
1/2 teaspoon salt
In a large salad bowl, combine all the ingredients for the salad.
Make the vinaigrette: In a small mixing bowl, whisk together the lemon, vinegar, and tahini. Slowly whisk in the olive oil until it is emulsified and combined. Season with the salt. Alternatively, you can combine all the ingredients in a food processor and pulse until combined.
Pour the dressing down the side of the larger salad bowl and toss the salad until combined. Serve as an appetizer or a hearty main course salad.
2. Spicy Vegetable Hummus Wrap
Makes: 6 sandwiches
Time: 15 minutes
Cost: $12, depending on ingredients
Totally vegetarian and eminently healthful, this wrap features pretty much all the good things in this world: avocado, hummus, and chipotle peppers. Those ingredients—plus carrots and radishes for crunch—come together to create this salad-in-a-wrap that will have all your co-workers begging for a bite.
Ingredients
1 avocado, mashed
1/2 lemon, juiced
6 medium tortillas
2 cups sliced radishes
3 medium carrots, peeled, and cut into 4-inch matchsticks
1/4 lb baby arugula
1/4 teaspoon salt
In a small mixing bowl, combine the avocado with 3/4 of the lemon juice and 1/4 teaspoon salt.
On a work surface, spread a large spoonful of hummus over half a tortilla. Spread a spoonful of the avocado mixture over the other half. Place a handful of carrot sticks in the center, top with a sprinkle of radishes, and 1/4 cup of arugula leaves. Fold in the top and bottom sides of the tortilla. Fold in one of the sides length-wise and roll the tortilla, making sure the top and bottom stay tucked. Repeat with the remaining tortillas.
3. Chili-Spiked Orzo Salad With Pinto Beans
Makes: 4 lunches
Time: 25 minutes
Cost: $5
A light hand with cumin and chili powder gives this inexpensive grain salad a slightly southwestern feel. It's totally vegetarian, and because it pairs pasta with a bean, you get a complete protein which leaves you satisfied and alert for an afternoon of work. Best of all, the salad gets better with time, as the flavors really come together, so Wednesday's meal is likely to be even tastier than Monday's.
Ingredients
2 scallions in 1/4-inch slices (white and most of the green parts)
1 tablespoon plus 1 teaspoon cider vinegar
1 cup dried orzo
1 cup cooked pinto beans, preferably cooked from dried*
2 carrots, cut in a 1/4-inch dice
2 tablespoons chopped cilantro
Juice of 1 lime
1/8 teapoon cumin
1/4 teaspoon chili powder
1 tablespoon neutral oil
About 1/4 teaspoon salt
Put the scallion slices in a small prep bowl. Drizzle with 1 tablespoon cider vinegar. Pour in ice water and a few ice cubes to cover the scallions. Let them sit while you make the rest of the salad. This "cures" the scallions of their sting.
Bring a pot of water to boil. Salt it generously and add the orzo. Cook until al dente, then drain and put it into a large mixing bowl.
Add the pintos, carrots, and chopped cilantro and toss to combine. Sprinkle on the lime juice and the remaining cider vinegar, plus the cumin, chili powder, oil, and salt. Give the salad a good toss. Eat immediately, or keep up to three days in the fridge. Bring up to room temperature before serving.
*Because this salad has so few ingredients, I think using really fresh pinto beans gives it a lift. If you make them from scratch (instructions here), add a dried chili pepper to the pot while they're cooking.
4. Roasted Carrot-Coconut Soup
Makes: 5 lunches
Time: 40 minutes
Cost: $8
This soup is utterly simple. Basically, you roast a batch of carrots and then stick them into the food processor to blend together with Asian-inflected seasonings: red curry paste, coconut milk, and cilantro. Hint: If you buy baby carrots, you spare yourself the step of peeling and trimming your veggies. To complete the meal, throw a thick slice of bread and a handful of almonds into your lunch box.
Ingredients
1 pound carrots, peeled and cut into 1-inch pieces
2 small red onions, quartered
2 tablespoons olive oil
1/2 teaspoon salt
1 teaspoon sugar
1 inch ginger, peeled and roughly chopped
1-2 teaspoons Thai red curry paste (available at most major supermarkets--we like the version by Thai Kitchen)
2 cups chicken or veggie stock
One 15-ounce can coconut milk (full fat)
1/2 lime
Cilantro (optional)
Toasted coconut flakes (optional)
Preheat oven to 425°F.
In a medium mixing bowl, toss carrot and onion with oil, sugar, and salt. Spread the veggies evenly on a parchment-lined baking sheet. Roast in the oven for 30-40 minutes, until browned and tender, stirring once halfway through.
Transfer the veggies to a food processor or blender along with the ginger, 1 teaspoon curry paste, and the stock. Blend until incorporated.
Add coconut milk and blend until smooth. Taste for seasoning and add salt and additional curry paste if you like spice. Add lime juice and any additional liquid if you prefer your soup thinner in texture. Spoon into bowls and serve with cilantro or toasted coconut for garnish. For easy transport, we suggest carrying the soup in a tightly sealed plastic container or a thermos, and carrying the garnishes in a little plastic baggie.
5. Teriyaki Soba Salad
Makes: 3 lunches
Time: 20 minutes
Cost: $10
Lighter than regular pasta, buckwheat-based soba makes a great lunchbox staple. In this salad, sweet potatoes, Napa cabbage, and carrots mingle with the noodles and a slightly sweet sauce—a super easy-to-make version of teriyaki.
Ingredients
1 teaspoon peanut or safflower oil, plus more for roasting the sweet potato
2 cloves garlic, minced
1 tablespoon ginger, minced
1 tablespoon sesame seeds
1/4 cup + 1 tablespoon soy sauce
3 tablespoons rice wine
1 tablespoon honey
1 large carrot, julienned
1/2 cup frozen, shelled edamame
1 small sweet potato, cut in 3/4-inch dice
1 cup Napa cabbage, finely shredded
1 carrot
5 ounces soba noodles (available at most major supermarkets)
Preheat the oven to 400°F.
Toss the sweet potato with a little bit of oil (I used the fabulous Misto sprayer) and lay the cubes out on a baking sheet. Bake for 15 minutes, until nearly soft, then toss with 1 tablespoon of the soy sauce and bake for 5-10 more minutes, until browned and cooked through.
Meanwhile, toast the sesame seeds in an un-oiled pan until fragrant and golden. Set aside.
Saute the garlic and ginger in 1 teaspoon oil over medium heat for 3-4 minutes. When the garlic is translucent, add the remaining soy sauce, rice wine, honey, and 1/3 cup of water. Bring to a boil slowly, simmer for a minute or two, then add the julienned carrots. Simmer another minute or two, then add the cabbage and most of the sesame seeds. Continue to cook until the carrots have softened (you don't want them too limp) and the cabbage has wilted.
While the sauce is cooking, bring a large pot of salted water to boil. Add the soba noodles and cook until tender, according to package directions. About 2 minutes before cooking time is complete, add the edamame. Drain both in a colander, reserving about 1/2 cup of the cooking liquid.
Toss the teriyaki sauce with the noodles and edamame and the sweet potato, adding some of the cooking water if the noodles seem dry. Taste and add more soy sauce as needed. Serve hot or warm, and garnish with the remaining sesame seeds if desired. If you plan to reheat at the office, you may want to make a little extra sauce or add a touch of soy sauce to keep it from getting dry.
6. Grilled Zucchini Sandwiches With Sundried Tomato Pesto
Makes: 4 lunches
Time: 30 minutes
Cost: $13
A sandwich is the most obvious lunch, but not every sandwich has to be uncreative and obvious. This filling vegetarian sandwich makes the most of the savory items from the antipasti bar, from sundried tomatoes to fontina cheese. The end result is quite rich, so cut small slices when you pack up your lunch bag. Like the orzo salad, this sandwich gets better with time, as the flavors from the filling seep into the bread.
Ingredients
One piece of fresh focaccia, approximately 6" x 8"
About 2 tablespoons olive oil
Salt
2 zucchinis, sliced lengthwise into 4-5 planks
2 tablespoons black olive tapenade
1/4 cup sundried tomato pesto (recipe follows)
About 1/4 pound fontina, thinly sliced
Preheat the oven to 400°F. Place the zucchini on a baking sheet and drizzle with the olive oil, using your hands or a brush to distribute the oil all around. Sprinkle with salt. Bake for about 20-25 minutes, flipping once. When done, the zucchini should be golden-brown speckled and sizzling. Let cool slightly.
Slice the focaccia in half lengthwise. Place the two pieces in the oven for about 5 minutes, just to get them slightly crusty.
Spread the cut side of the bottom half thinly with the olive paste. Spread the cut-side of the top thickly with the sundried tomato pesto. Layer the zucchini on the bottom half of the bread in one slightly overlapping layer. Place the slices of fontina evenly on top. Replace the top layer of the focaccia.
Wrap the whole sandwich tightly in plastic wrap. Place on a baking sheet or flat plate, then put another baking sheet on top. Weight with a can or a heavy cookbook. Leave for about 1 hour on the counter, or overnight in the fridge.
Cut into five sandwiches the long way—each one will be about 1 1/2 inches wide and 6 inches long. Halve them if you like. Serve at room temperature.
Sundried Tomato Pesto
1 clove garlic
1/2 teaspoon salt
1/2 cup sundried tomatoes, with any oil that clings to them
1/3 cup walnuts, toasted
Juice of 1/2 lemon
About 1/3 cup olive oil
In a small food processor, pulse the garlic and salt until garlic is finely chopped. Add the tomatoes and walnuts and pulse again. This should resemble a paste. Add the lemon juice and olive oil and continue to blend until the pesto is smooth and creamy. Taste for seasoning and add more salt if necessary.
7. Tomato Basil Soup
Makes: 5 servings
Time: At least 5 hours (in a slow cooker, which means you can make it while you sleep)
Cost: $15
Tomato soup is the ultimate comfort food. This fragrant, make-ahead lunch will warm you from the inside out—even if your office is only cold from air conditioning. Pack a thermos or a mason jar so the soup doesn't spill on the way in, then warm it in a bowl in the office's microwave. A roll and some string cheese make the soup into a meal that's more than worthy of your lunchtime affections.
Ingredients
3 tablespoons olive oil
3 large carrots, peeled and finely diced
2 medium sweet onions, finely diced
4 cloves garlic, peeled and left whole
1 teaspoon crushed red pepper flakes
1 tablespoon salt
3 28-ounce cans of whole peeled tomatoes
1 quart chicken broth
10 fresh basil leaves (plus more for garnish)
Freshly grated Parmesan (for garnish, optional)
Slow cooker version
Combine all ingredients in a slow cooker. Cover and cook on low for 5-7 hours, until flavors are blended and vegetables are soft. Allow the soup to cool slightly. Then puree in batches in a blender until very smooth. Serve immediately, or transfer the soup back to the slow cooker to keep warm if eating immediately. If not, let cool and then transfer to a refrigerator-safe container.
Stove-top version
Combine all ingredients in a heavy-lidded pot or Dutch oven over medium-high heat. Bring to a boil, then turn heat down to low and simmer, covered, for about two hours, until flavors are blended and vegetables are soft. Allow the soup to cool slightly. Then puree in batches in a blender until very smooth. If you like a thinner consistency, add a little bit more stock or water.
Garnish with more fresh basil and some grated Parmesan cheese, which can be transported fresh in a plastic baggie or small, sealable container.
8. Tortilla Espanola
Makes: 4 lunches
Time: 30 minutes
Cost: $3
If you've never packed a frittata for lunch or a picnic, you may be surprised by how well eggs work at room temperature. This Spanish dish is called a tortilla, but it's really a potato frittata normally served in small tapas. Cut a lunch-sized slice of this satisfying egg-and-potato cake each morning and bring some carrot sticks or an apple to be sure you fulfill your fruits-and-veggies requirement. It doesn't hurt that this tortilla is insanely cheap to make.
Ingredients
1/4 cup olive oil
3/4 pounds yukon gold potatoes (about 1 large), peeled and sliced as thinly as possible (1/8 inch)
1/2 small yellow onion, halved and thinly sliced
4 eggs
Green herbs and lemon-paprika aioli for garnish
Heat 2 tablespoons of olive oil in a small (8-inch) non-stick skillet over a medium flame. Add the potatoes and onions and toss to coat in the oil. Cook, redistributing with a flat plastic spatula, until tender, about 15 minutes, making sure to scrape up any bits that stick to the pan.
In a medium mixing bowl, beat the eggs. Add salt and pepper, and stir to combine.
Add the potatoes to the eggs and toss to coat. Carefully pour the potato-egg mixture back into the skillet, and shake the pan so the potatoes lie flat, using your spatula if necessary. Place a lid large enough to cover the pan over the top (I use one from my Dutch oven). Cook covered until the egg is nearly set. Using your spatula, pull away one side of the tortilla and tilt the pan so that the remaining uncooked eggs seep through and redistribute on the bottom and sides of the tortilla.
When the top is far less runny, use a large plate to invert the tortilla: Place the plate, face down, over the skillet, hold it with the palm of your hand, and flip the tortilla onto it. Place the pan back on the stove, and slide the tortilla back into it with the other side down. Press with your spatula to flatten it. (If you are using cast iron, you can skip the inversion and, instead, place the pan under the broiler until the top is cooked and beginning to brown.)
Cook on this other side until the bottom is set, about two minutes. Slide the tortilla onto a clean plate or platter, and allow to rest for at least 10 minutes (up to one day) before slicing into it. Cut the tortilla into wedges and serve with lemon-paprika aioli and green herbs for garnish.
More from LearnVest