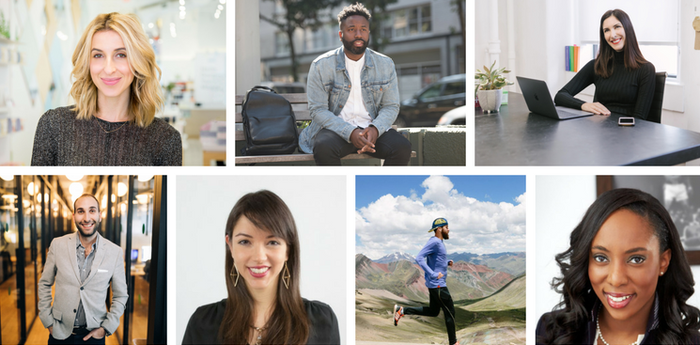 Reading requires focus. It requires time. And, let's be real, it requires a lot of discipline—because at the end of the day, you're probably more likely to reach for your phone than your Kindle.
Of course, you know that you should be reading more (and binging less). After all, it's what so many successful leaders say gets them ahead. So, what's a busy person supposed to do when Googling "best career books" yields way too many options (and the titles all sound so much alike)?
Consult the list below! Rather than forcing you to sort through every business bestseller on your own, I reached out to seven CEOs to learn which books changed their lives. I don't want to make any promises, but picking up one of these titles feels like a pretty obvious shortcut to getting on that leadership track.


1. If You Need a Creativity Boost
"This is a great read for anyone who's interested in big-picture thinking," says Steph Korey, co-founder and CEO of Away Travel.
You'll walk away knowing how to come up with good ideas—and even better, how to present them so everyone in the room buys in. You'll also learn how to overcome self-doubt and encourage people around you to be skeptical (in a good way).
For Korey, "it reaffirmed the importance of taking thoughtful risks, using lessons learned to iterate and improve along the way, and being willing to write your own playbook."
2. If You Want to Gain Empathy
This book—which yes, is fiction—follows two families and their intertwined destinies. Steinbeck himself called it his best work. But that's not the only reason you should read it: It'll also help you relate to your team members, customers, managers, and more.
"East of Eden really nails the human condition," says Mike Burnstein, co-founder of running apparel brand Janji. "It taught me we're all looking for acceptance—which I think has made me more empathetic."
3. If You'd Like to Be More Honest (and Not Have it Backfire)
The thought of speaking your mind at work might send shivers down your spine, but this book explains why it's so important and exactly how to do it.
"It helped me become a more assertive and empathetic leader," explains Sylvia Vaquer, co-founder and Chief Creative Officer of digital agency SocioFabrica.
Vaquer's top three takeaways:
"Show that you care, because people will listen and react differently to your feedback when they know it's coming from a caring place; get into the habit of giving praise in public and candid, constructive criticism in private; and take care of yourself first so that you are in a healthy emotional and mental state to give."
4. If You Aspire to Start Your Own Company
The co-founder of VC firm Andreessen Horowitz shares everything you need to know about running a startup that's not covered in business school.
"As a leader, it's easy to feel like no one has ever made the mistakes you've made. This book reminds you that you aren't crazy and everything you're experiencing is normal," says Jessica O. Matthews, Uncharted Power founder and CEO. "Sometimes, just this is enough to give you the courage to take the next step. And often, just one more step is all you need at the moment."
5. If You're Searching for Inspiration
You know that 60% of your life needs are delivered by Amazon, but do you know how it got to be that way? This book, which Lisnr founder and CEO Rodney Williams calls "the ultimate entrepreneurial story," is an up-close-and-personal look at both the company and its CEO.
Williams found Bezos's vision and persistence hugely motivating. But even if you don't feel inspired, you'll learn valuable lessons about running a team, identifying gaps in the market, and beating your bigger, more established competitors.
6. If You Care About Social Impact
Michael Dweck, co-founder and president of Basic Outfitters, was expecting a straightforward memoir from the founder of Patagonia. "But I quickly realized it was really a roadmap on how to build an authentic business and be a socially conscious entrepreneur," he says. "Yvon wrote about how he had a vision to start a business that was environmentally sound—one that served the world just as much as it served customers."
The story shaped Dweck's image of the figure he hoped to become. "It made me really want to be the type of business leader that did things that were meaningful: that moved people or had some impact on life and the world."
7. If You Want Some No-BS Advice
Fans of tough love, Birchbox co-founder and CEO Katia Beauchamp says, will like this "life-changing" autobiography from Welch, who was chairman and CEO of General Electric from 1981 to 2001.
"It's a powerful tell-all about being a leader that includes his failures," she says. "He prepares you for the roller-coaster experience ahead and encourages you to make mistakes—and to have a legacy you're proud of."
I don't know about you, but I can barely describe the Instagram posts I scrolled through yesterday—let alone last week. Books, on the other hand? There are some I remember so well I could probably rewrite them. So pick up one of these CEO-approved choices. There's a good chance you'll be thinking about what you read for the rest of your career.