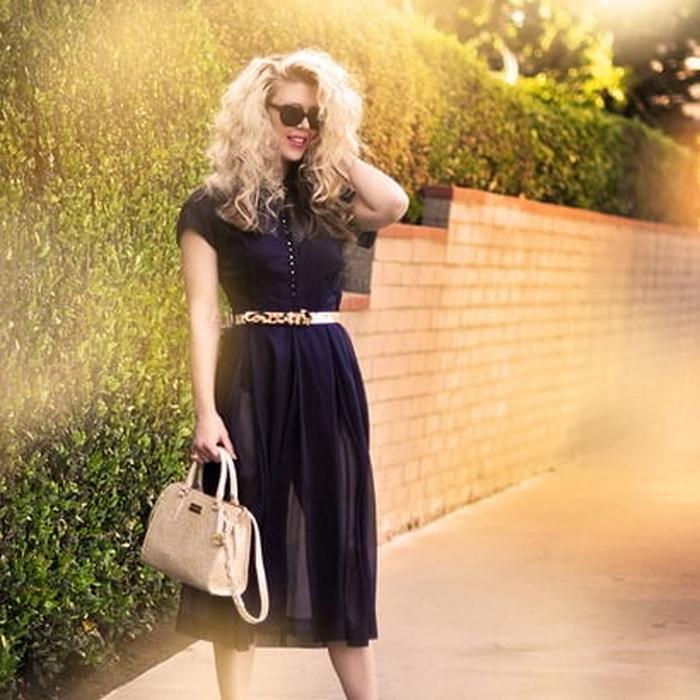 There are tons of style bloggers out there today—but just like anything fabulous, there's definitely room for more. In fact, it probably won't be long before having a blog is a prerequisite for getting a job in the fashion industry. After all, it's a form of networking—a way to showcase your style, position yourself as an expert, and get known in the fashion world.
So, how do you get a blog up and running, then get it to stand out from the crowd? I won't dance around the answers or judge you in a British accent—but I will share the real scoop on what being a successful blogger really takes.
1. Start Sharing
From the beginning, start promoting your blog to family, friends, and your social network (without being overly annoying, of course). This is your best bet for testing out your brand and content. The truth is, no one will read your first couple posts outside of the people you tell about your blog, so there's no reason to freak out every time you hit the publish button. Just get some content out there and start getting honest feedback from people.
Then, take your sharing and relationship-building to the next level. Start reaching out to other bloggers and potential readers via Twitter. You'll be surprised by how many great relationships you can build just by a simple tweet! You should also consider setting up informational interviews with bloggers you admire—it's a great way to start building your network .(Need help finding bloggers and more readers? Check out my site, Canopi.me, where you can find and follow bloggers who share your interests, all in one place. Request an invite so you'll have first access once we officially launch.)
2. Grow Your Readership: Strategy + Consistency
One of the keys to growing your readership is to have consistent content—people will keep coming back if they know when to expect new posts. This could be as simple as adding a visible line somewhere on your homepage that says, "We post every Tuesday and Thursday."
But beyond your typical publishing schedule, pay attention to popular events and see if you can opportunistically pick up extra Google search and Twitter traffic. For example, when it was broadcasted everywhere last year that Pippa Middleton was wearing pantyhose out and about in London, I jumped in. I wrote a piece about how much I dislike pantyhose, even if fashion's It Girl was sporting them—and thus capitalized on a newly trending topic. Because I was so quick to react, my blog received a spike in traffic from people looking for articles about Pippa's fashion statement.
With any such strategic play, your goal is to bring people in—and hopefully they'll like what they see, look around more, and come back to your blog long after the fashion trend or hot topic has died.
3. Befriend Agencies
Once you've gained a solid following, you can start reaching out to clothing brands. This is the fun part! The first step is to create a list of PR or word of mouth marketing agencies that represent the brands you love and ask to be added to their media list. (Try Googling the brand name you're after and the phrase "PR firm." It's likely a press release will pop up, giving you the contact information you need.) It's also helpful to keep tabs on the industry by reading sites such as PRSA.org, FashionablyMarketing.Me, and PR Couture.
If you already love and wear a particular brand, don't just ask to be added to the list—also let the agency know why your blog would be an excellent fit and send links of posts where you've worn the brand before. Also try directly reaching out to emerging brands that may not be large enough to have their own agency—they're likely excited to grow their own following and eager to work with you.
Also remember that the best way to a brand's heart is through engagement. Brands and agencies want to work with bloggers who have engaged readers, because that ultimately means that your readers listen to you and trust what you have to say (and are more likely to purchase a product based on your recommendations). So all that networking you've been doing with your readers? It'll pay off when it comes time to partner with brands.
4. Get Paid for Your Services
If someone offers you clothing, that's great! But don't be afraid to ask for payment anytime a brand wants a sponsored or promoted piece—promotional pieces should be treated like advertisements, even if they're integrated into your everyday posts. Just like magazines earn money from their advertisers to stay in business, your blog will eventually have to earn money through sponsorships or promotions if it's going to stay afloat.
That being said, it's your job as a blogger to have and enforce your standards. You should only work with brands that are authentic to you and that you would personally wear—not just anyone who will pay you. If you are not a true advocate of a brand you're promoting, you will quickly lose the trust of your readers.
5. Get Out There
The truth is, you'll quickly get to a point where the best way to grow your blog is to leave it. In other words, reach out to other blogs—particularly the ones you think your potential readers are visiting—and ask to write guest posts. Plan to write as many as possible—upward of 10 a month if you're truly passionate about growing your readership.
For the best chances of converting people to readers of your site, write about topics that will be interesting for the readers of that particular blog. For example, if your blog covers bargain fashion deals and the site you're guest posting on targets professional women, combine those efforts by writing a post on, say, five workplace looks under $50.
Another great option is interviewing some of your favorite bloggers and posting the Q&A on your site. Not only will you likely gain some insights, but you'll also see a traffic bump if the interviewee promotes the piece.
6. Position Yourself as an Expert
Finally, being a blogger can definitely help you position yourself as an expert in the fashion world. So don't be afraid to pitch local news sources or city magazines with story ideas that can showcase your unique perspective and expertise.
Just like your posts on trending topics, the best pitch to a media outlet is a story that relates to something that's currently hot in the news or that's coming up around the corner. (For example: Pitch a local morning show on presenting fall fashion trends from stores all found in your city.) You'll also want to show your credibility by linking to past guest posts, media mentions, or accomplishments, as well as why you're the perfect expert for the story. No, it's not easy, and it does take time, but as you build your blog and following, it'll become easier to pitch yourself.
Being a blogger no longer entails a couch, your parent's basement, and nerdy glasses (though thanks to Zooey Deschanel, those are currently back in style). It instead requires some serious thought, planning, and work. But with these steps, you'll be one step (or heel!) ahead of the game.