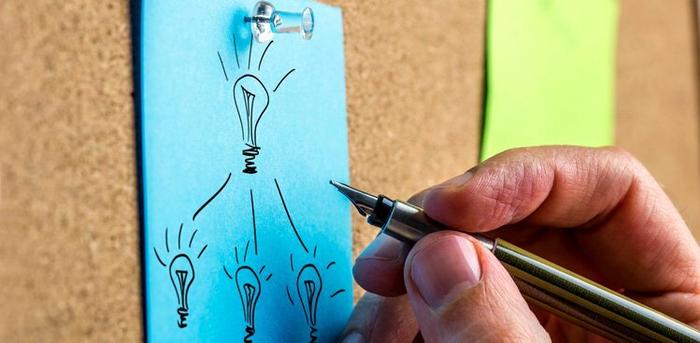 As a consultant (and self-proclaimed lover of ideas), I am often faced with the task of trying to get buy-in for my thoughts and plans. While I know I love my own ideas, in order to actually make them happen, I have to make others love them just as much. And in order to do that, I need to develop strong cases that support and sell them.
While there are some basic rules—for instance, that your idea should be a good one to begin with—I have put together some tips and tricks that have really helped me in selling something to the crowd.
1. Know Your Idea (Like, Really Know It)
This may sound like common sense, but it's often something people don't give enough attention to. It's one thing to have a jolt of inspiration and another to have an idea that you've fully thought through—pros, cons, feasibility, and implementation plans included. Thinking down to this level of detail is important to make it easy to communicate and support.
A good way to test this is to grab a friend and tell him or her your idea in a couple of sentences. Your friend should be able to easily understand—if he or she is staring back at you like a deer in headlights, that's a good indicator that you need to put some more effort into clarifying and truly understanding your idea. Additionally, your friend might ask questions about your idea, and you should have a good sense on how to answer them. If not, you'll have a good sense of what you need to think through a bit more.
2. Know Your Audience
It's not good enough just to come up with a generic pitch and then walk into the conference room. Instead, you need to have a really good sense of who your audience is and how they digest information. Even if you know the people you are selling an idea to, it is important to get a deeper sense of their personality and tendencies: If they tend to be detailed and analytical, then you'll need to do a lot of analysis to sell your idea (bring on the spreadsheets!). On the other hand, if they're aggressive and direct, you should get right to the point and keep your arguments short and succinct.
You should also get a sense of how your idea can help them achieve their goals—and tailor your pitch as such. For instance, if your boss needs to approve your idea and is trying to get a promotion, you should find out how your idea can help to position him or her for that role; perhaps supporting your idea could show that he or she can identify strategic opportunities.
3. Do Some Analysis
As a consultant, I love some good analysis. The reason that analysis is important, though, is because it provides the ammunition needed to really get people to buy into your ideas. For example, if you are saying you want to expand into a new market and your argument is that there are "lots of potential customers," this leaves a lot of room for people to challenge or question your idea: Do you mean 100 or 100,000 customers? How do we know they are potential customers of ours?
A better argument would be that, by using data collected by the census, you were able to find out that there are approximately 1,000,000 potential customers in the United States that fall within the target income and education levels your company currently sells products to. By using credible sources, hard facts, and some filters, you're able to move your arguments from opinion to something people will take as truth.
4. Make it Easy
Even if others do believe in your idea, they may feel daunted by the steps ahead to make it happen (and the potential added work on their plates). To avoid this, do everything you can to keep the barrier to entry of your idea as low as possible. This means doing some pre-planning and anticipating their concerns or needs from you so that it's a non-issue.
For example, if you know that the party you are talking to would need to bring your idea to his boss, you might want to have a pre-written email that he could use explaining the idea so it's less work on his part to move your idea forward. You could also come up with a plan for how the work could be allocated, giving people a sense of what the extra load would actually look like.
5. Gain Support
Another really great way to sell your idea is to work your political magic and get support before the idea is even pitched. When going into a presentation, it's ideal if your idea isn't completely new to anyone; they should already generally know what it is and be supportive of it.
A good way to do this is to ask for people's feedback on early versions of your idea (even if you don't really need it). They'll likely feel involved in its success and may even give you some great ideas to strengthen your case.
6. Figure Out Your "So What? Now What?"
A question I always ask myself whenever I am pitching an idea is, "So what? Now what?" I find this is a good question to ask yourself to make sure you have clearly explained why people should care about your idea (the "So what?") and ensures that you have made a very clear ask about what needs to happen next ("Now what?").
Without a clear reason for why someone should care about your idea, then you won't be able to get support. Likewise, even if people do love your idea, they need to know what you need from them—whether it's sending the idea to their boss, giving you money (which is always a good thing), or even just giving you some confirmation that your idea is a good one—in order to move forward.


Not every idea will get off the ground, of course. But if you've done your homework, come up with a good plan, and focused on how to sell it the right way to your audience, you're definitely on the right track.